Tim Urban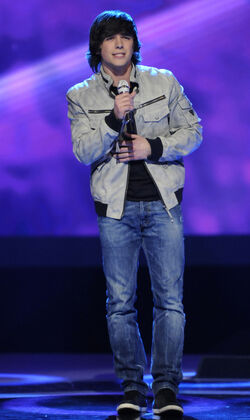 Birth Name
Timothy Joseph Urban
Audition City
Boston, Massachusetts
'Timothy Joseph "Tim" Urban (born May 1, 1989) is an American singer-songwriter from Duncanville, Texas, who was the seventh place finalist on the ninth season of American Idol. Urban's debut album and EP titled Heart of Me is due for a November 8, 2010, iTunes release. Hard copies of the album are due to be released a few weeks after.
Personal Life
Edit
Click "Edit" now to add information!
American Idol
Edit
Click "Edit" now to add information!
Performances/Results
Edit
Week #
Theme
Song choice
Original artist
Order #
Result
Audition
Auditioner's Choice
"Bulletproof Weeks"
Matt Nathanson
N/A
Advanced
Hollywood
First Solo
"Come Back to Me"
David Cook
N/A
Advanced
Hollywood
Group Round
"Get Ready"
The Temptations
N/A
Advanced
Hollywood
Second Solo
"Viva la Vida"
Coldplay
N/A
Eliminated
Top 24 (12 Men)
Billboard Hot 100 Hits
"Apologize]"
One Republic
4
Safe
Top 20 (10 Men)
"Come On Get Higher"
Matt Nathanson
9
Safe
Top 16 (8 Men)
"Hallelujah"
Leonard Cohen
3
Safe
Top 12
The Rolling Stones
"Under My Thumb"
The Rolling Stones
7
Bottom 3
Top 11
Billboard #1 Hits
"Crazy Little Thing Called Love"
Queen
3
Bottom 3
Top 10
Soul
"Sweet Love"
Anita Baker
5
Bottom 3
Top 9
Lennon/McCartney
"All My Loving"
The Beatles
6
Safe
Top 9
Elvis Presley
"Can't Help Falling in Love"
Elvis Presley
3
Safe
Top 7
Inspirational Songs
"Better Days"
Goo Goo Dolls
3
Eliminated
Because of the controversy over Chris Golightly's contract, Urban was brought back into the top 24.
Due to the judges' using their one save to save Michael Lynche, the Top 9 remained intact for another week.
After American Idol
Edit
Click "Edit" now to add information!
Discography
Edit
"Heart of Me" - November 8, 2010 (iTunes)