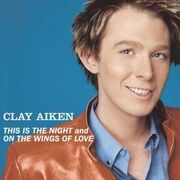 This is The Night is the debut single for season 2 American Idol runner-up Clay Aiken. Written by Aldo Nova, Gary Burr, and Chris Braide, the song was submitted to the show as Aiken's potential winning single. The song is featured as a bonus track on Aiken's 2003 debut album Measure of A Man.
The song became a major success for Aiken, debuting at number 1 on the Billboard Hot 100 and going platnuim. It has since sold 960,000 copies.
Although this song may seem tailor-made for a show like Idol, it wasn't originally written for the show. Co-writer Chris Braide said in an interview in 2010 that the song was written, according to him, "from the heart", and that it was written after 9/11. Show creator Simon Fuller heard the song and thought it would be perfect for Idol as a possible winner's single.
Aiken debuted the song on May 20, 2003 on Idol's final performance show. It ended up receiving a mixed response from the judges with Paula Abdul loving it while Randy Jackson and Simon Cowell were a bit more criticial. Jackson even told Aiken that he hoped that if he won that the song would not be released as his first single.
Aiken finished second to Ruben Studdard on May 21, 2003.
WIth the controversy over Studdard's victory still raging, both RCA Records and J Records decided to release both guys' singles on the same day, June 3, 2003. "This is The Night" proved to be the most successful, debuting at number 1 on the Billboard Hot 100 with Studdard's single, Flying Without Wings, debuting at number 2. "This is The Night" also made chart history, becoming the fastest selling single ever since Elton John's 1997 version of "Candle in The Wind". It was also the first CD single to go platnuim since 2002. It achevied platnuim status in both New Zealand and Canada as well as the United States. It even earned Aiken a Billboard Music Award.
Tracks:
"Bridge Over Troubled Water"
Community content is available under
CC-BY-SA
unless otherwise noted.