Thialorei Lising Megia (born January 30, 1995) is an American singer and actress from Mountain House, San Joaquin County, California. Megia finished in the top 11 on season 10 of American Idol. She is also the only female in the top 13 who is also an instrumentalist, a pianist and a guitarist, however she did not play either on American Idol.
Megia was born in Hayward, California, to Cynthia and Loreto Megia. Her parents, originally from Angeles, Pampanga, the Philippines, emigrated to the United States in 1968 and changed their name from Mejia to Megia. She attended Eden Gardens Elementary School in Hayward through the sixth grade, but was cyber-schooled online at California Virtual Academy, when the family moved to Mountain House, California.

She has won singing competitions in San Jose and Saratoga and has sung the national anthem at San Jose Giants, Stanford football and San Francisco 49ers games. She also appeared on the TV show Showtime at the Apollo as the Kid Star of Tomorrow in 2008 when she was 13.

Prior to Idol, however, Megia was best known for her appearance on the fourth season of America's Got Talent in 2009. She made it to the quarterfinals, but was cut in the Top 40 round. That same year, she was invited to sing at the David Foster and Friends concert in California. Thia sang "Who's Loving You" by The Jackson 5/Michael Jackson.

Megia was one of the singers in Lisa Lavie's February 20, 2010, collaboration video "We Are the World 25 for Haiti (YouTube Edition)" for charity relief for victims of the January 12, 2010 Haiti earthquake. The song also featured season 11 runner-up Jessica Sanchez.
Megia had her debut concert at Le Petit Trianon Theatre in San Jose, California, on March 27, 2010.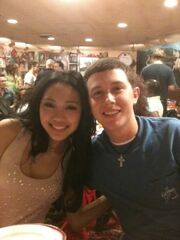 Megia had originally intended to audition for the show once she turned 16 but due to the age limit being lowered to 15 she auditioned for season 10 of American Idol in Milwaukee, Wisconsin with the song "Chasing Pavements" by Adele. She managed to impress the judges with her beautiful, soulful voice but couldn't seem to win over the public due to her age and her song choices.
On March 31, 2011, Megia and Naima Adedapo were eliminated from American Idol. Megia is the youngest finalist to ever appear on Idol after they changed the minimum age limit to 15 years. However, many critics considered Megia to be too young to be competing on a show like Idol, and it even caused some to comment that maybe lowering the minimum audition age limit wasn't such a good idea after all.
One of Thia's closest friends on the show is winner Scotty McCreery. Fans of theirs affectionately call the duo "Scothia'.
Thia and the rest of the top 11 took part in the 2011 American Idols LIVE! Tour, which began in West Valley City, Utah, on July 6, 2011, and ended in Manila, Philippines on September 20, 2011. Both the eliminated contestants, Naima Adedapo and Thia, appeared and performed on The Tonight Show with Jay Leno and Live with Regis and Kelly. Thia recently had a welcome home celebration at the West Valley Mall in Tracy, California, and Central Park in Mountain House, California.
Thia mainly focused on school after she was done with the show even though she did record some music, which included the song "One Day" for the soundtrack to the movie Quest for Zhu.
In November 2018, Thia announced that she had joined the cast of the long-running NBC soap Days of Our Lives where she will be portraying nurse Haley Chen.
Community content is available under
CC-BY-SA
unless otherwise noted.