Mercado is engaged to actor-producer and Florida International University classmate Hess Wesley.[1][2]
Week #
Theme
Song choice
Original artist
Order #
Result
Audition
N/A
"Think"
Aretha Franklin
N/A
Advanced
Hollywood
N/A
"(Everything I Do) I Do It for You"
Bryan Adams
N/A
Advanced
Top 50
N/A
"Chain of Fools"
Aretha Franklin
N/A
Advanced
Top 24 (12 Women)
1960s
"Tobacco Road"
The Nashville Teens
11
Safe
Top 20 (10 Women)
1970s
"Me and Mr. Jones"
Billy Paul
2
Safe
Top 16 (8 Women)
1980s
"Saving All My Love for You"
Whitney Houston
8
Safe
Top 12
Lennon/McCartney
"Got to Get You into My Life"
The Beatles
1
Bottom 31
Top 11
The Beatles
"Yesterday"
The Beatles
9
Safe
Top 10
Year They Were Born
"If I Were Your Woman"
Stephanie Mills
3
Bottom 22
Top 9
Dolly Parton
"I Will Always Love You"
Dolly Parton
8
Safe
Top 8
Inspirational Music
"I Believe"
Fantasia
2
Bottom 33
Top 7
Mariah Carey
"Vanishing"
Mariah Carey
3
Bottom 31
Top 6
Andrew Lloyd Webber
"One Rock & Roll Too Many"
Starlight Express
1
Bottom 2
Top 5
Neil Diamond
"Hello Again"
"Thank the Lord for the Night Time"
Neil Diamond
5
10
Safe4
Top 4
Rock and Roll Hall of Fame
"Proud Mary"
"A Change Is Gonna Come"
Ike & Tina Turner
Sam Cooke
2
6
Safe4
Top 3
Judge's Choice (Randy Jackson)
Contestant's Choice
Producer's Choice
"If I Ain't Got You"
"Fever"
"Hit Me Up"
Alicia Keys
Peggy Lee
Gia Farrell
2
5
8
Eliminated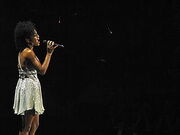 After her elimination, Mercado appeared on Live with Regis and Kelly, The Morning Show with Mike and Juliet and WSVN's Deco Drive.
Also, the week following the grand finale, Syesha sold a total of 18,000 legal downloads from itunes.Template:Citation needed
She completed the American Idols LIVE! Tour 2008 which ran from July 1, 2008 to September 13, 2008. The songs she performed on the tour were "Umbrella" by Rihanna, "If I Ain't Got You" by Alicia Keys, and "Listen" by Beyonce.
In November 2008, she performed "One Rock and Roll Too Many" in the 6abc IKEA Thanksgiving Day Parade.
She was the guest host of the WSVN 7 yacht at the 37th annual Seminole Hard Rock Winterfest Boat parade on December 13, 2008.
She sang the The Star-Spangled Banner for the Miami Dolphins vs the San Francisco 49ers on Fox on December 14, 2008.
On December 20, 2008 she assisted the Habitat for Humanity in building homes for struggling families in Miramar, Florida.
In February 2009, she participated in the opening of the American Idol Experience attraction at Disney's Hollywood Studios in the Walt Disney World Resort.
On February 19, 2009, Mercado performed in her first live concert after the American Idols LIVE! Tour 2008. It was her own concert where all the proceeds went to benefit the Amer-I-Can program, a gang-prevention program started by NFL great, Jim Brown. She performed 8 songs in front of a sold out audience of about 4000 fans ranging from ages 2 to 83.
She sang the The Star-Spangled Banner for the opening day Major League Baseball game between the Oakland Athletics and the Angels Baseball on April 6, 2009.
She is currently working on an album in Los Angeles. She has stated that it is to be a Pop/R&B album. In addition to working on the album, in her free time she is taking acting lessons.
It was officially confirmed on June 25, 2009 that Mercado landed the lead role of Deena Jones in the upcoming United States national tour of Dreamgirls. On November 4, 2009, Mercado appeared on The Wendy Williams Show[3] to promote the tour which began on November 7, 2009. The tour is scheduled to end on July 25, 2010.
Community content is available under
CC-BY-SA
unless otherwise noted.