Scott "Scotty" Cooke McCreery (born October 9, 1993) is an American country singer from Garner, North Carolina. On May 25, 2011, McCreery won the tenth season of American Idol, making him, at age seventeen, the youngest male winner in the show's history as well as the second youngest winner ever behind Season 6 winner Jordin Sparks, who was also seventeen when she won in 2007.
McCreery was born in 1993 to Judy and Michael McCreery in Garner, North Carolina. His mother works as as a realtor. He is of partial Puerto Rican descent; his father was born in Aguadilla, Puerto Rico, to a Puerto Rican mother from San Juan and an American father.
He used to impersonate Elvis as a child, and started learning guitar at age ten. He attended West Lake Middle School and sang at his graduation. He also attended Garner Magnet High School, where he joined a vocal ensemble, Die Meistersingers, that performs across the United States. He started out singing tenor but switched to bass when his voice turned lower in his sophomore year. He won a country radio station singing contest called "Clayton Idol", and was one of 36 finalists in a "Rip the Hallways" contest featuring teenage vocalists in North Carolina. He has performed at various local events.
McCreery is a baseball fan (his favorite team is the Boston Red Sox), and was the homerun-hitting pitcher for his team called the Garner Trojans. He currently lives in Garner, North Carolina, with his parents Michael and Judy, sister Ashley, and two dogs. McCreery, despite his busy music career, is now a student at North Carolina State University. He once said in an interview that one of his favorite artists is Garth Brooks. He also got the chance to blog for Major League Baseball during the 2013 season.
McCreery auditioned for the tenth season of American Idol in Milwaukee. The judges were struck by his deep bass voice, unusual for someone his age. In the Hollywood group round, he joined the "Guaps" and became embroiled in the drama when Clint Jun Gamboa expelled Jacee Badeaux from his group. He later expressed regret for not standing up for Jacee. He was one of the five male vote-getters in the semi-final round to advance to the Top 13.
On May 25, 2011 McCreery won American Idol over fellow teen and fellow country singer Lauren Alaina. His first single is called "I Love You This Big".
McCreery released his coronation single "I Love You This Big" immediately following his Idol win. The song debuted at Number 32 on the Billboard Hot Country Songs chart, making it the highest debut for a debut single since the chart converted to BDS data the week of January 20, 1990, & it also debuted at number 11 on the Billboard Hot 100 chart. The song sold 171,404 units in its first week. "I Love You This Big" has since gone gold, selling 761,000 copies as of November 23, 2011. McCreery is now signed to Mercury Nashville.
American Idol Season 10: Scotty McCreery
[
edit
|
edit source
]
His five-song EP sold exclusively at Wal Mart features four of his best performances from Idol as well as his rendition of "Are You Gonna Kiss Me or Not?" It debuted at Number 10 on the Billboard 200 with 40,000 copies sold in its first week. It has gone on to sell 191,000 copies to date.
McCreery's debut album, released on October 4, 2011, features a song from country superstar Keith Urban as well as the title track. The first single from Clear as Day, called "The Trouble with Girls", was released to country radio on August 30, 2011. The album made history by becoming the first debut album released by an Idol winner since 2003 to debut at number 1 on the Billboard 200 with close to 198,000 copies sold in its first week. McCreery also broke records as the first country act to debut at Number 1 with their first studio album, and at age 18, the youngest man to open at the top of the chart with a debut release. It also debuted at number 1 on Billboard's Top Country Albums chart. Clear as Day has sold 1.1 million copies to date and has been certified platinum by the Recording Industry Association of America. McCreery received his platinum certification from Jimmy Iovine after he had performed his song "Water Tower Town", which was McCreery's next single, on Idol on March 29, 2012. McCreery got to perform "The Trouble with Girls" on an episode of the CW show Hart of Dixie, which aired on April 23, 2012.
Christmas with Scotty McCreery (2012-2013)
[
edit
|
edit source
]
McCreery also released a Christmas album called Christmas with Scotty McCreery on October 16, 2012, which debuted at Number 4 on the Billboard 200. The album has gone gold.
On January 12, 2012, McCreery, along with The Band Perry, opened for country superstar Brad Paisley with tour dates announced for the first quarter of 2012. McCreery returned to Idol to perform his latest single "See You Tonight", which is from his upcoming second album of the same name, on April 11, 2013.
See You Tonight (2013-present)
[
edit
|
edit source
]
McCreey's second album, whose first single he had performed on Idol, was released on October 15, 2013. The album, produced by Frank Rogers, features two songs that McCreery co-wrote. It debuted at Number 1 on the Billboard Top Country Albums chart and Number 6 on the Billboard 200. The title track, the album's first single, was a Top 10 country hit for McCreery, peaking at 10 on the Hot Country Songs chart, and going gold, selling 656,000 copies as of April 2014. The album has also done well, selling 242,000 copies as of July 2014.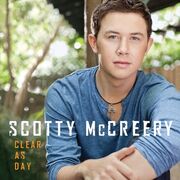 EPs:
American Idol Season 10: Scotty McCreery (2011)
Holiday albums:
Christmas with Scotty McCreery (2012)
Albums:
Clear as Day (2011)
See You Tonight (2013)
Community content is available under
CC-BY-SA
unless otherwise noted.