Scott Borchetta (born July 3, 1962) is an American businessman. He is the founder, president, and CEO of Big Machine Records. He is also well known for discovering country-pop singer Taylor Swift, who has gone on to release five albums on Big Machine Records and has won ten Grammy Awards.
Borchetta was the in-house mentor for Season 14 and Season 15 of American Idol with the winners, Nick Fradiani and Trent Harmon, both being signed to Big Machine Records.
Background
[
]
Born in Burbank, California and raised in the San Fernando Valley, Borchetta started his career as a race car driver and even played in a few bands. He later worked for his father's record company in Nashville, learning about the music business along the way.
Big Machine Records
[
]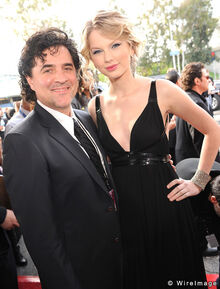 After years of working in the music business, Borchetta started Big Machine Records in 2005. One of the first artists he signed was a fourteen-year-old country singer named Taylor Swift. Her self-titled debut album, released in 2006, went platinum and helped establish her as a star. Other artists signed to Big Machine Records include Danielle Bradbury and Rascal Flatts among others.
American Idol
[
]
On December 3, 2014, Borchetta was confirmed as the in-house mentor for Season 14 and received praise for his work on the show. He replaced Randy Jackson, who had been a part of Idol since the very beginning.