Ryan John Seacrest (born December 24, 1974) is an Emmy Award-nominated television and radio host, television producer, and entrepreneur. A longtime broadcaster, Seacrest gained fame as host of the FOX reality show American Idol. While he continues to host that show, Seacrest also co-hosts the entertainment-news show E! News and hosts the annual Dick Clark's New Year's Rockin' Eve broadcast on ABC.
In addition to television, Seacrest hosts several radio shows: On Air with Ryan Seacrest, which is based on KIIS-FM in Los Angeles and is syndicated throughout the United States on Premiere Radio Networks, and American Top 40, which is also syndicated by Premiere Radio Networks.
Early Life
[
]
Seacrest was born in the Atlanta suburb of Dunwoody, Georgia, the son of Constance Marie née Zullinger, a homemaker, and Gary Lee Seacrest, an attorney. He has a younger sister, Meredith, and is of Swiss descent. At a young age, he knew he wanted to be a DJ, and idolized radio personalities like Casey Kasem and Dick Clark. Ryan hosted the morning announcements at his high school, Dunwoody High School, from which he graduated in 1993. During his academic career, Seacrest was a staff writer with the school paper, a member of the model UN club and captain of the Dunwoody High School Swim Team ("The Wet Wildcats").
After graduating from high school, Seacrest went on to attend the University of Georgia in the fall of 1993. There, he would host his first radio show at a local Athens station. Seacrest left UGA at age nineteen and moved to Hollywood to continue his broadcasting career.
Career
[
]
Seacrest appeared as the host of the fictional game show Lover's Lane in the Beverly Hills, 90210 episode "The Final Proof".
Seacrest's first major television job was as the host of Merv Griffin's teen gameshow Click, as well as The New Edge, a weekend morning show created by CNET showcasing new technology. Seacrest accepted the position as co-host of the hit reality TV series American Idol in 2002 with comedian Brian Dunkleman.
At American Music Awards 2003, he ripped open comedian Kathy Griffin's blouse and showed everyone her bra. The move led Kathy to complain Seacrest "physically assaulted" her. "That bit was unscripted," he admitted. Controversy continued as Seacrest jokingly referred to a twelve-year-old girl sitting in the front, which resulted in presenter Patricia Heaton walking out in disgust.
American Idol went on to become a success when the ratings went through the roof. This put Seacrest in the national spotlight. The following year, he became the sole host when Dunkleman left the show. (In a 2005 interview on the syndicated Howard Stern Show, Dunkleman insisted that it was his idea to leave Idol to pursue his career as an actor, but he was bitter at Seacrest's occasional put-downs after Dunkleman's departure.) In 2003, Seacrest hosted the spin-off show, American Juniors.
In January 2004, Seacrest launched a daily entertainment/variety/talk syndicated television program, On Air with Ryan Seacrest. Due to low ratings, the show was cancelled and aired its last episode on September 17, 2004. In January 2004, Seacrest became the new host of the legendary radio program American Top 40, created and formerly hosted by Casey Kasem. The show was syndicated by Premiere Radio Networks. Before he took over as host on AT40, he was a substitute host four times in 2003. In February 2004, Seacrest became host of popular Los Angeles radio station KIIS's morning show, replacing long-time host Rick Dees. This show, also known as On Air With Ryan Seacrest, remains on the air. "Every day I've showed up at a radio station, and every day I've essentially talked on the radio. I mean every day of my life — Monday through Friday — since I was fifteen. So for me, I'm so used to walking into a studio and having interesting conversations people can relate to. It's my job."
In January 2005, Seacrest hosted the "Celebration of Freedom" concert in Washington, DC, for President George W. Bush, the Bush family and the United States Military.
In August 2005, it was announced that Seacrest would become executive producer and co-host of Dick Clark's New Year's Rockin' Eve, and that he would be the legendary producer-host's eventual successor. On December 31, 2005 Seacrest performed much of the show's hosting duties. Dick Clark's role was limited by speech and mobility issues due to his recovery from a stroke. Seacrest also occasionally serves as a substitute host on the CNN television program Larry King Live.
In January 2006, U.S. cable channel E! announced a three-year, $21 million deal for Seacrest to host and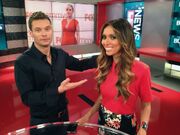 produce various programs, including E! News and its red carpet awards show coverages (E!'s signature piece of original programming). An Associated Press profile portrayed Seacrest as using both the deal with E! and the Dick Clark's New Year's Rockin' Eve involvement as a springboard towards a long-lasting career in television production and ownership. In April 2006, he won a Daytime Emmy Award for co-hosting the 2005 Walt Disney World Christmas Day Parade with Regis Philbin and Kelly Ripa. Seacrest had a cameo in the summer 2007 blockbuster film Knocked Up, where he steps out of his usual friendly host role on E! and rants about the stupidity of the interviews he has to conduct, noting that no one has anything to say about an exit strategy in Iraq or dealing with (presumably North) Korea.
Seacrest hosted the 59th Primetime Emmy Awards on September 16, 2007.
In May 2008, reports said Seacrest would be executive producer for a new reality dating show, Momma's Boys, for NBC. According to a casting announcement, the series will follow mothers as they work with their sons to find their perfect match.
Since 2007, Seacrest has been the executive producer of the long-running reality show Keeping Up with The Kardashians, which looks at the life of socialite Kim Kardashian and her large, extended family. The success of the show has resulted in three spinoffs.
Seacrest is also the executive producer of E! reality show Denise Richards: It's Complicated which premiered on May 26, 2008. The show has received numerous negative reviews. The Boston Herald rated the show a D. Its critic Mark A. Perigard said of the first episode:
"Denise Richards' life is one steaming pile of pig poop...Literally".
In August 2008, ABC picked up the option in Seacrest's contract to extend him as co-host of New Year's Eve through 2010, ringing in 2011, also renaming the program Dick Clark's New Year's Rockin' Eve With Ryan Seacrest, to reflect Seacrest's success as co-host, said in a statement by Orly Adelson, president of Dick Clark Productions.
In August 2008, Seacrest named his longtime William Morris Agent, Adam Sher, as C.E.O. of Ryan Seacrest Productions.
In August 2008, Seacrest inked an expansive deal with the Comcast Entertainment Group, keeping him on E! Entertainment Television through early 2012. Comcast also gets first-look rights at all Ryan Seacrest Productions products.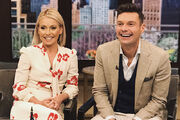 Seacrest became the co-host of Live with Kelly & Ryan​ on May 1, 2017 after the show went through a nearly year long search to find a replacement for former co-host Michael Strahan.
Return to Idol
[
]
On July 20, 2017, Seacrest's Live with Kelly & Ryan ​co-host Kelly Ripa helped him confirm the news that he would be returning as host of Idol when the show returned on ABC in spring 2018.
Personal Life
[
]
Seacrest began dating singer/dancer/actress Julianne Hough in spring 2010. They vacationed together in Paris, France, among various places and even spent Thanksgiving with Seacrest's family back in Georgia. The couple made their first red carpet appearance together at an event a day before the 2011 Golden Globe Awards. However, their busy schedules proved to be very problematic, and the couple split in March 2013 after nearly three years together.
Gallery
[
]
External Links
[
]