Ruben Studdard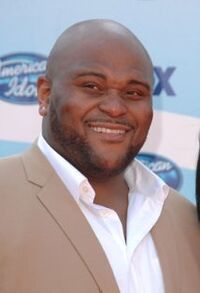 Birth Name
Christopher Theodore Ruben Studdard
Audition City
Nashville, Tennessee

Christopher Theodore Ruben Studdard (born September 12, 1978) is an American pop, R&B, and gospel singer. He rose to fame as the winner of the second season of American Idol. He received a Grammy Award nomination in December 2003 for Best Male R&B Vocal Performance for "Superstar."
In the years following Idol, Studdard has released six studio albums. His latest, Unconditional Love, was released on February 4, 2014.
In addition to appearing on various television shows he has toured with Robin Givens in the comedy-drama Heaven I Need a Hug and in 2008 accepted the role of Fats Waller in a national tour of Ain't Misbehavin'. He has also toured with season 2 runner-up and good friend Clay Aiken.
Studdard became a part of season 15 of the NBC show The Biggest Loser, addressing weight issues that he has dealt with for years. He was eliminated on November 5, 2013, but due to a scandel involving trainer Jillian Michaels, he returned to the show on the November 19, 2013 episode. He was eliminated again on the December 3, 2013 episode.
Biography 
Edit
Early Life
Edit
Studdard, who was born in Frankfurt, Germany while his father was stationed there with the U.S. Army, grew up in Birmingham, Alabama. The youngest son of two teachers, at the age of three he sang for the first time at the Rising Star Baptist Church in his hometown of Birmingham, Alabama. He continued singing gospel in church, performing solos as a child while his mother sang in the local choir. While at Huffman High School, he played football for which he received a scholarship to Alabama A&M University. While there he joined the Phi Mu Alpha Sinfonia music fraternity. He graduated with a Master's of Arts degree on December 12, 2015.
After growing up listening to his mother's Donny Hathaway albums, Fred Hammond, and gospel music, Studdard began to pursue a career in the music industry, majoring in voice studies at Alabama A&M. He sang with Just a Few Cats, a popular local Birmingham jazz and R&B band founded by members of Ray Reach's UAB Jazz Ensemble, along with other local musicians. "A lot of people don't realize how hard I was trying to get into the business before American Idol," Studdard related several years later. "I was making demos and just working so hard." A back-up singer from Just a Few Cats asked him to accompany her to Nashville, Tennessee for an audition on the 2003 second season of " American Idol".
Personal Life
Edit
On June 28, 2008, Studdard married Surata Zuri McCants in a short, private ceremony outside of Birmingham, Alabama. There was no singing during the 30-minute ceremony - just an exchange of vows, prayers, and music provided by a string ensemble. Studdard wore a black tuxedo with white bow tie for the ceremony. His bride wore a white and ivory wedding gown. However on November 17, 2011, Studdard's rep announced that he and McCants had split after 3 years of marriage, citing "irreconcilable differences" as the reason that they were divorcing. The divorce was finalized in April 2012.
When auditioning, Studdard sang Stevie Wonder's "Ribbon in the Sky." This guided him to being one of the local finalists. On American Idol, he impressed viewers with his performances of the Leon Russell/Bonnie Bramlett song "Superstar" (originally a hit for The Carpenters and Luther Vandross) and the Peabo Bryson/Regina Belle duet "A Whole New World"; during his time on the show, Studdard received praise from music legends such as Lionel Richie, Neil Sedaka, Robin Gibb of the Bee Gees, Luther Vandross, and Gladys Knight.
During the televised competition, Studdard gained the nickname "Velvet Teddy Bear" and was noted for his shirts printed with "205", the telephone area code of his hometown of Birmingham. Studdard also did a cover version of "For All We Know", originally recorded by Donny Hathaway, whose music he grew up with.
He won the contest over runner-up Clay Aiken by only 134,000 votes out of 24,000,000 cast in the May 2003 finale[6], becoming the second American Idol winner and the first African American contestant and only male (as well as the oldest winner) to hold that title until 2006, when fellow Birmingham native Taylor Hicks won Idol's season 5. On April 21, 2003, he also became the first American Idol winner to end up in the bottom 2 or 3 and the only male winner to do so, while Fantasia Barrino was also in the bottom 2 or 3 twice in the following season.
Performances
Edit
Week
Theme
Song
Original artist
Result
Top 32
Contestant's choice
"Superstar"
Delaney & Bonnie
Advanced
Top 12
Motown
"Baby I Need Your Loving"
Four Tops
Safe
Top 11
Movie Soundtracks
"A Whole New World" - Aladdin
Brad Kane & Lea Salonga
Safe
Top 10
Country rock
"Sweet Home Alabama"
Lynyrd Skynyrd
Safe
Top 8
Disco
"Can't Get Enough of Your Love, Babe"
Barry White
Safe
Top 8
Billboard Number Ones
"Kiss and Say Goodbye"
The Manhattans
Safe
Top 7
Billy Joel
"Just the Way You Are"
Billy Joel
Safe
Top 6
Diane Warren
"Music of My Heart"
'N Sync and Gloria Estefan
Safe
Top 5
1960s
"Ain't Too Proud to Beg"
The Temptations
Bottom 2
Neil Sedaka
"Breaking Up Is Hard to Do"
Neil Sedaka
Top 4
Bee Gees
"Nights on Broadway"
Bee Gees
Safe
"How Can You Mend a Broken Heart"
Bee Gees
Top 3
Random
"Signed, Sealed, Delivered I'm Yours"
Stevie Wonder
Safe
Judges' Choice
"Smile" - Simon Cowell
Charlie Chaplin
Idol's Choice
"If Ever You're in My Arms Again"
Peabo Bryson
Top 2
Finale
"A House Is Not a Home"
Dionne Warwick
Winner
"Imagine"
John Lennon
"Flying Without Wings"
Westlife
Post Idol
Edit
2003-2004: Soulful
Edit
Studdard released his first single, a cover of Westlife's "Flying Without Wings" (which he had sung on the show's finale), produced by the The Underdogs and Babyface, a month later in June 2003. Fueled largely by sales, it debuted at #2 on the Billboard Hot 100. In December 2003, advance orders for his album Soulful topped the 1 million mark before it was released into stores. The album debuted at number one on the Billboard 200 album chart that month, selling over 400,000 copies in its first week and attaining the highest first-week sales of any American Idol winner. The single "Sorry 2004" from this album found substantial airplay, reaching #9 in the Billboard Hot 100 and #2 on the Billboard R&B singles chart. Studdard received a Grammy Award nomination in December 2003 for Best Male R&B Vocal Performance for "Superstar", nominated with his idol Luther Vandross (Vandross won that category). In March 2004, Ruben won the NAACP Outstanding New Artist award.
2004: I Need An Angel
Edit
Studdard released the gospel album I Need an Angel on November 23, 2004. The title track and first single "I Need an Angel" was a cover of a 2002 single performed by R&B singer Daniel DeBourg and written by R. Kelly. The album sold over 96,000 copies in its first week, it also entered the Gospel charts at #1, opened at #20 on the Billboard 200 chart, it since has sold over 500,000 copies. It was also #1 on the 2005 Billboard Year-End Gospel Albums Chart. As of June 2007, Studdard is the fifth-best selling American Idol performer with more than 2.4 million albums sold in the U.S.
In March 2005, Studdard filed a lawsuit against his godfather and business advisor Ronald Edwards. The suit alleges that Edwards ran up $156,000 on Studdard's credit cards and stole $90,000 from his checking account. Edwards filed a countersuit. On June 15, 2006, Studdard was awarded $500,000 for personal losses and another $1.5 million in punitive damages.
Studdard has worked as an actor in several, mostly minor, roles, including single-episode appearances on the television series 8 Simple Rules, Life on a Stick, All of Us, and Eve, as well as a cameo appearance in the film Scooby Doo 2: Monsters Unleashed. He has also appeared on a television commercial for a Birmingham-area Kia dealer.
Between his second and third albums, Studdard began a diet and fitness program to deal with his weight, out of concern for a family history of diabetes and hypertension. Studdard lost over 70 pounds on a vegetarian diet but later admitted to regaining the weight after his marriage ended in divorce.
2006-2008: The Return
Edit
Studdard's third album, The Return, was released in October 2006; it goes back to his R&B roots, but is different from his previous efforts. Studdard collaborated with the artist Ne-Yo on this album, along with a variety of producers. The single "Change Me" was released ahead of the album. The Return sold 71,000 copies in its first week to open at #8 on the Billboard 200 album chart, but sales declined rapidly after that, not approaching those of his earlier albums. However, Studdard did have good success on the Urban Contemporary chart with "Change Me" (which reached #1) and its successor "Make Ya Feel Beautiful". Studdard continued to tour saying he would play a variety of music: "Coming out to my show is like coming to my house. I'll play the songs I love. It's like a party. For me, a party has all different types of music happening."
Studdard appeared on the finale of American Idol season 6 in May 2007. He spent a few weeks touring with Robin Givens in the comedy-drama Heaven I Need a Hug and prepared to take on the role of Fats Waller in a national tour of Ain't Misbehavin' in 2008. The tour is scheduled to begin November 17, 2008 in Atlanta, GA and end May 14, 2009 in Syracuse, NY.
In December 2007, it was announced that Studdard had been dropped from his record company, J Records, due to poor sales of The Return and "[falling] short of expectations." He remained under contract with 19 Recordings, however. As such he was assigned the high-profile position of performing the American Idol season 7 farewell song, a recording of Kenny Loggins' "Celebrate Me Home", in a new version produced by Terry Lewis and Jimmy Jam.
Studdard performed "Celebrate Me Home" live on May 20, 2008, at the Nokia Theatre for the first night of the two-night Grand Finale of American Idol's season 7.
2008-2011: Ain't Misbehavin' and Love IS
Edit
Studdard co-headlined the revival tour of Ain't Misbehavin', starring alongside fellow American Idol (season 2) alums, Trenyce and Frenchie Davis. Starring as Fats Waller, Studdard received positive reviews and was part of a cast recording album to be released by Rhino Records on January 13, 2009. Studdard was also featured in the music video for gospel singer Deitrick Haddon's "Love Him Like I Do" along with Gospel duo Mary Mary.
Studdard also announced that his next album, to be released May 19, 2009, would be released on Sony Music offshoot Hickory Records. The new album, Love IS, was being produced by Jimmy Jam and Terry Lewis. The first single off of Love IS is the ballad "Together."
2011-2013: New label and new album
Edit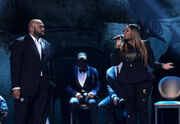 In July 2011, it was announced that Studdard had signed with a label called Shanachie Entertainment. Studdard's fifth album, entitled
Letters from Birmingham
, was released on March 13, 2012. The album's first single is called "June 28th (I'm Single)".
Studdard teamed up with producer David Foster on his next album. He also got to sing "A House Is Not a Home" with season 12 winner Candice Glover as part of a tribute to R&B legend Dionne Warwick at the 2013 Soul Train Awards on December 1, 2013.
Studdard parted ways with Shanachie Entertainment sometime in 2013.
2014-present: Verve Records and Unconditional Love Edit
During his time on The Biggest Loser, Studdard was shown putting in time working on a new album in between his workouts and commitment to the show. He even brought his trainer Dolvett Quince with him to the recording studio to show him what he was doing.
Studdard, now signed to Verve Records, released his sixth album, Unconditional Love, produced by David Foster, on February 4, 2014. He and season 3 winner Fantasia Barrino will be co-hosting a fundraiser for fellow Idol alum Clay Aiken, who is running for Congress.
Studdard appeared in an episode of One on One as himself and in an episode of All of Us as an older Bobby. He also appeared in the 8 Simple Rules episode where CJ's dad comes; he played a delivery boy who CJ mistakes for his father. He greets him by hugging him and saying, "You have always been my idol," referring to his win on Idol. Studdard also appeared on an episode of Eve as Paul, Janie's younger brother who has a huge crush on Shelly.
The Biggest LoserEdit
On July 1, 2013, Studdard, who has been battling weight issues for years, announced that he would be competing on season 15 of the popular NBC weight loss show The Biggest Loser. The show premiered on October 8, 2013. 
In the first week, Studdard entered the show weighing 462 pounds, making him one of the show's heaviest contestants of the season. He lost 21 pounds in the first week, bringing his weight down to 441 at his first weigh-in.
In the second week, Studdard saw a doctor, who diagnosed him with type 2 diabetes, which the doctor told him is reversible with exercise and change in diet. Admitting that the diagnosis made him "afraid", Studdard stepped up his workouts and, at his second weigh-in, lost 10 more pounds, bringing his weight down to 431 pounds.
In the third week, Studdard got very emotional while talking with his mother, Emily, about what has been going on with him on the show. He kept up with his workouts and, at the next weigh-in, lost 3 more pounds, resulting in his weight dropping down to 428 pounds.
Studdard and the other contestants took part in a Halloween challenge, but it involved a great risk. He was able to maintain his workouts and lost another 23 pounds, bringing his weight down to 405 pounds. However, Studdard was eliminated from the competition on the episode airing November 5, 2013. He left the show having lost a total of 57 pounds. 
Jillian Michaels scandel
Edit
On the November 12, 2013 episode, it was revealed at the weekly weigh-in that trainer Jillian Michaels had broken the show's rules by giving her team a caffeine supplement without a doctor's permission. Her team recevied a 4-pound penality for the mistake, and Studdard's elimination the week before was declared invalid, resulting in him returning to the show.
For this week, Studdard's team, the Red Team, celebrated both his return to the show as well as their first challenge win. Also Studdard and his team's trainer, Dovlett Quince, met up with music producer David Foster, who is producing Studdard's next album. He also keeps up in his workouts, and at the weekly weigh-in, Studdard drops 8 pounds, bringing his weight down to 409 pounds(he had kept up with his workouts after he had been originally eliminated).
For this week, Studdard and the other contestants helped unload trucks full of Thanksgiving food like turkey, cranberry sauce, and pumpkin pies to families affected by tornadoes that tore through Moore, Oklahoma. Studdard kept going with his workouts as well as carrying the heaviest boxes during the charity visit. At the weekly weigh-in, Studdard dropped 7 more pounds, bringing his weight down to 394 pounds.
Despite the possiblilty of a double elimination, Studdard worked hard in his workouts and even got a mental boost when he got put on a jersey from his old high school, Huffman High School, where he had played football. However, at the weigh-in, Studdard had only lost 2 pounds, bringing his weight down to 392, which bummed him out because he thought that he had lost more then that. He ended up eliminated for the second time but had been in the running for the $100,000 at-home prize.
Studdard had lost a total of 70 pounds during his time on the show and has lost 60 more since his elimination. He even performed his new single, "Meant to Be", at the finale on February 4, 2014.
Official Account
Edit
Discography
Edit
Letters from Birmingham (2012)
Unconditional Love (2014)