Rickey Smith (born May 10, 1979; died May 5, 2016) was an American singer who finished in 8th place on season 2 of American Idol.
Raised in Keene, Texas, Rickey grew up singing in church. Before he tried out for Idol, he was working as a school teacher.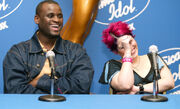 Known for his sweet, funny personality, warm smile, and strong vocals, Rickey was not only a fan favorite but also beloved by his fellow contestants. His closest friend on the show was winner Ruben Studdard. While his take on songs such as "Let's Groove" by Earth, Wind, and Fire was entertaining to fans, it didn't always earn him good critques from the judges even though they did like him.
Rickey finished in 8th place.
After the show, Rickey did several interviews and was a part of the American Idols Live tour. He moved to Los Angeles to pursue a music career but eventually decided to stop, moving back to Oklahoma. He later admitted in a 2008 interview that he did make an album, but it never got released.
On May 5, 2016, Rickey was killed when a drunk driver crashed into his car as he was driving home to Oklahoma City. The driver, Geraldo Cerda Jr., is now in custody.
Many of Rickey's fellow season 2 alum, including Clay Aiken, Kimberly Caldwell, and Ruben Studdard, all expressed their heartbreak over his death on social media upon news of his death. Season 6 alum Melinda Doolittle, who frequently sang duets with him, also made a statement expressing her sadness over Rickey's death. A GoFundMe page has been set up to raise money to help out Rickey's family.
Community content is available under
CC-BY-SA
unless otherwise noted.