Phillip LaDon Phillips, Jr. (born September 20, 1990) is an American rock singer-songwriter from Leesburg, Georgia who won Season 11 of American Idol.
Phillips grew up in Leesburg, Georgia. He graduated from Albany Technical College with a major in Industrial Systems Technology but missed his graduation ceremony due to him being on American Idol. Before trying out for Idol, Phillips had once auditioned for the second season of America's Got Talent (however, unaired) but didn't make the finals of that show.
Phillips had been working at his family's pawn store in nearby Albany, Georgia, when he decided to try out for Idol.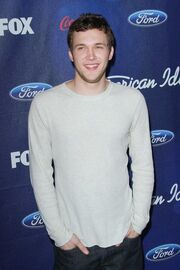 Phillips auditioned for American Idol in Savannah, Georgia. He made it to the Hollywood round and later to the Las Vegas rounds. Phillip was chosen as one of the Top 25 contestants. He was also one of the top five male vote-getters to advance to the Top 13 round. He is considered one of the most original contestants in American Idol as told by the judges. Some fans of the show, however, have criticized Phillips for sounding too much like rock singer-songwriter Dave Matthews. Some have even flat-out called him a Dave Matthews clone.
Phillips has also on occasion been criticized for his personality, either being seen as too humble for his own good or coming across as a jerk especially when he rejected advice from both fashion designer Tommy Hilfiger, who suggested that he not wear so much grey, and hip-hop mogul Diddy, who suggested that Phillips not use his guitar in every performance. However, his insistence on staying true to himself endeared Phillips to many people.
One of Phillips' closest friends in the show is Heejun Han. Some have described their friendship as a "bromance".
On May 10, 2012, Phillip was in the Bottom 2 for the first time this season with Hollie Cavanagh, but it was her who was eliminated.
Phillips won Season 11 on May 23, 2012. His first single is called "Home".
Episode
Theme
Song Choice
Original Artist
Order #
Result
Audition
Auditionee's Choice
"Superstition"
"Thriller"
Stevie Wonder
Michael Jackson
N/A
Advanced
Hollywood Round, Part 1
First Solo
"Papa's Got a Brand New Bag"
James Brown
N/A
Advanced
Hollywood Round, Part 2
Group Performance
"Broken Strings"
with Heejun Han, Richie Law and Jairon Jackson
James Morrison feat. Nelly Furtado
N/A
Advanced
Hollywood Round, Part 3
Second Solo
"Wicked Game"
Chris Isaak
N/A
Advanced
Las Vegas Round
Songs of the 1950s
Group Performance
"I Only Have Eyes for You"
with Neco Starr, Jairon Jackson and Heejun Han
Dick Powell & Ruby Keeler
N/A
Advanced
Final Judgment
Final Solo
"Nice & Slow"
Usher
N/A
Advanced
Top 25 (13 Men)
Personal Choice
"In the Air Tonight"
Phil Collins
9
Advanced
Top 13
Stevie Wonder
"Superstition"
Stevie Wonder
13
Safe
Top 11
Year They Were Born
"Hard to Handle"
Otis Redding
1
Safe
Top 10
Billy Joel
"Movin' Out (Anthony's Song)"
Billy Joel
6
Safe
Top 9
Their Personal Idols
Trio Trio "Landslide"/"Edge of Seventeen"/"Don't Stop"/with Colton Dixon & Elise Testone

Solo"Still Rainin'"

Fleetwood Mac/Stevie Nicks
Jonny Lang
3
9
Safe
Top 8
Songs from the 1980s
solo"That's All" Duet"Stop Draggin' My Heart Around"
with Elise Testone
Genesis
Stevie Nicks & Tom Petty
4
8
Safe
Top 7
Songs from the 2010s
Songs from Now & Then
Duet "Somebody That I Used to Know" with Elise Testone
solo "Give a Little More"
"U Got It Bad"
"In the Midnight Hour"
Gotye feat. Kimbra
Maroon 5
Usher
Wilson Pickett
3
8
4
11
Safe
Top 6
Queen
Contestant's Choice
"Fat Bottomed Girls"
"The Stone"
Queen
Dave Matthews Band
5
11
Safe
Top 5
Songs from the 1960s
British Pop
Solo "The Letter"
Duet "You've Lost That Lovin' Feelin'" with Joshua Ledet
"Time of the Season"
The Box Tops
The Righteous Brothers
The Zombies
2
4
8
Safe
Top 4
California Dreamin'
Songs They Wish They'd Written
Solo"Have You Ever Seen the Rain?"
Duet"This Love" with Joshua Ledet
Quartet"Waiting for a Girl Like You"with
Hollie Cavanagh, Joshua Ledet & Jessica Sanchez
"Volcano"
Creedence Clearwater Revival
Maroon 5
Foreigner
Damien Rice
1
5
7
Safe
Top 3
Judges' Choice
Contestant's Choice
Jimmy Iovine's Choice
"Beggin'"
"Disease"
"We've Got Tonight"
The Four Seasons
Matchbox Twenty
Bob Seger
3
6
9
Safe
Finale
Simon Fuller's Choice
"Stand by Me"
Ben E. King
2
Winner
Favorite Performance
"Movin' Out (Anthony's Song)"
Billy Joel
4
Winner's Single
"Home"
Phillip Phillips
6
After making the Top 13, fans noticed that Phillips wasn't always in the Ford music videos, and that he looked like he was in pain during his performances, whether it was one of his own or when he was performing with someone else. It was later revealed that Phillips suffers from a congenital kidney condition that produces kidney stones so large that they cannot pass through. He even underwent eight operations during his time on the show to help ease the pain he was dealing with and at one point considered quitting the show to focus on his health. A few days before the finale, however, the gossip website TMZ revealed that Phillips needed surgery to reconstruct one of his kidneys after the finale, which he did confirm. While some have applauded Phillips for sticking it out and going after his dream, others have criticized him for putting his health at risk by delaying the surgery so that he could stay on the show.
Phillips underwent the surgery on June 6, 2012. He's since made a full recovery.
Albums:
The World From the Side of the Moon (2012)
Behind The Light (2014)
Collateral (2018)
EPs:
Phillip Phillips: American Idol Season 11 Highlights (2012)
Compilation albums:
Phillip Phillips: Journey to the Finale (2012)
Singles:
"Home" (2012) (certified 4x platinum)
"Gone, Gone, Gone" (2012) (certified platnuim)
Superstition by Stevie Wonder.
Hard to Handle by Otis Redding.
Movin' Out (Anthony's Song) by Billy Joel.
Still Rainin' by Johnny Lang.
That's All by Genisis.
Give A Little More by Maroon 5.
U Got It Bad by Usher.
Despite having undergone kidney surgery, Phillips was a part of the American Idol Live Tour by ChipsAhoy along with the rest of the Top 10 of Season 11 of American Idol.
Phillips' EP, Phillip Phillips: American Idol Season 11 Highlights, was released at Walmart on July 3, 2012. It has sold 82,000 copies to date. His debut album, The World from the Side of the Moon, which Phillips wrote or co-wrote the majority of the songs, was released on November 19, 2012, debuting at Number 4 on the Billboard 200. It has since gone platinum, selling over one million copies as of November 2013. One of the biggest hits off the album is "Gone Gone Gone", which became the official elimination song for Season 12. "Gone Gone Gone" also become a hit, selling over one million digital copies.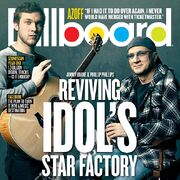 Phillips was nominated for two Teen Choice Awards in June 2012. One for being a Breakout Artist and one for his hit song "Home". He's also been nominated for two World Music Awards.
Phillips performed "Home" on July 4, 2012 at the 36th Annual Capitol Fourth concert in Washington, D.C. He also performed the song at the 83rd MLB All-Star game in Kansas City, Missouri on July 10, 2012. He even got to perform during NBA All-Star Weekend in Houston, Texas in February 2013.
Phillips hit the road with the Grammy-winning band Matchbox Twenty for a North American tour in 2013 in addition to his own ten-date college tour in January 2013. Phillips then launched his own college concert tour in March 2013. However, due to illness, he was forced to reschedule his last several tour dates in May 2013 as well as cancel an appearance at the American Idol finale.
Phillips recovered from his illness and hit the road on July 6, 2013 as the opening act for singer-songwriter John Mayer on his Born and Raised World Tour, which went on until October 5, 2013.
Phillips, along with Mayer and Bruce Springsteen, performed at Rock in Rio in Rio de Janerio, Brazil on September 21, 2013.
Phillips toured with the band O.A.R. during summer 2014.
On June 12, 2012, the pawn store that Phillips' family owns, Albany Sporting Goods and Pawn in Albany, Georgia, was robbed of around $4,000 worth of merchandise and $110 that was in the cash register. Phillips and his family were in California at the time because he was recovering from his surgery. It was later revealed that Phillips' father had put the business up for sale about ten days before the Idol finale.
Three suspects have since been arrested in connection with the case.
Behind The Light (2014-2018)
[
edit
|
edit source
]
Phillips' second album, Behind The Light, was released on May 19, 2014. The album's first single, "Raging Fire", was released digitally on March 3, 2014. It proved to be a successful single, peaking at Number 4 on the Billboard Adult Alternative Songs chart and Number 7 on the Adult Top 40 chart. He performed the song on Idol on March 6, 2014. He was part of a 25-city co-headlining tour with the band O.A.R., which kicked off on June 12, 2014 in St. Louis, Missouri. He performed "Raging Fire" again, this time with Sam Woolf, at the American Idol finale on May 21, 2014.
On January 26, 2015, Phillips filed a motion with the California Labor Commissioner seeking to void his contract with 19 Entertainment, claiming that the contract is "oppressive". However, many legal experts say that Phillips may a hard time proving his claim. The lawsuit was settled in June 2017.
On January 19, 2018, Phillips released his third album, Collateral. He also made his acting debut with an appearance as a diamond smuggler in an episode of the popular CBS series Hawaii Five-O.
On May 3, 2020, Phillips returned to American Idol to open the Season 18 Top 10 show with an acoustic performance of his bestselling hit song "Home" from home because of the coronavirus pandemic. He also appeared in the Finale.
Phillips became engaged to his longtime girlfriend, college student Hannah Blackwell, on Christmas Day 2014. The couple, who met when both were volunteering at a women and children's shelter, had been dating since 2010. The couple were married on October 24, 2015. He's also a devout Christian.
Community content is available under
CC-BY-SA
unless otherwise noted.