Olivia Isabella Hannah Hill (born January 16, 1999), better known by her stage name Olivia Rox, is an American singer from Agoura Hills, California, who finished in the Top 10 in Season 15 of American Idol.
Background
[
]
The daughter of saxophonist Warren Hill and his wife, singer turned music producer Tamara Van Cleef, Olivia grew up surrounded by music. Her father even let her come up onstage and sing her favorite song, "Somewhere over the Rainbow", when she was just a toddler. At age fourteen, Olivia tried out for Season 8 of America's Got Talent but was eliminated in the Vegas Round. She also has a YouTube channel where she has posted videos of herself singing cover songs as well as original material.
American Idol
[
]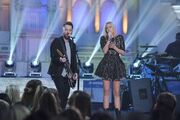 Olivia auditioned in San Francisco with "When I Was Your Man" by Bruno Mars and received a ticket to Hollywood. She advanced passed Hollywood's Lines of Ten, Group Round, and performed "Genie in a Bottle" by Christina Aguilera for her Hollywood Solo round. She then advanced to Showcase week where she performed "Love Somebody" by Maroon 5 and advanced to the Top 24. During the Top 24, she performed "Confident" by Demi Lovato and performed a duet with David Cook singing his original song "Light On". Afterwards, she advanced to the Top 14 where she received a designated spot by the judges in Season 15's Top 10 and didn't have to perform for America's Vote. During the Top 10 she performed "Unconditionally" by Katy Perry but was eliminated in a double elimination with fellow contestant Gianna Isabella finishing in 9th/10th place. Her elimination caused an outrage because she had been seen as a frontrunner.
Performances
[
]
Episode
Theme
Song choice
Original artist
Order #
Result
Audition
Auditioner's Choice
"When I Was Your Man"
Bruno Mars
N/A
Advanced
Hollywood Round, Lines of Ten
A Capella
Not Aired
-
N/A
Advanced
Hollywood Round, Group Round
Group Performance
Not Aired
-
N/A
Advanced
Hollywood Round, Solo Round
Solo
"Genie in a Bottle"
Christina Aguilera
N/A
Advanced
Showcase Week
Personal Choice
"Love Somebody"
Maroon 5
N/A
Advanced
Top 24
Contestant's Choice & Idol Duets
"Confident"
Demi Lovato
12
Advanced
Duet "Light On" with David Cook
David Cook
8
Top 14
Favorite Moment
No performance
-
-
Advanced
Top 10
Contestant's Choice
"Unconditionally"
Katy Perry
1
Eliminated
Post Idol
[
]
After her time on the show, Olivia did several interviews. She also posted her version of the Charlie Chaplin song "Smile" on her YouTube channel on March 11, 2016. She performed a sold out show at The Canyon Club in her hometown of Agoura Hills, California, on April 28, 2016. She has released two singles, "It Girl" on October 10, 2017 and "Say Goodbye" on January 1, 2018. Her debut CD PopRox was released in 2019 with the first single "It Girl" reaching #49 on the Top 40 charts, and her Christmas single "It's Christmastime" reaching #27 on the Holiday charts. Her second single from the CD entitled "Galileo" went to radio February 2020. Amidst the COVID-19 pandemic, Olivia also released an acoustic album, Just a Girl & Her Guitar, free to the public as a small way of giving back. She has also released a single, "Go Vote", to encourage youths to be more politically aware and to go vote during the 2020 Elections.
Olivia is also active on social media. One of which is a weekly interview, called "QuaranTUNE Sessions", with a special musical guest that ends with a live concert performed by Olivia to provide content and entertainment for those stuck in quarantine. She also releases music and lyric videos periodically on her YouTube channel, oliviaroxmusic. Olivia is also currently signed as with her independent label, Songbird Music Group, created and lead by her manager and mother Tamara Van-Cleef.
Discography
[
]
Singles:
Albums: