Norman Gentle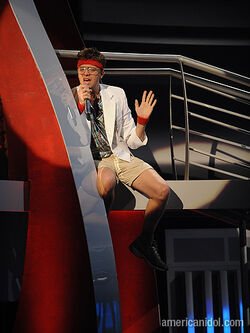 Born
Brookfield, Connecticut

Nick Mitchell (also known by his alias "Norman Gentle") is a contestant who auditioned for American Idol in the eighth season. Unlike almost all of the contestants in American Idol history, he was the first, and so far only, comedic singer to make it to the voting rounds.
Audition
Edit
Nick Mitchell auditioned for American Idol in the eighth season in the city of New York. When Mitchell auditioned, he did so under the moniker of Norman Gentle. He was immediately scolded by Simon Cowell to not be comedic, and be more serious. At first, it seemed like Mitchell had listened, taking off his bandana and tucking his shirt out. He performed "And I'm Telling You I'm Not Going" by Jennifer Holliday. Simon then stopped him partway through and questioned why he was making the song funny. Mitchell then proceeded to playfully jab at him twice, including jokes about Cowell enjoying being kicked by Ryan Seacrest, to which the entire judging panel laughed in response and Cowell even admitting that that comeback was funny. However, it didn't phase Cowell, telling him that they were not looking for a comedy singer on what his a serious show. Mitchell then suggested changing the song, and Cowell agreed. He then sang "American Grace", and at first was performing the song normally, but partway through started to act comedic, much to the dismay of Cowell. The other three judges continued to laugh throughout his audition, even Paula Abdul openly admitting that she loved him and Kara DioGuardi saying it was the first time that day that she was thoroughly entertaining. Abdul later said 'yes' to putting him through to the Hollywood rounds. DioGuardi said that even though he didn't have a chance to win the title, she still thanked him. Cowell then said it was "a categorical no". Randy Jackson was the last judge to make a verdict. DioGuardi insisted Randy said 'yes'. Randy wasn't sure whether to put him through or not, but admitted that he was entertained by him. Eventually, Randy said 'yes', giving Nick Mitchell a golden ticket and going straight through to the Hollywood rounds.
Nick Mitchell eventually managed to make it through to the Top 36. He performed in the second group and again sang "And I'm Telling You I'm Not Going". Like all his other performances, he still performed under "Norman Gentle" and continued to put a comedic slant on it. Afterwards, Simon Cowell said that he prayed that he did not go through to the next round and even called it "one of the most atrocious performances we've ever had at this stage of the competition." He ended his judgment by calling his performance "horrific comedy". Mitchell then jabbed back at Cowell saying "takes one to know one." Randy Jackson then proceeded to call it one of the most entertaining Idol performances ever, though he confessed that the vocals were all over the place. Kara DioGuardi mentioned that he was memorable and praised him for doing his own thing and also said that she thought he wasn't that bad of a singer. Paula Abdul said that singers come in all shapes and sizes and that even though American Idol probably wasn't the stage for him, that there were plenty of other ones for him. As Ryan Seacrest came on the stage, Mitchell admitted that there was something wrong with the vocals even though the previous rehearsals were great. Cowell then asked Seacrest if he liked Mitchell's performance, and he said he did, but in a different way than Cowell, to which Cowell said he could believe that. Ryan Seacrest then asked Nick if he deserved a stop in Top 12, and Nick said that he asked him that all the time and instead asked what he thought, he said "probably not, but I'll read off your numbers anyway".
Nick Mitchell was eliminated at this stage of the competition and was not chosen as a Wild-Card by the judges.
Post Idol
Edit
After American Idol, Nick Mitchell continued to perform under his "Normal Gentle" moniker. He would later form a band called "GENTLE". He would release a song called "Bitch Slap" (or "Brit Slap" for the radio edit version).