Michael Johns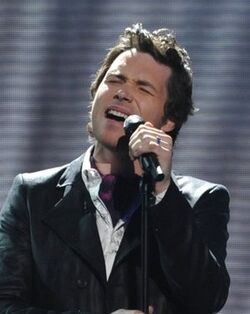 Birth Name
Michael John Lee
Born
October 20, 1978-
August 1, 2014
Michael Johns (born Michael John Lee on October 20, 1978; died August 1, 2014) was an Australian singer-songwriter who finished in 8th place on season 7 of American Idol. 
Biography
Edit
Born in Perth, Western Australia, Johns performed in theater and was also an athlete. He portrayed The Coachman in a production of Pinocchio at the Regal Theatre and also was a choir singer in a production of Anything Goes at His Majesty's Theatre.
Johns attended Newman College in Perth, but at age eighteen, he moved to the United States on a tennis scholarship and became a drama major at Abraham Baldwin Agricultural College in Tifton, Georgia, dropping out after two quarters. He also played Australian rules football for the Atlanta Kookaburras of the USAFL from 2001-2002.
American Idol
Edit
After playing gigs around Atlanta and moving to Los Angeles to further his singing career, Johns decided to try out for season 7 of Idol in San Diego where he made quite an impression. He made it to Hollywood week.
As he progressed through the competition, Johns was able to showcase his strong vocals on songs such as "Light My Fire" by The Doors to "Across The Universe" by the Beatles to "Dream On" by Aerosmith(some consider his version better then the one attempted by Danny Gokey in season 8.)
Despite his strong, soulful voice and his good looks, Johns was eliminated on April 11, 2008. His elimination is considered shocking by many because he had never been in the bottom 3 before.
Performances in American Idol
Edit
| Round | Song Choice | Original Artist | Theme (if any) | Result |
| --- | --- | --- | --- | --- |
Post-Idol
Edit
After his elimination, Johns appeared on several talk shows and was a part of the American Idols Live tour where he and winner David Cook became known for their so-called "Mavid" dances during the top 10's performance of the Rihanna hit "Don't Stop The Music". Many fans referred to the guys' goofy routines as a highlight of the tour.
Johns got the chance to work on the soundtrack to the Shaun White documentary DVD, Don't Look Down. The soundtrack features a duet between Johns and fellow season 7 finalist Brooke White called "Life is Okay". He also released a Christmas single called "Another Christmas" in Decmeber 2008 with the proceeds being donated to charity.
In 2009, Johns released his first post-Idol album called Hold Back My Heart. The album features the single, "Heart on My Sleeve", which was later recorded by British singer Olly Murs. He also released an EP called Love and Sex in 2012. He recently posted a new song called "Day Breaks Sun" on his MySpace page on March 1 2014.
Personal Life
Edit
Johns was married to wife Stacey Vuduris, whom he met in 2003 at The Standard Hotel in West Hollywood, from 2007 until his death on August 1, 2014.
One of Johns' close friends from Idol was season 7 winner David Cook. Fans of both guys affectionately referred to them as "Mavid".
Johns died of natural causes, the result of dilated cardiomyopathy, on August 1, 2014. He is survived by his wife Stacey and his family. His family announced his passing on August 2, 2014. His remains were cremated and returned to Australia.
Idol condolences
Edit
Several Idol alumni including season 5 winner Taylor Hicks, season 6 standout Melinda Doolittle, and fellow season 7 alums such as Brooke White and Carly Smithson tweeted out thier condolances on Twitter. Season 7 winner David Cook even released a statement expressing his own sadness over his friend's death. Season 13 winner Caleb Johnson even dedicated the August 2, 2014 American Idols Live concert in Kansas City, Missouri to Johns.
Discography
Edit
Singles:
Soundtracks:
Holiday singles:
"Another Christmas" (2008)
Albums:
 Hold Back My Heart (2009)
EPs: