Megan Joy (born August 5, 1995 as Megan Knudsen), formerly known as Megan Joy Corkrey, is an American singer from Sandy, Utah who came in ninth place on the eighth season of American Idol.
Joy, who is a graduate of Taylorsville High School in Taylorsville, Utah, appeared in the auditions phase as Megan Corkrey and then added her middle name Joy during the semi-finals. After the Wildcard episode, she dropped her last name, stating it was her ex-husband's and that she wanted to be known as Megan Joy from there on out. She has a son named Ryder. She has stated that she is musically inspired by, among others, Björk after listening to her when she was 16.
Joy revealed that. "I tried out for everything I could think of during junior high, in high school - didn't make anything," she added that "Even the choir that anyone can be in, I wouldn't even make like a silly little solo." "It was sad," Joy said. "I cried a lot in those years." "I've never tried writing, so I don't know what's inside, but maybe it's something super different and awesome that, you know, is new."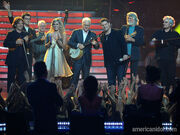 Joy successfully auditioned for the eighth season of American Idol in Salt Lake City, Utah in 2008. She sang "Can't Help Lovin' Dat Man" by Helen Morgan and Simon Cowell said Joy was one of his favorite auditions, and that she had a seriously good voice. She had never had any formal singing classes.
She is known for her strange dance moves and a fairytale sleeve tattoo. Judge Kara DioGuardi has described her as "having a way of putting her signature on everything she does". DioGuardi mentioned on an appearance on The Tonight Show with Jay Leno that Megan Joy was one of her favorite two singers in the competition, and Cowell has also expressed numerous times that she is one of his favorites.
Joy was voted off on the April 1 show. Upon being sent into the bottom three before being eliminated, she squawked like a bird as she made her way into her seat, prompting laughter from the other contestants, some of whom squawked in response. She also remarked that she didn't care that Simon had not liked her performance the previous night. Host Ryan Seacrest asked Cowell if he would be using the "save" rule in Megan's case. Cowell demurred: "Megan, with the greatest respect, when you said that you don't care -- nor do we. So I'm not going to pretend that we're even going to contemplate saving you," replied Cowell. Thus her encore performance of "Turn Your Lights Down Low" would be her "swan song" on the show. Despite all the bickering, Joy says that she and Cowell remain on good terms. After Wednesday's program, she says they both laughed and he told her that he enjoyed watching her. Joy had never been in the Bottom 3 prior to her elimination.
At the Finale show of American Idol Season 8, Megan Joy and Michael Sarver sung Pretty Flowers by Steve Martin.
| | | |
| --- | --- | --- |
| Week # | Song choice | Result |
| Audition | "Can't Help Lovin' Dat Man" | Advanced |
| Hollywood | [not aired] | Advanced |
| Hollywood | [not aired] | Advanced |
| Hollywood | [not aired] | Advanced |
| Top 36/Semi-Final 2 | "Put Your Records On" | Eliminated1 |
| Wild Card | "Black Horse and the Cherry Tree" | Selected |
| Top 13 | "Rockin' Robin" | Safe |
| Top 11 | "Walkin' After Midnight" | Safe |
| Top 10 | "For Once in My Life" | Safe |
| Top 9 | "Turn Your Lights Down Low" | Eliminated |
Note 1: Megan Joy was initially eliminated, as she did not receive enough votes to advance immediately into the Finals. However, on the March 4 results show, Simon Cowell selected her as one of the 8 Wild Card contenders.
Joy appeared on Live with Regis and Kelly and the Today show on April 6, and on The Ellen DeGeneres Show on April 13. She has stated in interviews that if she had stayed on American Idol for another week, she would have sung "Separate Lives" by Steven Bishop. On April 6, Joy was on Access Hollywood where she sang "Walking After Midnight" by Patsy Cline. American Idol judge Kara DioGuardi critiqued her voice, hoping to give her some guidance. Joy stated that she had never had a vocal lesson and didn't know her range, and was happy that America knew that now. While critiquing her, DioGuardi said Joy's type was probably "in the middle", or a Mezzo-Soprano.
Community content is available under
CC-BY-SA
unless otherwise noted.