Mariah Carey (born March 27, 1970) is an American singer-songwriter, producer and actress who made her recording debut with her self-titled debut album back in 1990. She has gone on to become a multi-platinum recording artist, with record sales reaching 200 million over two decades, with such hits as "Vision of Love", "One Sweet Day", "Always Be My Baby" and "We Belong Together". She has won many awards including five Grammys. Carey is also known for her amazing voice, possessing a five-octave vocal range. She is often cited as an influence for many female contestants such as Jessica Sanchez, Hollie Cavanagh and Pia Toscano.
Carey joined the judging panel for season 12 of American Idol, the announcement being made on July 23, 2012. She was joined on the panel by longtime Idol judge Randy Jackson, rapper Nicki Minaj and country singer Keith Urban. She had previously been a guest mentor during season 7.
After one season, Carey announced that she was leaving the show on May 30, 2013 to focus on an upcoming concert tour amongst other things.
Before the show started airing, rumors flew about a feud with fellow judge Nicki Minaj, which seemed to be true when TMZ released a video of both Carey and Minaj fighting during an audition in Charlotte, North Carolina. It reportedly got so bad that Carey, a mother of two, hired extra security when Minaj reportedly said that if she had a gun, she would shoot Carey, which Minaj denied. Carey later described working with Minaj as like, "going to work everyday in hell with Satan."
The most frequent criticism Carey got during the season was from people who accused her of being long-winded in her critiques even though many admitted that she was the most qualified of the judges on that season's panel with her years of experience in the music business.
Since she left the show, Carey has not spoken fondly about her time as a judge there, saying that the only good thing about her Idol experience was the contestants. However, after commenting that her time on Idol as hellish, judge Harry Connick, Jr. defended the show, calling it "heaven".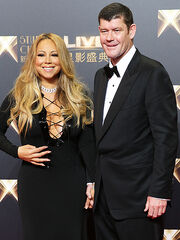 Carey had been married to actor, rapper, comedian and America's Got Talent host Nick Cannon since April 30, 2008. The couple have two children, twins Moroccan and Monroe. They are now divorcing. She is now engaged to Australian billionaire James Packer, whom she has been dating since summer 2015.
Albums:
The Emanicipation of Mimi (2005)
Memoirs of an Imperfect Angel (2009)
Me, I Am Mariah...The Elusive Chanteuse (2014)
EPs:
Holiday albums:
Merry Christmas II You (2010)
Community content is available under
CC-BY-SA
unless otherwise noted.