Lil Rounds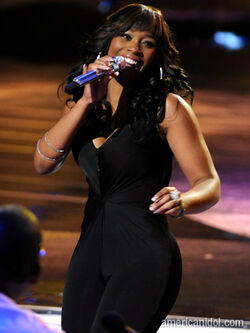 Audition City
Kansas City, Missouri
Lil Rounds (born October 20, 1984) was the 7th place finalist on the eighth season of the reality television series American Idol, who once lived in Memphis, Tennessee, along with her husband and three children. Before she entered the competition, a tornado ripped through Memphis on February 5, 2008, severely damaging her mobile home and forcing her and her family to live in a motel. Her grandfather once worked with the music legend B.B. King. She says her dream mentor would be Stevie Wonder.
American Idol
Edit
Lil Rounds auditioned in Kansas City, Missouri. Although the judges have praised her vocal ability, judge Simon Cowell has raised concerns that she is brilliant , Mary J. Blige after she performed her song "Be Without You", and of Tina Turner after she performed her song "What's Love Got to Do with It", saying "you were even copying the way Tina Turner walks". Rounds was subsequently placed in the Bottom 3. After this performance, Vote for the Worst announced that they would be supporting her for the duration of her stay on Idol. In the top 7 (first week), Rounds performed "The Rose" by Bette Midler. Simon Cowell said, "you are not the artist we thought you were", while Paula Abdul said, "you could not have sung more beautiful lyrics", and quoted a lyric from the song, "the road has been too long", but did not directly comment on the quality of Rounds's vocals or performance. As with the previous week, Rounds spoke back to the judges, chastising them for criticizing her even after she had tried to follow their advice. Rounds was subsequently placed in the Bottom 2. On April 22 Rounds was eliminated along with Anoop Desai. With these eliminations, Season 8 became the first in the lifespan of the show without an African-American female in the Top 5. Although Rounds had originally gotten rave reviews for her performance of Be Without You in the semi-finals, it seems she never could re capture the magic she had that night, as her performances would get worse and she would continue to get harsh critiques from the judges until her eventual elimination from the show.
Performances/Results
Edit
| | | |
| --- | --- | --- |
| Week # | Song choice | Result |
| Audition | "All I Do" | Advanced |
| Hollywood | "I Will Always Love You" | Advanced |
| Hollywood | "Get Ready" | Advanced |
| Hollywood | "If I Ain't Got You" | Advanced |
| Top 36/Semi-Final 3 | "Be Without You" | Advanced |
| Top 13 | "The Way You Make Me Feel" | Safe |
| Top 11 | "Independence Day" | Safe |
| Top 10 | "(Love Is Like A) Heat Wave" | Safe |
| Top 9 | "I Surrender" | Safe |
| Top 8 | "What's Love Got to Do with It" | Bottom 3 |
| Top 7 | "The Rose" - The Rose Film | Bottom 2 |
| Top 71 | "I'm Every Woman" | Eliminated |
Note 1: Due to the judges using their one save to save Matt Giraud, the Top 7 remained intact for another week.