Leah LaBelle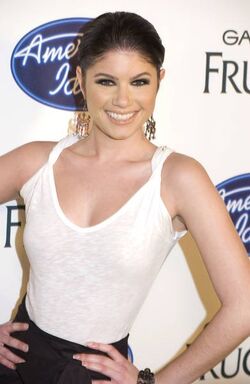 Birth Name
Leah LaBelle Vladowski
Audition City
New York City
Leah LaBelle Vladowski (born September 8, 1986 - died January 31, 2018) was a Canadian-born American R&B singer who first gained notice when she competed on season 3 of American Idol in which she finished in 12th place. After gaining popularity and a large following due to her posting videos of herself singing cover songs on YouTube, LaBelle finally got herself a record deal with Epic Records. Her first single, "Sexify", was released in audio format on March 2012 and got a lot of airplay on urban radio. It earned raves from R&B fans for its throwback sound. "Sexify" was later released on iTunes on June 19, 2012. The song's music video, which features cameos by Jermaine Dupri, Pharrell WIlliams and JoJo, premiered on MTV.com on May 9, 2012. She released her second single, "Lolita", on May 7, 2013. LaBelle was working on new music at the time of her death. Her EP, Love to the Moon, was posthumously released on September 7, 2018.
On January 31, 2018, LaBelle and her husband, former Miami Heat guard Rasual Butler, were killed in a car crash when he lost control of their Range Rover & crashed into a strip mall parking lot in Studio City, California. LaBelle was 31.
Condolences
Edit
Idol alum such as LaBelle's former season 3 competitors Fantasia Barrino and George Huff expressed their sadness over her death on social media. Two NBA teams that Rasual Butler had played for, the Miami Heat and the Indiana Pacers, also sent out condolences to their families via social media.
Discography
Edit
EP:
Love to the Moon (2018) (posthumus release)
Singles:
"Sexify" (2012)
"What Do We Got to Lose?" (2012)
"Lolita" (2013)
"Shot Gun" (collaboration with Brian Cross) (2013)