Lazaro Arbos (born Lazaro Reinaldo Arbos Andraca on December 27, 1990) is a Cuban-born American singer from Naples, Florida who finished in 6th place on season 12 of American Idol.
Born in Cuba, Lazaro came to America when he was a child, settling in Naples, Florida. He has had to deal with a very bad stutter, which doesn't affect him when he sings, since he was six years old, making it hard for him to talk. Despite having undergone speech thearpy, his stutter has never improved.
Lazaro was working in a ice cream shop when he tried out for the show.
Lazaro auditioned for the show in Chicago where he wowed the judges with his version of "Bridge Over Troubled Water" by Simon and Garfunkel. Wowed by his voice and stunned by how his stutter seemed to disappear when he sang, the judges put him through to Hollywood where he did well enough to make it to the "sudden death" round, the semifinals, and now the Top 10. During the Top 10, Lazaro performed "Breakaway" by Kelly Clarkson, which is the title track off of her 2004 album of the same name. The result of his song helped him make it to the Top 9. During the Top 9, Lazaro performed "In My Life" from the Lennon-McCartney songbook. Despite his performance of this song being called his "worst performance ever", he managed to make it to the Top 8. During "Music of The Motor City", Lazaro took on "For Once In My Life" by Stevie Wonder. That performance plus his group number with fellow contestants Devin Velez and Burnell Taylor of the Four Tops' "I Can't Help Myself" put Lazaro in the bottom 3, but he managed to survive and made to the top 7. He made it to the top 6 thanks to his version of the Queen classic "We Are the Champions". During the Top 6, Lazaro performed "(They Long to Be) Close to You" by Richard Chamberlain and "Angels" by Robbie Williams. The result of his performances eliminated him from the competition. He finished 6th out of all.
During his time on the show, Lazaro was frequently criticized by both the judges and various critics over his singing ability and his tendency to forget lyrics. Some even expressed worry that he may not be cut out for the ruthlessness and cutthroat nature of the music industry. Those facts plus his backstory caused many to wonder if he was getting sympathy votes. The support he received from the anti-Idol website Vote For The Worst only seemed to anger many fans of the show who wanted him to go. Some even compared Lazaro to former season 6 contestant Sanjaya Malakar, who also went further in the competition then many had predicted he would.
Episode
Theme
Song choice
Original artist
Order #
Result
Audition
Auditioner's Choice
"Bridge over Troubled Water"
Simon & Garfunkel
N/A
Advanced
Hollywood Round, Part 1
A Capella
"Angels"
Robbie Williams
N/A
Advanced
Hollywood Round, Part 2
Group Performance
"Wouldn't It Be Nice"
The Beach Boys
N/A
Advanced
Hollywood Round, Part 3
Solo
"The Edge of Glory"
Lady Gaga
N/A
Advanced
Las Vegas Round
Personal Choice
"Tonight I Wanna Cry"
Keith Urban
9
Advanced
Top 20 (10 Men)
Personal Choice
"Feeling Good"
Cy Grant
7
Advanced
Victory Song
"Bridge over Troubled Water"
Simon & Garfunkel
5
Top 10
Music of the American Idols
"Breakaway"
Kelly Clarkson
7
Safe
Top 9
The Beatles
"In My Life"
The Beatles
4
Safe
Top 8
Music of Motor City
Solo: "For Once in My Life"
Stevie Wonder
3
Bottom 3
Trio: "I Can't Help Myself (Sugar Pie Honey Bunch)" with Burnell Taylor and Devin Velez
Four Tops
10
Top 7
Rock
Duet: "Crazy Little Thing Called Love" with Angie Miller
Queen
2
Safe
Solo: "We Are the Champions"
6
Top 6
Burt Bacharach & Hal David
"(They Long to Be) Close to You"
Richard Chamberlain
3
Eliminated
Songs They Wish They'd Written
"Angels"
Robbie Williams
9
Lazaro was a part of the American Idols Live tour, which kicked off on July 19, 2013 in Kent, Washington and ended on August 31, 2013. He recently started his own YouTube channel as a way to stay further connected to his fans. He's also working on his first album.
During his time on the show, Lazaro and fellow contestant Amber Holcomb became best friends. They remain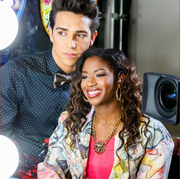 close. She even recently posted a Vine video of the two of them having fun together and singing a bit of the Beyonce song "Drunk in Love".
Community content is available under
CC-BY-SA
unless otherwise noted.