Lauren Alaina Kristine Suddeth (born November 8, 1994) is an American country singer who is the runner-up in Season 10 of American Idol.
Personal Life
[
]
She is a native of Rossville, Georgia, and was also a student at Lakeview-Fort Oglethorpe High School in Fort Oglethorpe, Georgia. Prior to Idol, Lauren performed at several Chattanooga area venues and was the first winner of the WinnieStar youth talent contest at Lake Winnepesaukah amusement park in 2009.
American Idol
[
]
Lauren auditioned for Idol in Nashville, where she impressed the judges with her natural talent. In addition to performing, Alaina wrote several songs including "Leaving" and "Set Me Free". Lauren had made only one appearance in the Bottom 2, but along with Haley Reinhart and Scotty McCreery, became a part of the Top 3.
Lauren finished second to Scotty McCreery on May 25, 2011 despite overcoming a sprained vocal cord and delivering what the judges considered to be three very strong performances. Her first single Like My Mother Does is now available on iTunes as well as the music video, which was released on August 8, 2011.
Performances
[
]
Week #
Theme
Song Choice
Original Artist
Order #
Result
Audition
Auditioner's Choice
"Like We Never Loved at All"

"I Don't Want to Miss a Thing"

Faith Hill

Aerosmith

Advanced
Hollywood Round, Part 1
First Solo
Alaina is now signed to Mercury Nashville.
Post-Idol Career
[
]
On June 28, 2011 a five-song EP, containing four of Lauren's best songs from Idol and including her rendition of the Faith Hill hit "Wild One", was released exclusively at Wal Mart stores and online. The EP debuted at number 24 on the Billboard 200 with 20,000 copies sold in its first week. Her full-length debut album Wildflower was released October 11, 2011.
Wildflower (2011-2013)
[
]
The album, which has sold 285,000 copies to date, spawned the single "Georgia Peaches", which peaked at Number 28 on the Billboard Hot Country Songs chart. The second single, "Eighteen Inches", was released to country radio on July 16, 2012. It peaked at number 37 on the Billboard Hot Country Songs chart. Lauren also hit the road for an eighteen-city concert tour in support of the song.
She is currently at work on her second album.
Lauren, along with the rest of the Top 11, hit the road for the Idols Live! tour, which kicked off in West Valley City, Utah on July 6, 2011.
New Single and Album
[
]
In addition to working on her second album, Lauren is releasing a new single called "Barefoot and Buckwild", which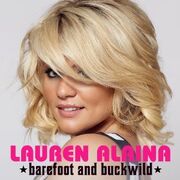 will be released May 7, 2013. She performed the song on Idol on May 9, 2013.
Discography
[
]
EPs:
American Idol Season 10: Lauren Alaina (2011)
Albums:
Gallery
[
]
External Links
[
]