LaToya London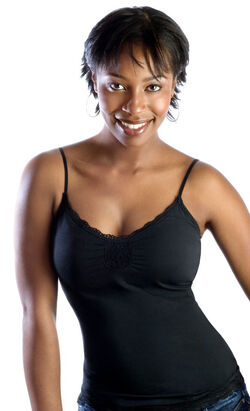 Birth Name
La Toya Renee London
Audition City
Los Angeles, California
La Toya Renee London (born on December 29, 1978) is an American R&B and soul singer and actress who was the fourth-place finalist on the third season of the reality/talent-search television series American Idol. She released her debut album, Love & Life, in September 2005 and is currently starring as Nettie in the touring company of the Broadway musical, The Color Purple.
American Idol
Edit
London auditioned for the third season of American Idol in Los Angeles, California. Although she seamlessly moved on through each round, she had not been featured prominently in any aired footage and was written off by many fans before the first studio performances. However, as a member of the third group of eight semifinalists, she sang Eric Carmen's "All By Myself," and received a standing ovation from celebrity judges Randy Jackson and Paula Abdul. Jackson labeled her performance as "brilliant" and "what the search for a superstar is all about," Abdul called her "unbelievable" and praised her "quiet confidence," and notoriously harsh judge Simon Cowell said she was "the best of the group" and that it was a "superb, outstanding performance." As expected, she was voted through to the final 12 contestants with 32.3 percent of audience votes, the largest percentage for every week of the semifinals.
For nine weeks, London wowed the nation with her showstopping performances on American Idol. Famed film director Quentin Tarantino called her a "powerhouse" after her performance of "Somewhere" from the musical "West Side Story," Abdul said that she reminded her of "a young Gladys Knight" after she performed the Garth Brooks song "Ain't Goin' Down ('Til The Sun Comes Up)," and Cowell called her performance of Chaka Khan's "Ain't Nobody" as "amazing" and "awesome." Nickolas Ashford of famed soul duo Ashford and Simpson called her performance of "Ooh Baby Baby" by Smokey Robinson as "beautiful" and full of "sex appeal," Cowell announced her as "the best singer in the competition" after she sang "All the Time" by Barry Manilow and gave her "a ten out of ten" for her performance of "Don't Rain on My Parade," which also garnered standing ovations from Abdul and Jackson.
London was central to one of the first controversies of the show. On April 21, 2004, the night after the final seven contestants performed Barry Manilow songs, London, Jennifer Hudson, and eventual winner Fantasia Barrino shockingly ended up in the bottom three with the least viewer votes. Together, these three had been dubbed "The Three Divas" for their lush, commanding, and mature vocal capabilities and showstopping and critically acclaimed performances. London had the highest vote totals out of the three, and Hudson was ultimately eliminated. Because all three of the singers were African-American and the frontrunners of the competition, music icon Elton John deemed the voting as "racist," igniting a flurry of news and speculation over the validity of the voting system. John complained at a promotional news conference that, "The three people I was really impressed with, and they just happened to be black, young female singers, and they all seem to be landing in the bottom three."
London's second controversy occurred on May 11, 2004, when the final four contestants each performed two disco songs. Simon Cowell, who previously endorsed her as the best singer in the competition, suggested that his only complaint with London was that after ten weeks he still didn't know anything at all about her. Cowell also suggested that contestant Jasmine Trias would almost certainly be voted off the next day. However, on May 12, in a result that came as a surprise to many, including the judges, London became the ninth of the 12 finalists to be eliminated, finishing in fourth place, with Barrino also landing in the bottom two. Paula Abdul was in tears when LaToya sang her farewell song, "Don't Rain on My Parade," and the other two judges gave her a standing ovation.