Kristopher Neil Allen (born June 21, 1985) is an American singer-songwriter from Conway, Arkansas, and the winner of season 8 (2009) of American Idol. Prior to Idol, he self-released a 2007 album entitled Brand New Shoes.
Allen taught himself how to play the guitar at thirteen and is also proficient with the piano, the viola, and the ukulele. In 2007, he self-produced an album entitled, Brand New Shoes with college friends and bandmates Michael Holmes (drums) and Chase Erwin (bass).
Allen is a devout evangelical Christian and is a worship leader at New Life Church in Arkansas at both the Conway and Greater Little Rock campuses, and on campus at University of Central Arkansas, with Chi Alpha Campus Ministries. As a worship leader, he was able to travel on mission trips around the world, including Burma, Morocco, Mozambique, South Africa, Spain, and Thailand.
On September 26, 2008, Allen married his high school sweetheart, Katy O'Connell. The couple have two children, son Oliver Neil, born on July 30, 2013, and daughter Rose Elizabeth, born on June 18, 2016.
Unlike fellow evangelical Idol contestant, Danny Gokey, Allen has not mentioned his faith on the show.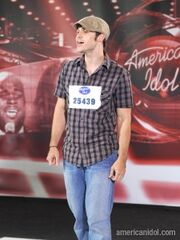 Audition and Hollywood week
[
edit
|
edit source
]
Kris Allen auditioned for the eighth season of American Idol in Louisville, Kentucky. He performed "I Want You Back" by The Jackson 5 during Hollywood week as part of a group called White Chocolate, along with fellow finalist and semi-finals roommate Matt Giraud. At the Idol Mansion, Allen and Adam Lambert are now roommates. According to the Us Weekly article about the Top 13, Allen stated, in regards to Lambert being a good fit, "We're both neat."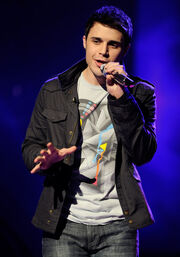 Allen was voted into the finals along with fellow Top 36 Group 2 performers Lambert and Allison Iraheta on Thursday, February 26, 2009. He has received many compliments throughout the competition for his artistic reinterpretations, and has played both his guitar and keyboard during various performances. Randy Jackson has compared him to Jason Mraz frequently. Allen's performance of "To Make You Feel My Love" as part of the Top 11 earned praise from the judges, with Simon Cowell commenting "I am genuinely beginning to think you have a shot of doing well in this competition." On the Top 9 show, he performed his own arrangement of "Ain't No Sunshine" on a keyboard, with a few musicians on stage, which earned praise from the judges. Cowell lauded it his "best performance so far." On the first Top 7 night, he chose to sing the Oscar-winning song from the indie film Once. While Jackson described it as "pitchy from note one", Kara DioGuardi declared it "one of your best moments ever." Due to time constraints, Paula Abdul and Cowell did not comment. But on the following night's results show, Cowell stated "Kris, you were brilliant." On the second Top 7 show, Allen brought back the guitar for the fourth time and performed an original, acoustic version of "She Works Hard for the Money", complete with conga drums and the band on stage. This earned immense praise from all four judges, with Abdul remarking "There aren't many men who are willing to shop in the women's department. You shopped and found a perfect fit." For his second Top 3 performance, Allen impressed the judges with an acoustic arrangement of "Heartless", prompting Jackson to state that he even preferred it to Kanye West's original and The Fray's cover version.
Season 7 American Idol winner David Cook stated that Allen and Lambert are his favorites of Season 8. Country music singer and actress Reba McEntire has echoed the same opinions, also adding Iraheta to her list of favorites.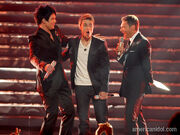 After being voted into the Top 3 Finalists, Kris Allen returned home to Arkansas and his hometown to film the material for the next 2 American Idol episodes. Allen was greeted by a crowd estimated to be greater than 20,000. Allen performed concerts in Little Rock and Conway, singing songs like "She Works Hard for the Money," "Falling Slowly," "Ain't No Sunshine," and "Man in the Mirror."
On May 20, 2009, Allen was declared the winner of the eighth season of American Idol, becoming the first married contestant to claim the title. Allen is one of only three Idol winners, the others being Ruben Studdard and Fantasia Barrino, to win the title after landing in the bottom 3 during an elimination night, which he did once. He is also the first Idol winner since Kelly Clarkson in season 1 to not have his audition fully shown on the show.
Week #
Song choice
Result
Audition
"A Song for You"
Advanced
Hollywood
[not aired]
Advanced
Hollywood
"I Want You Back"
Advanced
Hollywood
"Everything"
Advanced
Top 36/Semi-Final 2
"Man in the Mirror"
Advanced
Top 13
"Remember the Time"
Safe
Top 11
"To Make You Feel My Love"
Safe
Top 10
"How Sweet It Is (To Be Loved by You)"
Safe
Top 9
"Ain't No Sunshine"
Safe
Top 8
"All She Wants to Do Is Dance"
Safe
Top 7
"Falling Slowly" - Once Film
Safe
Top 71
"She Works Hard for the Money"
Safe
Top 5
"The Way You Look Tonight"
Bottom 3
Top 4
"Renegade" with Danny Gokey
"Come Together"
Safe
Top 3
"Apologize" (Randy and Kara's Choice)
"Heartless" (Kris' Choice)
Safe
Top 2
"Ain't No Sunshine" (Kris' Choice)
"What's Going On" (Simon Fuller's Choice)
"No Boundaries" (Coronation Choice)
Winner
Note 1: Due to the judges using their one save to save Matt Giraud, the Top 7 remained intact for another week.
After Allen's victory, he has been on The Tonight Show with Jay Leno. Allen's Idol coronation song, No Boundaries and his version of the Kanye West hit "Heartless" both charted within the Top 20 of the Billboard Hot 100. Allen's debut single, "No Boundaries", was released on May 20, 2009 on iTunes. His self-titled post-Idol album was released by Jive Records on November 17, 2009. The album debuted at #11 on the U.S. Billboard 200. The album's lead single, "Live Like We're Dying", was released on September 21, 2009, and has so far peaked at #18 in the U.S.
The second single to be released from the album was "The Truth" featuring Patrick Monahan,the lead singer of the Grammy award-winning rock band Train, on vocals for the bridge of the song. Monahan also co-wrote the song with producer Toby Gad. Allen officially revealed that the third single off his album will be "Alright with Me" on October 6, 2010. Meanwhile, his song "I Need to Know" was used in the episode of The Vampire Diaries called "Kill or Be Killed", which aired on October 7, 2010.
On November 18, 2010, Allen posted an unofficial music video for his single "Alright With Me" on his official website to thank his fans for their support.
On January 30, 2011, he sang the national anthem at NFL Pro Bowl in Hawaii.
On October 7, 2011 RCA Record Group announced that it was disbanding three record labels-Jive, Arista, and J. Due to the shutdown, Allen, along with other artists who had been signed to any of those three labels, would now release future material on RCA Records.
Allen's third album, Thank You, Camellia, was released on May 22, 2012. The first single, "The Vision of Love", was released on March 26, 2012.
In addition to writing and recording his own music, Allen is also building a career for himself as a songwriter for others. One of his first songs ever to be recorded by another artist was a song called "Still Got Tonight", which is on Glee star Matthew Morrison's self-titled debut album and was performed on Glee's second season finale. "Raise Your Hand", another song co-written by Allen, is featured on The Voice winner Javier Colon's album Come Through for You. Allen also co-wrote the song "Blindfolded", which was sung by South African Idol winner Heinz Winckler. It was also been reported that season 10 Idol finalist Haley Reinhart might be recording one of Allen's songs for her upcoming debut album, but nothing came of it.
Spilt with RCA and Christmas EP
[
edit
|
edit source
]
On September 19, 2012 Allen announced via Twitter that he and RCA Records had parted ways. Allen is still signed to 19 Recordings.
Allen released a Christmas EP called Waiting for Christmas on December 10, 2012. On December 20, during an online concert, he debuted a new song dedicated to those affected by the December 14, 2012 Sandy Hook Elementary School shootings.
Allen later started his own record label, DogBear Records.
On June 26, 2014, Allen took to Instagram to announce that his fourth album, Horizons, will be released on August 12, 2014. The lyric video for the album's first single, "Prove It to You", which features Russian singer Lenachka, debuted on Yahoo! Music on July 7, 2014. He toured to promote the album, which started on August 23, 2014 in Pullman, Washington. He is currently on the road with the popular group Boyce Avenue on their No Limits Tour.
Studio Albums:
Brand New Shoes (2007)
Kris Allen (2009)
Thank You, Camellia (2012)
Horizons (2014)
Letting You In (2016)
Somethin' About Christmas (2016)

EPs:
The Vision of Love Remixes (2012)
Thank You Camellia (Fan Edition) (2012)
Waiting for Christmas (2012)
Acoustic Tapes (2016)
Letting You In: Acoustic Performances (2017)
Singles:
from American Idol Season 8
No Boundaries (2009, winner's single of season 8 of American Idol)
from Kris Allen
Live Like We're Dying
The Truth (featuring Pat Monahan)
Alright with Me
from Thank You Camellia
from Horizons
Prove It To You (featuring Lenachka)
from Letting You In
Non-album singles:
Baby, It Ain't Christmas Without You (2014)
→ see also Kris Allen/Gallery#Images
→ see also Kris Allen/Gallery#Videos
Community content is available under
CC-BY-SA
unless otherwise noted.