Kimberley Locke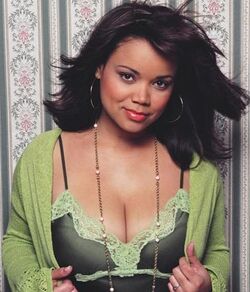 Birth Name
Kimberley Dawn Locke
Audition City
Nashville, Tenesse
Kimberley Dawn Locke (born January 3, 1978 in Hartsville, Tennessee) is an American adult contemporary pop/R&B singer and plus-size fashion model. In recent years, Locke has had 11 charting singles, including 8 Billboard # 1s.
Biography
Edit
Early Life
Edit
Locke was born to Donald and Christine Locke, respectively a truck driver and a clothing warehouse worker for the Gap/Old Navy distribution center in Gallatin, Tennessee. She is the second of two children, with an older brother named Ashley. She and her brother spent most of their life in Gallatin.
At age five, Locke began singing in church. Her parents divorced when she was eight years old. She has said in recent interviews that after hearing the hit Clay Walker song, "Then What?", she knew a career in country music was her calling.
Locke grew up admiring such singers as Janet Jackson, Whitney Houston, Patti LaBelle and Diana Ross. In 1987, she and childhood friends Chandra Boone, Selina Robb and NaCole Rice formed a quartet named Shadz of U, which performed at many local churches. The group later appeared on Locke's 2007 Based On A True Story album, singing backup on Everyday Angels.
Locke went to Gallatin High School, where she was one of sixteen members to participate in its performing group. She remained in the group throughout her high-school years. She was also selected twice as a member of the All-Middle State Chorus. After graduating, she began to work for a company in Nashville as an administrative assistant.
Like 2007 American Idol finalist Melinda Doolittle, Locke is an alumna of Belmont University in Nashville.
On October 30, 2002, the reality-TV singing competition American Idol held auditions in Nashville, Tennessee for the show's second season. Locke successfully passed through to the next round, and in December was chosen to perform on the show. She finished third, behind runner up Clay Aiken and eventual champion Ruben Studdard. Simon Cowell at first criticized Locke as lacking in personality; by the final three however, he declared her, Clay Aiken and Ruben Studdard to be as worthy winners as any. She has since been invited back to the show to perform twice (seasons 3 and 7).
Locke went on to sign a record deal with Curb Records on September 6, 2003. Her debut album, One Love, was released May 4, 2004. Debut single "8th World Wonder" reached the top half of the Billboard Hot 100 and was successful on other charts, and even entered the UK chart with little promotion. "Wrong" and "I Could" followed as singles and were hits on the Pop and Adult Contemporary charts respectively. "Coulda Been" was the album's only single not to chart.
Locke released her version of "Up On The Housetop" in Fall 2005 and by the end of year it had reached the top spot of the Adult Contemporary (AC) charts and broke many records, due to its quick rise to the top. The following year, Kimberley's version of "Jingle Bells" was released and topped the same charts. A full Christmas album entitled Christmas — only available digitally — was released on November 6, 2007.
Locke's second album, Based On A True Story, was released on May 1, 2007. The album's original lead single, "Supawoman," co-written with her producers Damon Sharpe and Mark J. Feist, was released to radio on August 7, 2006, however after underwhelming radio support, Curb Records decided to refocus. "Change," was released to radio on January 15, 2007 to positive support and climbed the charts well into the summer of 2007.
The album's next single was a cover of Freda Payne's "Band of Gold," which was released to radio on August 13, 2007 and became Locke's 6th solo AC Top 10 hit. The album's third single,"Fall," co-written by Clay Mills was also recorded by country music artist Clay Walker, was released to radio in February 2008.
Discography
Edit
One Love (2004)
Based on a True Story (2007)
Christmas (2007)
Four for the Floor (2011)