Kelly Brianne Clarkson (born April 24, 1982) is an American pop-rock singer-songwriter and occasional actress. Clarkson made her debut under RCA Records after she won the highly-publicized first season of the television series American Idol in 2002.
She was originally marketed as a pop musician with her debut album Thankful (2003). With the release of her multi-platinum second album, Breakaway (2004), Clarkson moved to a more pop rock-oriented style of music. Clarkson's third album, entitled My December, was released on June 26, 2007. According to Sony Music, Clarkson has sold over 56 million albums worldwide. Clarkson has had nine of her singles become Top ten hits on the Billboard Hot 100. Her first three albums have sold over 9.5 million copies in the United States. In 2008, she joined VH1's list of 10 sexiest women of the new millennium at #8. She also hit #28 on Vh1's Top 30 Hottest Rock Front Women. As of 2008 she is one of the 10 most played artists on adult contemporary radio. Clarkson's fourth album titled All I Ever Wanted is due out on March 10, 2009. On January 28, 2009, it was announced that her latest single, "My Life Would Suck Without You", had advanced from No. 97 to No. 1 on the Hot 100 in its first week of release, breaking the record for the largest leap to the position in chart history. She is currently the only American Idol contestant to have reached number one in the UK. She claimed number one on March 1, 2009 when "My Life Would Suck Without You", which is from her 2009 album All I Ever Wanted, debuted at number one on downloads alone.
Clarkson's fifth album, Stronger, was released in 2011 and spawned  the hits "Mr. Know-It-All" and "Stronger (What Doesn't Kill You)". It also won her a Grammy for Best Pop Vocal Album.
Clarkson was born in Fort Worth, Texas. She is the third and youngest child of Jeanne Rose, a first grade teacher, and Stephen Michael Clarkson, a former engineer. She is of part Greek ancestry. Clarkson's siblings include her brother Jason, and her sister Alyssa. When Clarkson was six years old, her parents split up after seventeen years of marriage. As a result, her brother went to live with her father, her sister went to live with an aunt, and Clarkson remained with her mother. Clarkson frequently moved around Texas while her mother managed several professions in order to support the family. The family settled in Burleson, where Clarkson's mother married her second husband, Jimmy Taylor.
Clarkson's family struggled financially, and music became her refuge after the divorce. Clarkson attended Pauline G Hughes Middle School and Burleson High School, originally aiming to become a marine biologist. In seventh grade, a teacher named Cynthia Glenn overheard her singing in a hallway and asked her to audition for the school choir. Clarkson told the teacher that she had never received professional vocal training. In high school, Clarkson performed in musicals such as Annie Get Your Gun, Seven Brides for Seven Brothers and Brigadoon. Around this time, Clarkson decided to pursue singing as a career. She sang at her high school talent show, after which a gentleman shared some inspiring words with her: "God has given you this gift. You've got to sing. You're destined to sing." Clarkson did continue to sing and soon started classical training, hoping that music would be her ticket to a college scholarship.
Clarkson worked numerous odd jobs during and after high school, such as mowing lawns, helping her contractor stepfather build porches, and working in a movie theater starting at age 16 and until she moved to Los Angeles. She also worked for Papa John's, Subway, Six Flags Over Texas, Starbucks, and sold vacuums door to door (her latter experience which she described with a well-intended pun: "It sucked.").
Upon high school graduation, Clarkson was offered full scholarships to The University of Texas at Austin, University of North Texas, and Berklee, but decided against college because she had "already written so much music and wanted to try on [her] own. And [she] figured you're never too old to go to college."
Main article: Season 1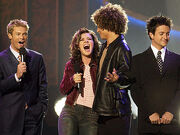 Clarkson won the first season of American Idol on September 4, 2002, earning 58% of the vote to 42% for Justin Guarini. Choking back tears, Clarkson performed the ballad "A Moment Like This", the song written for the winner of American Idol, which would subsequently appear on her debut album, Thankful. The song's music video was filmed at Pantages Theater in Hollywood, and incorporated short scenes of Clarkson performing on Idol. When released as a single in October 2002, it set a record on the U.S. Billboard Hot 100 chart when it rose from number 52 to number one. This achievement was largely due to the impact from Idol as the CD single managed to sell 236,000 copies in its first week of sales in the U.S.; it spent five weeks at number one in Canada.
Performances in American Idol
[
edit
|
edit source
]
Round
Song Choice
Original Artist
Theme (if any)
Result
Top 121
"Respect"
Aretha Franklin
Hollywood round 1
Safe
Top 65
"I Say a Little Prayer"
Dionne Warwick
Hollywood round 2
Safe
Top 45
"Save The Best For Last"
Vanessa L. Williams
Hollywood round 3
Safe
Top 30
"Respect"
Aretha Franklin
Semi-final group 2
Safe
Top 10
"You're All I Need to Get By"
Marvin Gaye/Tammi Terrell
Motown
Safe
Top 8
"(You Make Me Feel Like) A Natural Woman"
Aretha Franklin
1960s week
Safe
Top 7
"Don't Play That Song (You Lied)"
Aretha Franklin
1970s week
Safe
Top 6
"Stuff Like That There"
Betty Hutton
Big Band week
Safe
Top 5
"Walk on By"
Dionne Warwick
Burt Bacharach week
Safe
Top 4
"It's Raining Men"
"I Surrender"
Weather Girls
Celine Dion
1980s week
1990s week
Safe
Top 3
"Think Twice"
"Without You"
Céline Dion
Badfinger
Judge's Week
Safe
Top 2
"Respect"
"Before Your Love"
"A Moment Like This"
Aretha Franklin
Kelly Clarkson
Kelly Clarkson
Singer's Choice Week
Safe
Finale
"A Moment Like This"
Kelly Clarkson
Winner's single
Winner
Shortly following the completion of the first season of American Idol, Clarkson was accused of working with a record company. American Idol's rules stated that a contestant was not allowed to compete on the program if they had been linked to a record company. However, she was cleared of all allegations, as she had only had a contract in order to conduct demonstration work.
Soon after winning American Idol, Clarkson starred with Idol runner-up Justin Guarini in the movie From Justin to Kelly. The film was poorly received by critics and grossed only $5 million at the North American box office, less than half its reported budget. Clarkson has mentioned in interviews that she is shocked when people send her scripts after From Justin to Kelly, often citing contractual obligation as her sole reason for involvement in the film.
In December 2003, a competition titled World Idol was held in London, UK, gathering the winners of the first seasons of Idol from across the globe. Clarkson was contractually obligated to participate, and placed second behind Norwegian Idol Kurt Nilsen. She performed Aretha Franklin's "(You Make Me Feel Like) a Natural Woman". Because she left immediately after the competition, she was chided by some in the media for what they saw as poor sportsmanship. Clarkson later explained to fans that she was suffering from an illness.
Following the successful release of "A Moment Like This", Clarkson's full-length debut album Thankful was released in North America by RCA Records on April 15, 2003. It debuted at number one on the U.S. Billboard 200. Eventually, the album was certified double platinum by the RIAA for sales of two million copies on December 8, 2003 and platinum by the CRIA for sales of 100,000 copies on February 10, 2004. Reviews for the album were generally favorable. However, several critics noted that her early achievement was established due to her performances on American Idol. Allmusic critic Stephen Thomas Erlewine praised the album for its vocal ability: "throughout this record, [Clarkson] makes it seem effortless and charming. She can croon, she can belt out a song, she can be sexy and sassy while still being graceful and as wholesome as the girl next door". Rachel Kipp of JS Online criticized Clarkson for not having the same personality on Thankful that she had on American Idol, and wrote: "on American Idol, Clarkson showcased a great voice and an endearing, 'aw-shucks' personality. That personality is missing on Thankful, and there lies the album's greatest fault". Kipp blamed the producers behind the album for not allowing Clarkson to be herself.
"Miss Independent" became a success when released as the second single from Thankful. It reached the top ten of the U.S. and Canadian singles charts, and earned Clarkson a 2004 Grammy Award nomination for "Best Female Pop Vocal Performance".[24] When the single was released in the United Kingdom and Australia, it reached the top ten of the charts; however, Thankful received less attention. It peaked at number forty-one on the UK albums chart and at number 33 on the Australian albums chart. Further singles released outside North America would appear even less successful.
"Low", the third single from Thankful, reached number two in Canada, but it was unable to make the Top 40 of the U.S. chart. The final single, "The Trouble with Love Is", was not released in Canada, and it peaked at #101 on the U.S. Charts. Clarkson attributed the under performance of both releases to poor management and relieved her manager Simon Fuller, who she felt was not completely focused on her career. Clarkson also covered Danielle Brisebois' "Just Missed the Train" on the album.
As of 2009, Thankful has sold over 4 million copies worldwide.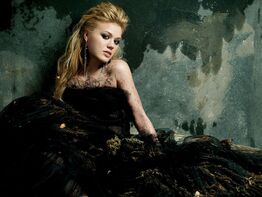 Distancing herself from her American Idol image, Clarkson took more creative control with her second studio album Breakaway, and developed a more rock-oriented image. Breakaway was released by RCA Records on November 30, 2004. The album debuted within the U.S. top five and Canadian top ten, but sales were initially low in comparison to Thankful. However, the single releases from Breakaway proved very successful, and allowed it to become only the fourth album in history to stay in the Billboard 200 Top 20 for a consecutive year, as well as, being certified 6x platinum in the U.S. in late 2007 and 5x platinum in Canada in May, 2006. In Australia, the album reached number two and spent 52 weeks in the top 10 and was certified 6x Platinum; however, it experienced a delayed release in the UK. Clarkson co-wrote six of the songs with several songwriters, such as former Evanescence band members Ben Moody, David Hodges and producer Max Martin; the title track was co-written by pop singer Avril Lavigne. Breakaway received different responses from critics; Rolling Stone commented that "on Kelly Clarkson's second album, [...] she embraces her rock side rather than the pop pageantry that put her on top of the American Idol heap". TeenInk noted the strength of her vocals on Breakaway, and praised the change from pop music to contemporary rock: "[Clarkson] retains the incredible power and beauty of her voice while switching to rock". Stylus magazine also enjoyed Clarkson's foray into rock music, however, she was called out because of her American Idol image, which reviewer Charles Merwin believed she had yet to lose. He praised the non-singles and wrote that they "maintain a quality high". Allmusic called the album "a nice, low-key relief".
Clarkson appeared on numerous television programs during the promotional tour for Breakaway, some of which included Saturday Night Live, The Oprah Winfrey Show and The View; she performed the first two singles "Breakaway" and "Since U Been Gone" on Saturday Night Live, which became her first major telecast appearance in order to support the album. "Breakaway", co-written by Avril Lavigne, served as the original song for The Princess Diaries 2: Royal Engagement (2004) and achieved considerable success across the world; it became Clarkson's third top-ten single in the U.S. and fourth top-ten single in Canada. It reached number ten in Australia, and number 22 in the UK. The song's contemporary pop-rock ambiance was one of the several tracks including a stronger rock-influenced sound that had not been heard on Thankful. The second single "Since U Been Gone", which was 'produced' by Max Martin, became the most successful release from the album. Its music video presented Clarkson singing to an underground audience with a full band; cut scenes of Clarkson destroying a former boyfriend's apartment were incorporated. The song's strong rock ambiance allowed it to reach number two in the U.S. and the top five across the world. It also earned Clarkson her first Grammy Award for "Best Female Pop Vocal Performance"; she won a second award for "Best Pop Vocal Album".
The third and fourth single releases, "Behind These Hazel Eyes" and "Because of You", also followed with chart success. The video for "Behind These Hazel Eyes" broke the record for days at #1 for a female artist with 33 out of 50 days #1 on TRL. "Because Of You" became Clarkson's biggest worldwide hit, her first to reach the number one position on the world chart show, where it held for two consecutive weeks in 2006. The video for "Because of You" won the 2006 MTV Video Music Award for Best Female Video, her second consecutive win in that category (The first being from "Since U Been Gone"). The fifth single from Breakaway, "Walk Away", was a top 10 hit in the U.S. and a top five hit in Canada. Breakaway spent 103 weeks on the Billboard 200. It fell out of the Billboard 200 in late November and was moved to Billboard's Pop Catalog. Breakaway was the tenth best selling album of 2006 in the US, adding nearly 2 million additional sales to the 2005 and 2004 sales. As a testament to Clarkson's continuing popularity, she was the most-played artist of 2006 on American radio, despite releasing only one single in the entire year, "Walk Away". On December 23, 2006, American Top 40 radio show host Ryan Seacrest announced during a countdown of 2006's most popular songs that Clarkson had had a song in the American Top 40 for 111 weeks, making her "the most successful female artist in AT40 history". She was also the most radio broadcasted artist of 2006 in Australia and "Because Of You" was the third most broadcast song of the same year, despite being released in 2005.
In the summer of 2006, Clarkson lent Ford Motor Co. a song titled "Go", written by Clarkson and Rhett Lawrence ("Miss Independent"). The song is being used in the company's new advertising campaign, "Bold Moves".
As of 2009, Breakaway has sold over 13 million copies worldwide.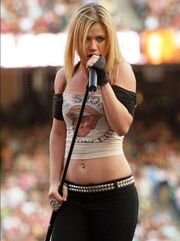 While on tour in Europe in 2006, Clarkson began writing and composing songs for her third album, My December. During the Addicted Tour, Clarkson debuted two of her songs: "Maybe" and "Yeah". Recording commenced on the album in the summer of 2006. The first single from My December was "Never Again", which made its radio debut on April 13, 2007. The song was released on iTunes on April 20, 2007, but was taken down and replaced with a notice that said that the song was not available until April 23, 2007. The single peaked on the Billboard Hot 100 at #8 and on the Pop 100 at #5. Following "Never Again", Clarkson released "Sober" as her next single from the album on June 6, 2007. The singles were promoted with appearances on Good Morning America and The Tonight Show with Jay Leno. Clarkson also returned to American Idol on the May 23, 2007 season 6 finale for the first time since its third season, performing "Never Again" and "Sgt. Pepper's Lonely Hearts Club Band" with Aerosmith guitarist Joe Perry during a Beatles medley.
The song "Chivas" is a hidden track which can be found after the song "Irvine." Clarkson wrote the song on bar napkins before going to a concert by Los Angeles based cover band Metal Skool where she was famously seen drinking a bottle of Chivas Regal in a popular YouTube video when she was brought on stage to sing with the band.
Clarkson parted with her management, The Firm, on June 11, 2007, after the controversy surrounding My December. Clarkson would then sign with Starstruck Entertainment, run by Narvel Blackstock - the husband of Reba McEntire - on July 2, 2007. On June 14, 2007, Live Nation announced that Clarkson's summer tour—her first nationwide arena tour—had been canceled due to underwhelming ticket sales, to be rescheduled after the release of the My December album at smaller, more intimate concert environments.
Clarkson reinstated plans to tour the US during 2007, with a much smaller tour than the one she canceled in June. Clarkson began her My December Tour on October 10 in Verona, New York in venues significantly smaller than those previously booked.
My December was officially released in the U.S. on June 26, 2007. On the date of the album's release, Clarkson appeared on Good Morning America to promote her new album. Clarkson performed songs from this new album, including the single "Never Again". Despite the controversy surrounding My December, the album debuted at #2 in the U.S. with 291,000 albums sold. This is a slightly higher debut than Clarkson's previous album, Breakaway, which debuted at #3.
On July 7, 2007, Clarkson performed on the American leg of Live Earth. Her five-set performance list included: "Walk Away", "How I Feel", "Never Again", "Sober", and "Since U Been Gone".
Clarkson was the celebrity coach for Canadian Idol during its Top 5 week of the fifth season, aired on the CTV network on August 20, and she performed on the results show the next night. She was also awarded a Platinum Certification for shipments of more than 100,000 copies of My December in Canada.[citation needed] Clarkson also performed at the 2007 NFL opening kickoff where she sang the national anthem and performed songs from My December including "Never Again", "Maybe" and "Don't Waste Your Time". Clarkson also performed in the halftime show for the Dallas Cowboys and New York Jets game on Thanksgiving Day.
My December was certified both gold (500,000 copies shipped) and platinum (1,000,000 copies shipped) on December 12, 2007, by the RIAA. It has sold over 2.5 million copies worldwide.
On April 19, 2008, Clarkson participated in a Papal Youth Rally at the campus of St. Joseph's Seminary, Dunwoodie in Yonkers, New York performing a mini-concert for those in attendance. This was the Papal Visit of Pope Benedict XVI. She performed Schubert's "Ave Maria" for the Pope later in the day following the Pope's speech. Clarkson, raised Baptist, was said to be honored by the invitation and appreciative of the rosary given to her and her band by the Pope, who were invited over by the Pope immediately following the performance for the rosary honor.
2009-2011: All I Ever Wanted

[

edit

|

edit source

]
Clarkson's fourth album, All I Ever Wanted, is due for a March 10, 2009 release. Clarkson worked closely with producer-songwriters Ryan Tedder, Dr. Luke, Max Martin, and Howard Benson, among others. The album's recording was completed on October 23, 2008. The first single off the album, "My Life Would Suck Without You", was sent to radio on January 13, 2009, and was available to download thereafter. The single first entered the Billboard Hot 100 at #97. The following week, the single shot to #1, breaking the record of largest leap to the top spot, formerly held by Britney Spears' "Womanizer." This marks the second time Clarkson has broken the record, her first being the American Idol victory ballad "A Moment Like This", which shot from #52 to #1 in 2002. "My Life Would Suck Without You" remained #1 the following week, becoming the third single released by an Idol contestant to spend 2 weeks at #1 in the Hot 100. Other hits off of All I Ever Wanted include the Katy Perry-penned song "I Do Not Hook Up" & "Already Gone".
Clarkson's fifth studio album, Stronger, was released on October 25, 2011 with the first single, "Mr. Know-It-All", having debuted on a live webcast on her official website on August 30, 2011. The song then went directly to radio after the webcast ended. The single became available on iTunes and other digital retailers on September 5, 2011. The album's second single "Stronger (What Doesn't Kill You)" was featured in a Toyota Camry commercial featuring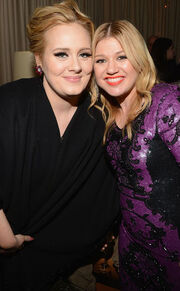 Clarkson, ESPN personality Chris Berman, TV chef Andrew Zimmern, and Inside the Actors' Studio host James Lipton. The song was officially released as a single on January 16, 2012, quickly becoming a hit. Clarkson also sang the National Anthem at Super Bowl XLVI in Indianapolis, Indiana on February 5, 2012. The next single off of Stronger, entitled "Dark Side", was released on June 5, 2012. Clarkson then hit the road with the Grammy-winning pop rock band The Fray on a co-headlining tour that started on July 21, 2012 and ended on September 15, 2012. She released a new song, "Get Up! (A Cowboy's Anthem)", which was the promotional song for Pepsi's NFL series.
Stronger earned Clarkson a Grammy, her third overall, for Best Pop Vocal Album on February 10, 2013.
Greatest hits album and Wrapped in Red (2013-2015)

[

edit

|

edit source

]
Clarkson released her first greatest hits album, Greatest Hits-Chapter One, on November 19, 2012. The first single, "Catch My Breath", which she co-wrote, was a moderate success. She is currently working on her seventh album, which will be in the country genre. She also said that she hopes to release her eighth album sometime in 2014. She also released a Christmas album, Wrapped in Red, on October 29, 2013. She returned to acting with a guest appearence on an episode of the ABC series Nashville.
Clarkson returned to Idol on April 11, 2013 to perform her latest single, "People Like Us". She also got a chance to chat with one of her personal idols, Mariah Carey.
Clarkson hit the road with the pop-rock band Maroon 5 for the Civic Tour, which kicked off on August 1, 2013 in St. Louis, Missouri.
Piece by Piece (2015-2016)

[

edit

|

edit source

]
Clarkson released her seventh studio album, Piece by Piece, on February 27, 2015. It is the last album released under the contract she recieved when she won American Idol. The album, which features the hit single "Heartbeat Song" as well as a collaboration with John Legend, has received positive reviews from critics and debuted at number 1 on the Billboard 200. She hit the road for the Piece by Piece tour on July 11, 2015 in Hershey, Pennsylvania but had to end it because of her second pregnancy.
On June 24, 2016, Clarkson announced via Twitter that she has signed a new deal with Atlantic Records. She is working on her 8th album, which she hopes to release in 2017. She will be joining the NBC show The Voice​ as a coach for season 14 in spring 2018.
Clarkson began dating talent manager Brandon Blackstock, whom she had known for six years, in February 2012.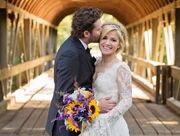 Blackstock is the son of Clarkson's manager, Narvel Blackstock, and his former stepmother is country music legend Reba McEntire. The couple became engaged on December 14, 2012 and were married on October 20, 2013. Upon her marriage, she became stepmother to her husband's two children from his first marriage, Savannah and Seth. She and Blackstock have two children together, daughter River Rose (born June 12, 2014) and son Remington (born April 12, 2016).
Thankful (2003)
Breakaway (2004)
My December (2007)
All I Ever Wanted (2009)
Stronger (2011)
Greatest Hits-Chapter One (2012)
Wrapped in Red (2013)
Piece by Piece (2015)
"Gone" (2005/2006 - Breakaway)
"Gone" was picked up by U.S. pop radio station in between "Because of You" and "Walk Away." It reached the top 70 on the Mediabase pop airplay chart, and fell after the announcement of "Walk Away" as the fifth single.
"Long Shot" (2010 - All I Ever Wanted)
"Long Shot" was used in early promotional commercials for the ninth season of American Idol. Canadian pop contemporary radio stations picked up the song and started to play it, making it go top 40.
"Cry" (2010 - All I Ever Wanted)
"Cry" was picked up by Australian, German, and Filipino radio stations in early 2010.
"Ready" (2010 - All I Ever Wanted)
"Ready" was picked up by New Zealand radio stations in early 2010.
2002: American Idol Tour
2003: U.S. Mini-Tour
2004: Independent Tour
2005: Breakaway tour
2005: Hazel Eyes Summer Tour
2006: Breakaway World Tour
2006: Addicted Tour
2007: My December Tour
2008: 2 Worlds 2 Voices Tour
2008: My December World Tour
2009-2010: All I Ever Wanted World Tour
2012: The Stronger Tour
2012: Summer Tour (co-headliner with The Fray)
2013: The Civic Tour (co-headliner with Maroon 5)
Clarkson performed "What Hurts the Most", with Rascal Flatts, at ACM Awards in 2006 and returned again to sing a duet with Reba McEntire in 2007. This was her second performance on a country music award show, even though she is in the pop/rock genre. Along with her performance with Rascal Flatts, Clarkson also performed "Cigarettes", with the country duo The Wreckers during one of their shows in Texas.
Building on her country music status, Clarkson and Reba McEntire recorded an hour-long CMT Crossroads special at Nashville's famed Ryman Auditorium on February 22, 2007. It aired on CMT and Palladia (then known as MHD) on June 24, 2007. Previously, Clarkson was a performer on CMT's Giants: Reba McEntire. where she sang McEntire's hit song "Why Haven't I Heard From You", introduced Dolly Parton, and later also sang Reba's hit "Does He Love You" with Martina McBride. Clarkson also appeared on an episode of McEntire's sitcom Reba, that aired on January 14, 2007.
At the Academy of Country Music Awards on May 16, 2007, Clarkson and McEntire sang a duet of Clarkson's own 2005 single, "Because of You", which also became the lead single from McEntire's album of all-star duets. The music video for this version of the song later debuted on June 20, 2007. This collaboration with McEntire earned Clarkson a CMA Award nomination for "Musical Event of the Year" in 2007 and a Grammy Award nomination for "Best Country Collaboration With Vocal" in 2008. Additionally, the song was featured on Now That's What I Call Country, which was released in August 2008.
Clarkson was a surprise guest at the 2007 CMA Music Festival in Nashville on June 7, 2007, where she performed "Does He Love You" and "Because of You" with Reba McEntire during the internationally-renowned annual event. The performance of "Because of You" was taped and aired as part of the "CMA Music Festival: Country's Night To Rock" television special that aired on ABC on July 23, 2007.
On January 17, 2008, Clarkson embarked on the 2 Worlds, 2 Voices Tour 2008, a co-headlining tour with Reba McEntire.
On May 18, 2008, Clarkson performed on stage at the Academy of Country Music Awards All-Star Jam with Reba McEntire and Ronnie Dunn of Brooks and Dunn. The All-Star jam is the final event of the week taking place immediately after the awards show. Clarkson was not announced ahead of time for an appearance. Images of the performance can be found on various news outlets and fan sites.
On August 23, 2010, it was announced that Clarkson had recorded a duet called "Don't You Wanna Stay" with country star Jason Aldean for Aldean's upcoming album, My Kinda Party. They performed the song at the 2010 CMA Awards on November 10, 2010. The song has since become a top 10 hit on the Hot Country Songs chart. The song was even covered by season 11 contestants Colton Dixon and Skylar Laine.
On an interview with Good Morning America, Simon Cowell was asked which of the then six American Idol winners he thought had the best voice. Cowell immediately answered that Clarkson did "by a mile", noting that she was "up there" with other great singers such as Céline Dion.
Reflecting back on Clarkson's performance during the Idol Gives Back special, Jeff Beck described Clarkson's voice as a "soul voice" that "demands attention".
After attending a rehearsal for American Idol's season six finale (in which Clarkson was scheduled to perform), Blender magazine described Clarkson's voice as such:
"The Texas native has one of the great voices in pop music, a powerful and versatile instrument that's steeped in the rhythm and blues and country music she grew up with in the South. If Mariah Carey's five-octave voice is the equivalent of an expensively bred poodle, then Clarkson's is a bloodhound: friendly, earthy, but fierce just the same."
Clarkson's vocal ranges between an average C5 which is common for most female singers, all the way to a strong A5, which is found in her live performances.
Kelly Clarkson won over 60 awards and received over 100 nominations. She has won 3 Grammy Awards (Best Female Pop Vocal Performance "Since U Been Gone", Best Pop Vocal Album "Breakaway", Best Pop Vocal Album "Stronger") and has been nominated for 2 others in 2004 and 2008. She holds the record of most nominations in the Best Pop Vocal Album category, with 4 nominations, winning 2 of them. She has also won 3 MTV Video Music Awards, 6 Teen Choice Awards, 12 Billboard Music Awards and 4 American Music Awards. She has also won a Kids Choice Award,a People's Choice Award, a Radio Music Award and many others. She was also in the Guinness Book of Records 2005 and "Top 10 Everything" 2009 book, for biggest jump to #1 (Guinness), and #1 song of 2002 (Top 10 Everything), respectively.
Clarkson has had many certified singles and albums in the US, including 2 multi-platinum albums (Breakaway & Thankful) and a Platinum album (My December), 2 Gold singles (Miss Independent, Walk Away), 5 Platinum singles (A Moment Like This, Breakaway, Behind These Hazel Eyes, Because of You, Never Again) and 2 multi-platinum single (Since U Been Gone, Stronger).
References in Popular Culture
[
edit
|
edit source
]
Clarkson's name has been mentioned in two songs: Jonas Brothers' remake of Busted's "Year 3000", and in the remix of "You Know I'm No Good" by Amy Winehouse featuring Ghostface Killah.
In the 2005 film The 40-Year-Old Virgin, Steve Carell's character screams out "Aaahh! Kelly Clarkson!" after getting his chest waxed. This line was not scripted, but was featured in the film and its theatrical trailer.
The late-night FOX sketch comedy show MADtv staged a parody of "Since U Been Gone" in its 10th Season, featuring American Idol winners and runners-up discussing their failed careers. Nicole Parker played Kelly Clarkson. Also featured in the sketch were Aries Spears as Ruben Studdard, Jordan Peele as Justin Guarini, Paul Vogt as Diana DeGarmo, Ron Pederson as Clay Aiken, Daniele Gaither as Fantasia, and Bobby Lee as William Hung. MADtv also mentioned Clarkson a second time in a sketch from its past season, featuring two characters called "The Crafty Gals". One girl says to the other "Well, we don't know each other sexually" and she says "Yes we do, remember we made out after that Kelly Clarkson concert?" and the other girl said "Oh, yeah! Her music will do that to you".
Clarkson has been mentioned in a few episodes of Disney's hit television show Hannah Montana, specifically "It's My Party and I'll Lie if I Want To".
Kelly was also mentioned in the hit T.V show, Ugly Betty when asked a question Betty replies, ""I can't just be Jordin Sparks good, I need to be Kelly Clarkson Miss Independent good."
Kelly Clarkson has been featured in episode three of the Logo TV show, "Rick & Steve: The Happiest Gay Couple in All the World" - when character, Chuck, is told someone important is around to greet him, he exclaims "Kelly Clarkson!"
Clarkson is mentioned in an episode the of the Fox TV show "Bones". Bones says "Everybody thinks they're the next Kelly Clarkson, Booth says "Who's Kelly Clarkson?". Bones replies back with "American Idol, Because of You"
Kelly was mentioned in The New Adventures of Old Christine in one episode where Richard says, "and Kelly Clarkson sang Happy Birthday to Daniel, it was awesome".
In the season three episode of One Tree Hill, "First Day on a Brand New Planet" when Haley returns to school for the first time after being on tour a girl picks on her and says "Excuse me aren't you Kelly Clarkson?".
Kelly Clarkson is mentioned in an episode of "Smallville" when Chloe and her boyfriend Jimmy were stuck in an elevator she said, "I always hoped my life would end to a Kelly Clarkson song and NOT elevator music." Her song "Sober" is also used in a season premiere.
In a season four episode of NCIS, Abby Sciuto facetiously blamed a suspect's failure to attract women on his obsession with Clarkson.
Clarkson was mentioned in an episode of The Grim Adventures Of Billy And Mandy When Billy's Dad picked up the phone and said "Oh my gosh! Honey it's Kelly Clarkson" Then Billy's mom said "really!, who is Kelly Clarkson" Billy's dad then said "I don't know."
In the Bloopers that were featured on the boxset for the first season of Supernatural, there is a part were Jensen is asleep in the Impala, and Jared beeps the horn to wake him up. On the third time, Jensen bolts awake and shouts, 'Kelly Clarkson!'.
Community content is available under
CC-BY-SA
unless otherwise noted.