Kellie Dawn Pickler (born June 28, 1986) is an American country singer-songwriter and television personality. She gained fame as a contestant in Season 5 of the FOX reality show American Idol, eventually finishing in 6th place. In 2006, she signed to BNA Records as a recording artist, releasing her debut album, Small Town Girl, late that year. The album, which was certified gold by the RIAA, produced three singles on the Billboard Hot Country Songs charts: "Red High Heels" at #15, "I Wonder" at #14, and "Things That Never Cross a Man's Mind" at #16. The first single from her self-titled second album was "Don't You Know You're Beautiful". It was released in mid-2008 and reached the Top 25. The second single from her self-titled album is "Best Days of Your Life" which she co-wrote with country-pop superstar Taylor Swift. Her third album, 100 Proof, was released January 24, 2012.
On May 21, 2013, Pickler won Season 16 of the popular dance competition show Dancing with the Stars alongside pro partner Derek Hough. She is the first Idol alum to not only appear on the show, but to win it as well.
Pickler was born at Stanly Memorial Hospital in Albemarle, North Carolina, to Cynthia Morton and Clyde "Bo" Raymond Pickler, Jr. The major influences in her life are her grandfather, electrician Clyde Raymond Pickler, Sr., and grandmother Faye Pickler. She was raised in Palestine, a small town near Albemarle. After her grandmother's death from lung cancer in January 2002, she continued to reside with her grandfather and her younger sibling Eric until she became a contestant on Idol. Pickler graduated in 2004 from North Stanly High School in New London, North Carolina. She was a cheerleader and beauty queen. At her high-school commencement, she sang "On the Side of Angels" by LeAnn Rimes.
She worked as a waitress at a Sonic Drive In franchise and, in 2005, she made an appearance in WSOC-TV's Gimme the Mike! Charlotte contest. She finished in second place. She participated in the Miss America circuit and won the "Miss Stanly County" pageant at age seventeen and subsequently competed for Miss North Carolina 2004. She dropped out and later focused on paralegal studies.
The nineteen-year-old Pickler auditioned for American Idol in the fall of 2005 in Greensboro, North Carolina. She sang both Kelly Clarkson's "Since U Been Gone" and Martina McBride's "A Broken Wing". The judges sent her to Hollywood. Pickler advanced through the semi-final rounds in February. On March 9, she reached the Top 12. She finished in 6th place despite having never been in the Bottom 3.
Pickler was among one of judge Simon Cowell's favorites. He once predicted Pickler would be in the final three, and said he preferred her over the previous season's winner, Carrie Underwood. Recognized for her "quirky" personality and Southern charm, Pickler gained attention on the show by saying that she had hardly ever performed before real audiences, and by mispronouncing words. She was compared to Jessica Simpson in a March 27 story in US Weekly magazine entitled "Kellie: The Next Jessica Simpson", due to her "sweet Southern style and ditzy demeanor". Pickler has stated several times that she was not heavily exposed to modern pop culture.
After her elimination, she appeared in numerous shows promoting the TV show and performed the song "Walkin' After Midnight" in some of her appearances.
On May 6, 2006, she returned to Albemarle, North Carolina, for a parade and a reunion with her father. She received a key to the city from the mayor of Albemarle. The mayor also proclaimed the day as "Kellie Pickler Day." Pickler also received numerous awards from local and statewide government officials praising her accomplishments as a contestant in American Idol.
Pickler pursued her recording aspirations in Nashville, Tennessee, shortly thereafter. On July 17, 2006, she signed a record deal with 19 Recordings/BNA Records. She later announced it herself in The View. She was part of the American Idol Pop Tarts tour ensemble, performing for three months in various cities. During that period, Pickler worked on her album in collaboration with top industry experts in different cities wherever the tour took her. Her debut album Small Town Girl, which featured the hit singles "Red High Heels" and "I Wonder", was released on October 31, 2006. Her second album Kellie Pickler, which featured the singles "Don't You Know You're Beautiful" and "Best Days of Your Life", came out on September 30, 2008. Her third album, 100 Proof, was released on January 24, 2012. The first single from that album is called "Tough".
On June 27, 2012, ABC News Radio reported that Pickler had parted ways with Sony Nashville, who had decided not to renew her contract. On October 8, 2012, CMT reported that Pickler had signed a new deal with Black River Entertainment, an independent record label. Her first single for her new label, "Someone Somewhere Tonight", was released on May 14, 2013. Her fourth album, The Woman I Am, her first with her new label, was released on Veteran's Day, November 11, 2013.
Pickler is now working on her fifth album.
Knock Knock Live and New Reality Show
[
edit
|
edit source
]
On July 7, 2015, FOX announced that Pickler would be joining Ryan Seacrest as host of the life-changing TV show Knock Knock Live, which premiered July 21, 2015 on FOX. She would also be starring in a reality show on CMT that will feature her and her husband, songwriter Kyle Jacobs.
On February 26, 2013, it was announced that Pickler would be competing in Season 16 of Dancing with the Stars.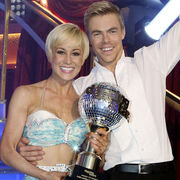 She was paired with pro dancer Derek Hough, who had won the show three times.
The duo made their DTWS debut on March 18, 2013 where they scored a 21 out of a possible 30 points for their rendition of the Cha-Cha. Their jazz routine on March 25 earned Pickler and Hough not only praise from the judges but also a score of 26 out of 30 points. They earned 25 points for their jive routine set to the song "Footloose" on April 1. Pickler and Hough's rumba routine on April 8 earned the duo a score of 26 points. Their foxtrot routine on April 15 earned them criticism from the judges and a score of 18 points, their lowest score on the show. However, on April 22, the duo rebounded with a brilliant quickstep routine that earned them 29 points. They earned another 29 points for their Samba routine, which they managed to practice despite Pickler's touring schedule, and were declared safe. The following week, she and Hough joined fellow dancer Tristan McMagnus for their rendition of the paso doble, which earned them 55 points. On May 13, Pickler and Hough got their first perfect score of 30 points with their Argentine tango routine which earned them a place in the finals where they competed against Olympic gymnast Aly Raisman, Baltimore Ravens wide receiver Jacoby Jones, and Disney star Zendaya.
Pickler and Hough won Dancing with the Stars on May 21, 2013.
During the course of their time on the show, Pickler and Hough were praised for their chemistry on the dance floor as well as their personal friendship, which many felt helped them win.
After two and a half years of dating, Pickler became engaged to songwriter Kyle Jacobs on June 15, 2010, her late grandmother's birthday. The couple were married January 1, 2011 in a "small, intimate ceremony on a private island in the Caribbean". Jacobs even got a chance to perform a song he had written for Pickler in Dancing with the Stars.
A couple of Pickler's closest friends are fellow country stars Carrie Underwood and Taylor Swift. Swift co-wrote the song "The Best Days of Your Life" for Pickler's second album. Like Underwood, Pickler is a vegetarian, having decided to give up meat mainly for health reasons. In May 2009, PETA (People for the Ethical Treatment of Animals) named Pickler "Sexiest Vegetarian".
Another of Pickler's good friends is Season 12 runner-up Kree Harrison.
Pickler has also remained close friends with fellow Season 5 Idol alum Katharine McPhee, even serving as a bridesmaid at McPhee's 2008 wedding. Pickler even said in an interview that if she had to nominate someone to be on Dancing with the Stars, it would be McPhee.
On September 4, 2012, Pickler shaved her head in support of her friend Summer Miller, who was undergoing chemotherapy after having had surgery for breast cancer.
Kellie Pickler (2008)
100 Proof (2012)
The Woman I Am (2013)
Community content is available under
CC-BY-SA
unless otherwise noted.