Keith Lionel Urban (born October 26, 1967) is a New Zealand-Australian country music singer-songwriter and musician. He released his self-titled debut album in 1999 and has achieved success since then with such hits as "Where the Blacktop Ends", "Somebody Like You", "You'll Think of Me", "Once in a Lifetime", and "Stupid Boy". He has won many awards including four Grammy Awards. Urban was even a judge/mentor in the Australian version of The Voice. He was a judge in American Idol from Season 12 to Season 15.
American Idol
[
]
Urban joined longtime Idol judge Randy Jackson, pop icon Mariah Carey, and rapper Nicki Minaj on the judging panel for Season 12 where his warm personality endeared him to many fans of the show as well as the contestants. His musical knowledge has even earned him praise from critics.
Despite the feuding that was happening between Carey and Minaj, many felt that Urban was able to hold his own despite the chaos going on around him.
Urban jokingly announced on May 14, 2013 during an appearance in The Ellen DeGeneres Show that he would be returning for Season 13 but did admit that he would love to return. Urban later confirmed his return to the show on Twitter on August 1, 2013. He was joined on the panel by singer-actress Jennifer Lopez and crooner Harry Connick, Jr. All three judges stayed on the show until it ended on April 7, 2016. Urban even co-wrote Season 15 winner Trent Harmon's winning single "Falling".
Post Idol
[
]
Since the show's cancellation on Fox, Urban has continued working on his music and touring. He released his tenth album, Graffiti U, in April 2018. He will be an advisor to fellow country music superstar Blake Shelton in Season 15 of the NBC show The Voice.
Personal Life
[
]
Urban has been married to Academy Award-winning actress Nicole Kidman since 2006. The couple have two children, daughters Sunday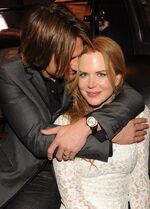 Rose and Faith. He also has two stepchildren, Isabella and Connor, from his wife's first marriage to superstar actor Tom Cruise.
Death of Father-in-Law
[
]
On September 12, 2014, Urban's father-in-law, Antony Kidman, died unexpectedly in Singapore. Urban left the Idol auditions to be with his wife Nicole and their family.
Discography
[
]
Albums:
Love, Pain & the Whole Crazy Thing (2006)
Get Closer (2010)
Fuse (2013)
Ripcord (2016)
Graffiti U (2018)
External Links
[
]