Katherine Mari "Katie" Stevens (born December 8, 1992) is an American pop singer and actress from Middlebury, Connecticut who finished in eighth place on season 9 of American Idol. She later starred on the MTV series, Faking It. She now stars on the FreeForm network hit series The Bold Type.
Stevens grew up in Middlebury, Connecticut. Her parents are Mark Stevens and Clara Francisco. Her Portuguese grandmother, Rita Francisco, is battling Alzheimer's disease. Stevens is currently a senior at Pomperaug High School in Southbury, CT. She was named the 2009 Westbury Outstanding Teen at the Greater Watertown Scholarship Pageant. Stevens speaks fluent Portuguese.
Stevens was instrumental in the creation of the Evan Gagnon Memorial Scholarship Fund, which gives college scholarships to the seniors of Pomperaug High School. Evan Gagnon, who died in January 2009 at the age of 2, was the son of Stevens' Spanish teacher. Also, Stevens has been a member of Pomperaug's High School Varsity Swim Team all four years.
Stevens first performed for an audience at five years old, when she sang the national anthem at a party for a politician in her hometown. Since she was young, Stevens has been active in her local theater community. When she was 7 she sang From This Moment On by Shania Twain at her aunt's wedding. She also played Nellie Forbush in Pomperaug High School's South Pacific. She also performed at Carnegie Hall at the age of 13.
She counts Whitney Houston and Jason Mraz among her favorite artists. Her musical influences include Taylor Swift, and her own brother, Ryan Stevens.[8] Among the instruments she can play are guitar, piano, cello, and flute; however, she never had a chance to play them on American Idol prior to her elimination from the competition.
On June 26, 2009, she auditioned for American Idol in Boston, Massachusetts and sang "At Last" by Etta James, where all four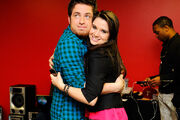 judges (including guest judge Victoria Beckham) advanced her to Hollywood. At the Boston audition, judge Kara DioGuardi called her one of the most talented 16-year olds she had ever seen. In Hollywood, judge Kara DioGuardi made the prediction, "You could be the potential winner."
On March 24, 2010, Stevens landed in the Bottom 3 during Elimination Night, along with Paige Miles and Tim Urban. However, she was immediately proclaimed safe, giving her a spot on the American Idol summer tour.
Most of the critiques the judges gave her had been in regards to her pitch, age and song selection, especially during the semi-finals. During one of her performances, "Chain of Fools" by Aretha Franklin, Kara Dioguardi told her she had overcome this speed-bump, and then presented with the problem of needing to be younger. She landed in the bottom 3 again on the Top 10 results show, but was declared safe putting her into the Top 9. In her Top 9 performance of the song "Let It Be" by the Beatles, all of the judges thought it was a huge improvement with Ellen DeGeneres stating that she wouldn't be in the Bottom 3 that week. However, fellow judge Simon Cowell told Stevens that he felt her voice was better suited for country music, while Kara and Randy disagreed, opining that she has more of a pop/R&B sensibility. Nonetheless, her performance secured her a position in the Top 8, as she was the second contestant declared safe. Katie was in the middle of the stage with Siobhan and Crystal and they were all declared safe, though the Top 9 remained intact because the judges saved Michael Lynche. In her second Top 9 performance all of the judges except for Simon Cowell liked it.
Katie was eliminated from American Idol on April 14, 2010 along with Andrew Garcia. Her elimination came second on the double elimination night.
Although she was close to everybody, she was especially good friends with Lacey Brown, Haeley Vaughn, and Andrew Garcia. She was also close to a few of the cut Hollywood contestants.
Week #
Theme
Song choice
Original artist
Order #
Result
Audition
Auditioner's Choice
"At Last"
Glenn Miller
N/A
Advanced
Hollywood
First Solo
"For Once in My Life"
Stevie Wonder
N/A
Advanced
Hollywood
Group Performance
"No One"
Alicia Keys
N/A
Advanced
Hollywood
Second Solo
"Chasing Pavements"
Adele
N/A
Advanced
Top 24
Billboard Hot 100
"Feeling Good"
Nina Simone
12
Safe
Top 20
"Put Your Records On"
Corinne Bailey Rae
4
Safe
Top 16
"Breakaway"
Kelly Clarkson
1
Safe
Top 12
The Rolling Stones
"Wild Horses"
The Rolling Stones
6
Safe
Top 11
Billboard #1 Hits
"Big Girls Don't Cry"
Fergie
8
Bottom 3
Top 10
Soul
"Chain of Fools"
Aretha Franklin
7
Bottom 3
Top 9
Lennon/McCartney
"Let It Be"
The Beatles
2
Safe
Top 9
Elvis Presley
"Baby, What You Want Me to Do?"

Elvis Presley Jimmy Reed

8
Eliminated
Because of the Judges' Save on April 7, Katie Stevens was eliminated along with Andrew Garcia on April 14.
Katie was on The Ellen DeGeneres Show Monday, April 19 due to her elimination. She performed "Over the Rainbow" after her interview with Ellen. Katie also appeared on The Late Show with David Letterman along with Andrew Garcia later that day, where they sang "Superhuman" by Chris Brown and Keri Hilson. She also along with Andrew Garcia appeared on the Wendy Williams Show after being eliminated. Katie toured with the American Idols LIVE! Tour 2010 and played piano during her performance of "Let It Be."
Katie is currently unsigned but has been writing songs with songwriter-producer David Hodges. She recently got to work with season 9 winner Lee DeWyze on the song "Stay Away", which is off of his album Frames. She also decided to try her hand at acting, having been cast in a TV show called Faking It, which debuted on MTV on April 22, 2014. The show became a big hit for MTV and was renewed for a second season, which premiered on September 23, 2014. She also got to guest star in the series finale of the long-running CBS series CSI, called Immortality, on September 27, 2015.
Faking It was cancelled on May 13, 2016 after three seasons. Stevens' new series, The Bold Type​, premiered on the FreeForm network on July 11, 2017. The show was such a hit that FreeForm renewed it for two more seasons. Season 2 will premiere on June 12, 2018.
Katie is engaged to marry her longtime boyfriend, Paul DiGiovanni.
Television:
 Faking It (2014-2016) (lead role)
 CSI: Immortality (2015) (guest role; series finale)
The Bold Type (2017-present) (lead role)
Community content is available under
CC-BY-SA
unless otherwise noted.