Jordin Brianna Sparks (born December 22, 1989) is an American pop/R&B singer, songwriter, actress, fashion designer, and plus-size model. She rose to fame as the winner of the sixth season of American Idol, which led to her reception of an American Music Award and Grammy nominations in 2008. Her self titled debut album was certified Platinum in the U.S. on December 12, 2008. She is one of the few American Idol winners to have major success on the Billboard Hot 100, alongside Kelly Clarkson and Carrie Underwood.
Biography
Edit
Early Life and Before Idol
Edit
Sparks was born in Phoenix, Arizona to Jodi Weidmann-Sparks and former NFL defensive back Phillippi Sparks. She has a younger brother named PJ and attended Orchard Elementary School. After living in New Jersey, Sparks attended Northwest Community Christian School in Phoenix, Arizona through the eighth grade. Sparks attended Sandra Day O'Connor High School until 2006, then she was homeschooled to better concentrate on her singing. A formally trained singer, she started taking lessons at age fourteen from vocal coach Melissa Black. She rigorously trained with her coach for almost a year, in order to perfect her skill. Sparks is an evangelical Christian and attends Calvary Community Church in Phoenix, Arizona. On her "American Idol" biography, she thanks her parents and God for her win. She wears a purity ring that symbolizes her desire to remain a virgin until marriage. She also appeared on the cover of World, an Evangelical Christian news magazine. She won an award for best young artist of the year in Arizona for three years.
Before appearing on American Idol, Sparks participated in and won such talent competitions as Sprite Rising Star, Gospel Music Association GMA Academy, The Proof Is In The Pudding Contest, NBC/PAX America's Most Talented Kids, Colgate Country Showdown and the 2007 Drug Free AZ Superstar Search.
In 2006, Sparks was one of six winners who won the Phoenix Torrid search for the "Next Plus Size Model." She was flown to California, where she was used in a number of Torrid ads and promotional pieces. A full-page ad for Torrid featuring Sparks ran in the December 2006 issue of Seventeen magazine. She was the winner of the Season 6.
In the summer of 2006, Sparks auditioned twice for American Idol once in Los Angeles, CA (only auditioned for producers) and again in Seattle, WA after winning KSAZ Fox 10's "Arizona Idol." The Seattle audition is the one seen in the January 27, 2007 broadcast of American Idol where she earned a "gold ticket" and the right to appear in the Hollywood Round. American Idol judge Randy Jackson made the offhand prediction that, "Curly hair will win this year," which he admitted wasn't Sparks. May 23, 2007, Sparks was crowned the winner of the sixth season of American Idol having never been in the bottom three. Sparks was the fourth winner never to have been voted in the bottom three (after Kelly Clarkson, Carrie Underwood and Taylor Hicks); Cowell said "Jordin was the most improved over the whole season -- didn't start the best, but midway through this was the girl who suddenly got momentum," he included that "Young girl, likeable, and the singer won over the entertainer [Lewis]."
Sparks twice performed on seventh season, once on the Idol Gives Back results show singing her duet with Chris Brown, "No Air" and again with "One Step at a Time" on May 21, 2008, for the finale of American Idol.
Performances and results
Edit
Week #
Song Choice
Result
Audition
"Because You Loved Me"
Advanced
Hollywood
"Some Kind of Wonderful"
Advanced
Top 24 (12 Women)
"Give Me One Reason"
Safe
Top 20 (10 Women)
"Reflection"
Safe
Top 16 (8 Women)
"Heartbreaker"
Safe
Top 12
"If We Hold On Together"
Safe
Top 11
"I (Who Have Nothing)"
Safe
Top 10
"Hey Baby"
Safe
Top 9
"On a Clear Day"
Safe
Top 8
"Rhythm Is Gonna Get You"
Safe
Top 7

"A Broken Wing"

Safe
Top 6
"You'll Never Walk Alone"
Safe
Non-Elimination Week
Top 6
"Livin' on a Prayer"
Safe
Top 4
"To Love Somebody"
"Woman in Love"
Safe
Top 3
"Wishing on a Star"
"She Works Hard for the Money"
"I (Who Have Nothing)"
Safe
Finale
"Fighter"
"A Broken Wing"
"This Is My Now"
Winner
Semi-finals/Final Notes
Edit
Sparks was never in danger of elimination. Sparks is the fourth contestant to have won without ever being in the bottom 2or 3, along with Kelly Clarkson, Carrie Underwood, Taylor Hicks, and, most recently, David Cook. (Season 2 winner Ruben Studdard was in the bottom 2 once, and Season 3 winner Fantasia Barrino landed there twice).
After IdolEdit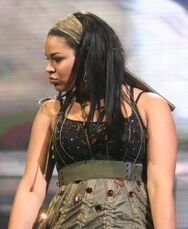 Sparks' songs from the American Idol have been on sale at the iTunes Store and the American Idol official website as Jordin Sparks (EP) (called a "bundle" on Idol official website) shortly after the finale of Idol, along with other songs that did not make the EP's cut that were being sold as individual singles. According to SoundScan figures posted in USA Today, Blake Lewis sold more digital singles than Sparks, but her mini album sold more than Lewis'.
After the finale of Idol, Sparks has made several appearances on television shows. She performed the finale song, "This Is My Now"on The Morning Show with Mike and Juliet, The Today Show, Live with Regis and Kelly, The Early Show and The View. Sparks had also appeared on Total Request Live, The Morning Show with Mike and Juliet with the runner-up of Idol, Blake Lewis, Larry King Live with contestants who made into the top ten of American Idol. and 106 & Park. On July 4, 2007, Sparks performed "God Bless America" and "America the Beautiful" on Macy's Fourth of July Fireworks Spectacular with Lewis and Melinda Doolittle.
Along with television and radio appearances,Sparks has been on the cover of Entertainment Weekly, Your Prom and World and featured in VIBE, TV Guide, Glamour and other publications.
Sparks took part in the American Idols LIVE! Tour 2007 from July 6 to September 23, 2007, along with other contestants in the top ten. She revealed in an AOL interview that the concert will be more group collaborations and duets as well as bringing along her acoustic guitar.
In 2007, Sparks was asked by a relative who works for SOS Children's Villages - USA in Florida to design a denim jacket festooned with Swarovski Crystal to support orphans. She performed on New Years Eve Live on FOX alongside Blake Lewis. In 2008, Sparks was asked to sing at the Eagles-Cardinals NFC Championship football game.
2007-2008: Jordin SparksEdit
On August 17, 2007, it was announced Sparks had signed to 19 Recordings/Jive Records/Zomba Label Group, becoming the first Idol winner to join the label group.
David Archuleta
(Season 7, runner up) also joined the label group last May 2008, making them the only two Idol contestants who signed a contract with them. All past Idol winners and runners-up have signed with the RCA Label Group's J (Fantasia, Ruben Studdard), Arista (Taylor Hicks) or RCA (
Kelly Clarkson
, Chris Daughtry, Clay Aiken, Katharine McPhee, and successor
David Cook
) labels, with the exception of
Carrie Underwood
who signed to Arista Nashville. Sparks has stated that she recorded some songs with Heath Thurman on drums for the album but the bulk of the recording would be done in Los Angeles after the tour is over.She said the album would be "Top 40, radio-friendly, uplifting stuff" hopefully mixing "the pop rock sound of inaugural Idol Kelly Clarkson with the R&B edge of Beyonce". Her debut album came out on November 20 and November 27, 2007.
Some critics felt Sparks' vocals were not suited for modern pop music while others thought the album's ubiquitous and age-appropriate American Idol material has helped Sparks to find a secure future.
Singles from Jordin Sparks
Edit
Along with the label announcement, the first single was revealed to be "Tattoo", which was released to U.S. radio on August 27, 2007. The song became the album's first top ten single. Later, on March 11, 2008, "Tattoo" was released on 'Now That's What I Call Music Vol. 27' as the sixth track on the album, along with 19 other chart-topping hits of early 2008.
After the release of "Tattoo", Sparks' official website ran a poll asking fans to vote for what her next single should be, the choices being "No Air", "Freeze", "One Step at a Time," or "Shy Boy". On February 3, 2008, it was announced that "No Air" had won the vote, and was being added to radio stations. The song became a hit before it was officially released as a single, and peaked at #3 on the Billboard Hot 100, where it remained for four consecutive weeks. On June 3, 2008, "No Air" was released on 'Now That's What I Call Music Vol. 28' as the ninth track on the album, along with 19 other hits from 2008. She performed "No Air" with Chris Brown on the April 10, 2008 results show as part of Idol Gives Back.Sparks is the only Idol from outside Australia to top the ARIA Singles Chart with "No Air".
"One Step at a Time" was the third single from the album and was officially released in the U.S. on June 10, 2008. Sparks performed "One Step at a Time" at Macy's Fourth of July Fireworks Spectacular for the second year in a row. The song peaked in the Top 20 on the Hot 100 and the Top 5 on the Pop 100 chart. She has been on Good Morning America and Canadian Idol promoting "One Step At A Time". This is the beginning of her second promotion stretch for "One Step At A Time". With the success of One Step at a Time, Sparks became the first and only American Idol contestant ever to have their first four singles all crack the Top 20 of the Billboard Hot 100.
In February 2008, Sparks sang the National Anthem at Super Bowl XLII (the song was then made available on iTunes the next day), she had also previously performed at Game 1 of the 2007 NBA Finals between the San Antonio Spurs and Cleveland Cavaliers. She also performed for Diana Ross for the 30th Annual Kennedy Center Honors. She also performed "Tattoo" at the NBA Rookie game during NBA All-Star Weekend. Sparks also performed at a Monday Night Football game between the Arizona Cardinals and San Francisco 49ers in November 2008. In 2009, she sang at the Divisional Round of the NFL Playoffs between the Philadelphia Eagles and her father's former team, the New York Giants. Later, she sang in Arizona in the NFC Championship game between the Arizona Cardinals and the Philadelphia Eagles.
Touring with Alicia Keys and Jesse McCartney
Edit
Sparks was the opening act for Alicia Keys on the U.S. leg of her As I Am tour. Before going on tour, she was to appear on the GMA Dove Awards as part of a tribute to Michael W. Smith as well as it was announced Sparks would team up with cosmetics company, Avon, to become a spokesperson for the teen-focused line Mark. Before the tour even started, a potentially career-threatening throat injury forced Sparks to cancel a few weeks of shows. Officials said that she was suffering an acute vocal cord hemorrhage, and was ordered to strict vocal rest until the condition improved. If it had not improved, it may have required laser microsurgery. Her first concert originally was scheduled as an opener for Alicia Keys on Saturday, April 19, 2008. She was back on the road with Alicia Keys by April 30. She remained on the tour until the last show on June 18.
In an interview with Perez Hilton, it was mentioned that Sparks will co-headline tour along with Jesse McCartney in August 2008 while she recently joined with the website DoSomething.org and Staples Inc. to resolve the problem with a national back-to-school supply drive.
Sparks was appointed on August 12, 2008 by President George W. Bush to be a member of the President's Council on Service and Civic Participation for a two year term along with other celebrities such as Corinne Bailey Rae and Michael W. Smith, with whom she has previously worked.
Sparks joined Alicia Keys for a second time on an Australian leg of her As I Am Tour, which began on December 6, 2008 in Auckland, New Zealand at the Vector Arena and ended December 20, 2008.
While on tour with Alicia Keys in the American leg of the As I Am Tour Sparks stopped by several talk shows. She appeared on The Tyra Banks Show in early 2008, with Banks saying she wanted Sparks for the main role in a scripted television project she was working on. Later in 2008 on the radio show Johnjay & Rich, Sparks mentioned that she received an email from Tyra, which she expected to be news about the show, but was just a hello. She added that Tyra said she would contact her when the show came up.
Sparks states that she would love to break into acting.
2008 MTV Video Music Awards & American Music Awards
Edit
Sparks appeared at the 2008 MTV Video Music Awards on September 7, 2008 where she was nominated for 2 VMAs for Best Female Video and Best New Artist. She is the second American Idol winner to have 2 or more nominations after the release of one album. The first being Kelly Clarkson with 3 nominations. Britney Spears for "Piece Of Me" actually took home the award that night for Best Female Video, while Tokio Hotel beat out Sparks for the Best New Artist award with "Ready, Set, Go!".
While at the same VMAs, Sparks caused controversy by responding to a joke made by host Russell Brand during his opening monologue, when he held up a silver ring, claiming to have relieved one of the Jonas Brothers of his virginity, saying he would "take them more seriously if they wore it (the ring) around their genitals." Sparks took umbrage, responding at the start of her introduction of rapper T.I.: "I just have one thing to say about promise rings. It's not bad to wear a promise ring because not everybody -- guy or girl -- wants to be a slut." In response to controversy over her "slut" remark, she told Entertainment Weekly that she doesn't regret the remark, commenting that "I wish I would've worded it differently -- that somebody who doesn't wear a promise ring isn't necessarily a slut -- but I can't take it back now". While presenting an award at the American Music Awards, she started by stating "I'm gonna stick to the script this time" in reference to VMA incident.
She has won a American Music Award for Favorite Artist in the Adult Contemporary Category. This was her first nomination at the American Music Awards. Sparks has teamed up with Wet Seal to create her own clothing line. The collection, appropriately named 'Sparks', will begin with an assortment of holiday dresses delivering to stores just in time for the busy Thanksgiving weekend. The collection will later include casual apparel and accessories. Each piece will reflect Sparks's youthful and collected sense of style. The line is currently set to launch on November 19, 2008 and will come in sizes XS to XL.
2009: Battlefield
Edit
Timbaland said in an interview that Sparks will be one of the collaborations on his forthcoming album Shock Value 2. In an update on her YouTube profile, she stated that her fans can look forward to seeing more upbeat dance tunes on her second album. She confirmed that fans could see her at a possible NFL playoff anthem in January, Charity Benefit in February at the Shrine Auditorium and VH1 Save the Music performing with John Mayer in March. In addition to this an official Jordin Sparks fan club would open called "SparksTown". Sparks returned to University of Phoenix Stadium to again sing the national anthem before the NFC Championship game between the Arizona Cardinals and the Philadelphia Eagles on January 18, 2009.
Sparks joined several A-List singers performing at the Commander-in-Chief's Inaugural Ball which was hosted by President Barack Obama on January 20, 2009. Sparks attended the 51st Annual Grammy Awards and was nominated for her first Grammy for "No Air" in the category "Best Pop Collaboration With Vocals." Sparks sang the National Anthem at the NBA All Star Game on February 15, 2009 (which, coincidentally, was played in Phoenix, Arizona - the same metropolitan area where she sang the anthem at Super Bowl XLII) and at an MLB Spring Training game between the Los Angeles Dodgers and the Chicago White Sox on March 1, 2009. On October 1, 2009, Sparks will release a book via Thomas Nelson Publishers, titled "One Step at a Time". Jordin hired her own personal trainer, Joey London and began working with choreographer Laurie Ann Gibson for her upcoming tour.
Sparks' second album is expected to have a higher profile and better production than her first due to the great success of the album itself and its four singles. Sparks said she plans on working with Jesse McCartney and Ryan Tedder on her new album in an interview on the radio show "Johnjay & Rich" the morning after her appearance at the 2008 American Music Awards. She said the album will be more R&B and dance influenced, and will sound more "Beyoncé meets Rihanna." In an update on her MySpace, Sparks stated she was "in the studio and writing amazing songs!" She also told HollyscoopTV that she had spoken to Leona Lewis and the pair were considering recording a duet along the theme of 'female empowerment'
A press release stated that Sparks is working with Miami based producer "J-Vibe". Sparks performed a new song entitled 'Faith' written by herself at the President's Commander-In-Chief Inaugural Ball. It is unclear whether or not this track was written for her second album and whether or not it will be on it. In a recent radio interview on The MJ Morning Show in Tampa Bay, Florida, Sparks revealed news about the highly anticipated album. She announced her label's goal for the release of her second album is in late spring/early summer. At the time of the interview, Sparks had recorded a total of 9 songs. She stated she wanted to record about 25 songs for the album to choose from, to have 14 tracks on the final CD. And as of May 18, 2009, Jordin has recorded 30 songs for the album. Sparks also revealed she was working with some of the same writers as the last album as well as new writers & producers such as Stargate, Dr. Luke, Max Martin, Claude Kelly, Lucas Secon and Toby Gad. It has also been confirmed that Jesse McCartney, has completed studio sessions with Sparks. Sparks visited the radio show "Johnjay & Rich", and she previewed four new songs ("Let It Rain", "Walking On Snow", "Faith", "Paper Cut") which are possible songs that could make her sophomore album.
The first single from the album is called "Battlefield", which was written and produced by Grammy nominated singer/songwriter/producer Ryan Tedder. Jordin performed the song during the American Idol Top 3 results show on May 13 which will be sent for radio adds on May 25, 2009. Philip Andelman has already been booked to shoot the music video in Los Angeles. Philip has shot videos for the likes of: Beyoncé Knowles, Kelly Rowland and Jay-Z. Jordin shot the video on May 13, 2009 & then finished shooting May 14, 2009. On May 24, 2009 Jordin headed to Europe with her brother, PJ, to begin promotion for the single.
The album is set for a release date of July 21, 2009. But during an interview with Yeta Gibson, Entertainment Reporter on LA Fox News Channel, and she told her that the album will be out in June. On May 10, Sparks went to take her photo shoot for her sophomore album. On May 19, 2009 Jordin announced the title of her sophomore record will be Battlefield on the Q100 Atlanta Radio Show.
Jordin also became an endorser for the Got Milk? organization on May 20, 2009, when she went to take a photo shoot.
2010-present: Third studio album and acting debut
Edit
When asked in an interview in October 2010 about what her next projects would be, Sparks revealed she had begun working on her third studio album. During an interview with Good Day New York in November 2010, Sparks confirmed she would be recording the album in New York and Arizona . In January 2011, it was reported that Sparks and John Legend were working on songs together in the studio. On September 12, 2011 it was announced that Sparks will make her film debut in the movie Sparkle, a remake of the 1976 film inspired by the story of the Supremes.
Label change
Edit
On October 7, 2011 RCA Record Group announced that it was disbanding three record labels-Jive, Arista, & J. Due to the shutdown, Sparks, along with season 8 winner Kris Allen & others signed to any of those three labels, will now release future material on RCA Records.
Personal Life
Edit
Sparks dated R&B star Jason Derulo from August 2011 to September 2014. The official remix version of Derulo's hit single "It Girl" features Sparks.
Sparks married model Dana Isaiah Thomas in July 2017. The couple have a son, Dana Isaiah Thomas, Jr., who was born on May 2, 2018.
Discography
Edit
Studio Albums

2007: Jordin Sparks
2009: Battlefield

EPs

2003: For Now
2007: Jordin Sparks
Accomplishments
Edit
Sprite Rising Star 2002
Family Night Talent Show Five-time 1st Place Finals Winner at Mr. Lucky's in Glendale, Arizona, 2003
Glendale Youth Fest 2003: Teen Talent Show, 1st Place
GMA (Gospel Music Association) Academy, Washington, D.C., Overall Spotlight Winner & Country/Southern Gospel First Place Winner, 2004
Country Thunder Young Guns Second Place Winner, 2004
The Proof Is In The Pudding Talent Winner, Phoenix, Arizona, 2004
NBC/PAX America's Most Talented Kids, 2005
Colgate Country Showdown, Arizona state title, 2006.
Runner-up in the 2007 Drug Free AZ Superstar Search, Tempe, Arizona[46]
Plus-size model search winner for Torrid[2]
Winner of KSAZ Fox 10's "Arizona Idol" contest, giving her a guaranteed chance to audition in front of the judges.
American Idol Winner, May 2007
Appointed by President George W. Bush to be a member of the President's Council on Service and Civic Participation for a two year term on August 12, 2008.
First American Idol Contestant, and youngest person in history, to sing the National Anthem at the Super Bowl.
Video for No Air #6 on BET for Top 100 videos of 2008
New Zealand #1 Song of 2008 - No Air
Message ### 1
Message ### 1
Awards and nominations
Edit
Year
Award
Category
Result
2007
Teen Choice Awards
Choice Female Reality/Variety Star
Nom
2008
NAACP Image Awards
Outstanding New Artist
Won
BET Awards
Viewers Choice Award for "No Air"
Nom
Heartbreak Video for "No Air"
Won
CoverGirl & Olay Beautiful Face Award
Won
Teen Choice Awards
Breakout Star
Nom
Hook-Up for "No Air"
Won
Love Song for "No Air"
Non
MTV Video Music Awards
Best Female Video
Nom
Best New Artist
Nom
American Music Awards
Best Adult Contemporary Artist
Won
2009
People's Choice Awards
Best Pop Song for "No Air"
Nom
Best Combined Forces Song for "No Air"
Won
51st Grammy Awards
Best Pop Collaboration with Vocals for "No Air"
Nom
NAACP Image Awards
Outstanding Duo, Group, or Collaboration with Chris Brown
Nom
MTV Australia Awards
Best Collaboration for "No Air"
TBA
Community content is available under
CC-BY-SA
unless otherwise noted.