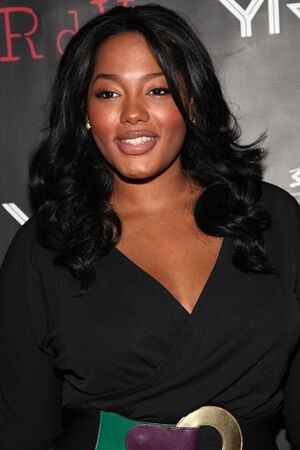 Joanne Borgella Ramirez (May 29, 1982 - October 18, 2014) was an American singer-songwriter, model, actress, and jewelry designer who had made the top 24 on season 7 of American Idol.
Born in Oyster Bay Cove, Long Island, New York, Borgella began singing at age three and first performed when she was thirteen with rapper Wyclef John. She also moved to Haiti with her family when her father decided to run for President of that country. She started a modeling career when she won season one of Mo'Nique's Fat Chance in 2005.
Borgella named Whitney Houston, Celine Dion, and Alanis Morrisette as a few of her musical influences.
Borgella auditioned for Season 7 of Idol and made it to the top 24. For '60s week, she sang "I Say a Little Prayer" by Dionne Warwick. However, it proved to be her last performance as she was eliminated, along with Colton Berry, Garrett Haley, and Amy Davis, on February 21, 2008. Many fans were unhappy because they felt that she didn't deserve to be eliminated.
After her time in the show, Borgella got to do many different things including being a coach in the MTV show Made in 2011 and joining the cast of the NUVOtv series Curvy Girls. She even had her own plus-size clothing line as well as a jewelry line.
Borgella died of endometrial cancer on October 18, 2014 at the age of 32. She had announced her illness via Facebook in October 2013 and kept her fans up-to-date on her prognosis. Her family announced her death via Facebook.
Community content is available under
CC-BY-SA
unless otherwise noted.