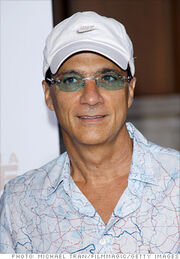 James "Jimmy" Iovine
(last name pronounced Eye-Veen) (born March 11, 1953) is an American music producer, entrepreneur and chairman of Interscope-Geffen-A&M. He was also the in-house mentor on the hit singing show
American Idol
 from
season 10
to
season 12
.
Biography
Edit
Born in Brooklyn, Iovine began his career as a recording engineer in the mid-1970s, working with The Raspberries, John Lennon and Bruce Springsteen. He went on to produce albums for U2 (Rattle & Hum), Tom Petty & The Heartbreakers, Stevie Nicks, Simple Minds, Dire Straits, Flame (featuring Marge Raymond, Jimmy Crespo, Bob Leone, and others), and Patti Smith. Iovine established Interscope Records in 1991 with the release of Gerardo's Mo' Ritmo. It went on to become Interscope-Geffen-A&M following Universal's acquisition of PolyGram when Iovine was named co-chairman; in 2001, he became chairman.
He is credited with having given Eminem's demo tape to Dr. Dre, who signed him to his Aftermath label. In 2002, Iovine co-produced the hit Eminem movie 8 Mile and in 2004, he and Paul Rosenberg signed a first-look feature deal with Paramount Pictures and MTV Films for their Interscope/Shady/Aftermath banner. Iovine co-produced the first film under the deal, Get Rich or Die Tryin', starring 50 Cent. In 2003, he was co-executive producer of Enrique Iglesias's album Seven. In January 2008, Iovine, Dr. Dre and Monster Cable released "Beats by Dr. Dre" high-performance headphones. Iovine is also an executive producer with LeBron James and Maverick Carter of the documentary More Than A Game, which was released in the fall of 2009.
Lady Gaga has thanked him several times during her acceptance speeches, as he was the one to sign her to Streamline/Interscope shortly after her 2007 performance at Lollapalooza. Eminem also has mentioned him several times during his acceptance speeches.
Iovine is now the head of Apple Music.
Work outside of Interscope and personal life
Edit
Iovine was formerly married to writer and former model Vicki Iovine, author of The Girlfriend's Guide to Pregnancy, and has four children and an extended family living in Staten Island, New York. He owns the Beats By Dr. Dre brand with Dr. Dre under exclusive license to Monster Cable Products. Iovine was also involved in a romantic relationship with Stevie Nicks.
Iovine married model and actress Liberty Ross, whom he had been dating since 2014, on Valentine's Day, February 14, 2016.
American Idol
Edit
On September 22, 2010, it was annouced that Iovine would be an in-house mentor for the tenth season of American Idol, where he and what is refered to as an A-list group of producers from Rodney "Darkchild" Jerkins to Grammy-winning producer Don Was would work with the contestants on their song choices as well as give advice. He also brought in various mentors to help out the contestants including will.i.am of The Black-Eyed Peas and R&B superstar Mary J. Blige.
Departure from Idol
Edit
After two seasons, Iovine reportedly left the show on August 22, 2013. His role as the show's in-house mentor was filled by former Idol judge Randy Jackson.
Community content is available under
CC-BY-SA
unless otherwise noted.