Jessica Elizabeth Sanchez (born August 4, 1995) is an American singer of Filipino and Mexican decent who is the runner-up of season 11 of American Idol. Before that she had previously been a contestant on season 1 of America's Got Talent.
Biography
Edit
Sanchez, the eldest of three children, is a Filipino-Mexican-American who was born on August 4, 1995 in San Diego, California. Jessica's maternal grandmother is from Manila and her maternal grandfather is from Bataan. Her mom, Editha, also hails from Bataan. Her dad, Gilbert, a Mexican-American, originally hailed from Texas and serves in the U.S. Navy. Jessica started singing at the age of 2, basically teaching herself to sing with a talented ear for music. Her influences include Celine Dion, Mariah Carey, Beyonce, Christina Aguilera and Whitney Houston just to name a few.
Early Career
Edit
America's Got Talent (season 1)Edit
Sanchez had previously been a contestant on season 1 of America's Got Talent. She made it past the Los Angeles auditions but wasn't picked to perform in the semifinals. She appeared in the Wild Card Round as the choice of Brandy, where she got eliminated. Her Wild Card appearance reached more than 5,000,000 views on Youtube.
We Are the World RemakeEdit
Sanchez was one of the singers in Lisa Lavie's collaboration video "We Are the World 25 for Haiti (YouTube Edition)" for charity relief for victims of the 2010 Haiti earthquake, along with previous American Idol finalist Thia Megia. The video's participants were collectively recognized as "Persons of the Week" on ABC World News with Diane Sawyer on Friday, March 19, 2010.
American Idol
Edit
In 2012, Sanchez auditioned for season 11 in San Diego and advanced to the semi-finals.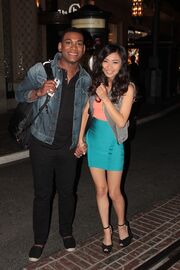 In the semi-finals she performed Jennifer Hudson's "Love You I Do" from the film Dreamgirls. She was one of the top five female vote getters and advanced to the top 13.
CNN's "HLN News Now" reported that Sanchez's performance of "I Will Always Love You," sung on Whitney Houston tribute night March 7, 2012, got "rave reviews," the CNN video's commentator stating that she "brought the judges to their feet." Her name was a Worldwide trend on twitter on the following day. When the video of the performance was uploaded to Youtube it received 5 million views in 3 days.
In the top 11 round, Sanchez has received criticism from the judges for her rendition of Vicki Sue Robinson's "Turn the Beat Around" as they say she was good but there could be improvement. Sanchez rebounded with her amazing rendition of the Billy Joel song "Everybody Has A Dream" the following week. However, on April 12, 2012 Sanchez found herself on the verge of being eliminated but was saved by the judges, making her the youngest contestant and first female ever to be saved by the judges.
Sanchez finished second to Phillip Phillips on May 23, 2012.
Performances
Edit
Week #
Theme
Song choice
Original artist
Order #
Result
Audition
Auditioner's Choice
"(You Make Me Feel Like) A Natural Woman"
Aretha Franklin
N/A
Advanced
Hollywood Round, Part 1
First Solo
"Get Me Bodied"
Beyonce
N/A
Advanced
Hollywood Round, Part 2
Group Performance
Not Aired
N/A
Advanced
Hollywood Round, Part 3
Second Solo
Not Aired
N/A
Advanced
Las Vegas Round, Part 1
Songs from the 1950s

Group Performance

"It Doesn't Matter Anymore "
Buddy Holly
N/A
Advanced
Las Vegas Round Final
Final Solo

"The Prayer "

Celine Dion and Andrea Bocelli

N/A
Advanced

Top 25

(12 Women)

Personal Choice
"Love You I Do "
Jennifer Hudson
11
Advanced
Top 13
Whitney Houston
"I Will Always Love You "
Dolly Parton
12

Safe

Top 12

Year They Were Born
"Turn The Beat Around"
Gloria Estefan
2

Safe

Top 10
Billy Joel
"Everybody Has A Dream"
Billy Joel
9

Safe

Top 9
Their Personal Idols
"Sweet Dreams"
Beyonce
6
Safe
Post-Idol
Edit
In honor of Memorial Day, Sanchez performed both the national anthem and "The Prayer" at the PBS' National Memorial Day Concert in Washington, D.C. on May 27, 2012. She also got to sing the national anthem at the MGM Grand Garden Arena in Las Vegas, Nevada before the Manny Pacquiao-Timothy Bradley fight on June 9, 2012. Sanchez also sang the national anthem at Game 1 of the NBA Finals between the Miami Heat and the Oklahoma City Thunder on June 12, 2012. She also performed at the Democratic National Convention in Charlotte, North Carolina on September 5, 2012.
Sanchez, along with the rest of the top 10, was a part of the American Idols Live tour, which kicked off on July 6, 2012 in Detroit, Michigan. Sanchez had her debut solo concert at the Smart Araneta Coliseum in Quezon City, Philippines on February 14, 2013 (Valentines' Day), which also featured Colton Dixon.
Sanchez got to perform with season 10's Pia Toscano and season 8's Allison Iraheta on Jennifer Lopez's new song "I Luv Yuh, Papi" on Idol on March 20, 2014.
In addition to her music, Sanchez tried her hand at acting, portraying rivel glee club singer Frida Romero on the hit Fox show Glee. Her first episode, "Lights Out", aired on April 26, 2013. She also appeared on the show's season finale on May 9, 2013.
First single and album
Edit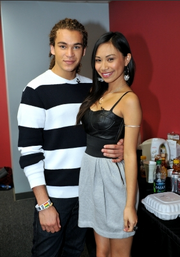 Sanchez performed her first single, "Tonight" featruing popular R&B singer-songwriter Ne-Yo, on Idol on March 21, 2013. Her debut album,
Me, You, & the Music
, was released on April 30, 2013. It debuted at number 26 on the Billboard 200 with 14,000 copies sold.
Leaving Interscope Records and second album
Edit
Sanchez announced that she had parted ways with Interscope Records in 2014 after she had released her new single, "This Love", on iTunes on November 15, 2014. She is currently working with producer Mark J. Feist on her second album.
Personal Life
Edit
On July 19, 2012 Sanchez confirmed in a chat on her UStream channel that she and fellow season 11 contestant DeAndre Brackensick were dating. Sanchez later confirmed in May 2013 that they had split up.
Official Account
Edit
Discography
Edit
EPs:
Singles:
"Change Nothing" (2012)
"This Love" (2014)
"Caught Up" (2018)
"Millionaire" (2018)
Albums:
Jessica Sanchez: Journey to the Finale (2012)
Me, You, & the Music (2013)
TBA (2015)
Community content is available under
CC-BY-SA
unless otherwise noted.