Jessica Rose Meuse (born October 19, 1990) is an American country-rock singer-songwriter from Holtville, Alabama who finished in 4th place on Season 13 of American Idol.
Jessica, who was born in Round Rock, Texas, started performing publicly at age 10 and even joined the Montgomery Youth Orchestra after moving to Holtville, Alabama (also known as Slapout) when she was in the seventh grade. She has also performed at festivals, fundraisers, public events, and schools. She started writing her own songs when she was 18. She even tried out for The Voice before trying out for Idol but didn't make it on that show. She even self-released an album called What's So Hard About Bein' a Man in 2011.
A very spiritual person, Jessica loves animals and has many pets that were rescued from shelters as well as some that were abandoned. She also has a fondness for dragons and believes in aliens.
Jessica, who admits to being influenced by every genre of music, cites Coldplay, Miranda Lambert, and Stevie Nicks as a few of her musical influences.
With encouragement from her friends, Jessica tried out for the show in Atlanta when she sang an original song she wrote called "Blue-Eyed Lie", which is about a former boyfriend of hers. Impressed by her bluesy, rock-style vocals, the judges sent her through to Hollywood, which proved to be rough for her.
During the group rounds, Jessica's original group fell apart, and she was forced to join another. However, upon joining a new group, she found herself in conflict with the mother of Stephanie Hanvey, who was one of Jessica's group mates. The group's rendition of Beyonce's "Single Ladies (Put A Ring on It)", a song Jessica didn't know very well, was mostly a mess and resulted in Stephanie getting eliminated. Her mother blamed Jessica for her daughter's elimination.
Many fans of both Jessica's and the show's came to her defense, blaming the producers for how she was portrayed in that situtition. Many accused Stephanie's mother of being a nasty stage mother while some felt that the edit Jessica received was wrong. That didn't stop her from making the top 30.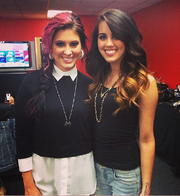 For "Rush Week", Jessica got chosen and sang "Drink A Beer" by Luke Bryan. It earned her a spot in the top 13, where she sang the Shinedown song "The Crow and the Butterfly" for "This Is Me" week. It earned her praise and got her voted through to the next week.
For "Home" week, Jessica took on the Dido hit "White Flag". It got her mixed reviews from the judges, but she made it through to the next week.
For "Songs from The Movies" week, Jessica sang the Simon & Garfunkal classic "The Sound of Silence", which had been featured in the 1967 classic film The Graduate. Despite having to perform second, something that always gets Idol fans worried, Jessica made it to the next week and became a part of the American Idols Live tour.
For "Billboard Top 10" week, Jessica sang "Pumped Up Kicks" by Foster the People. Harry Connick, Jr. was not impressed, accusing her of not interpreting the song, which combines dark lyrics about bullying and violence with a light sing-a-long melody, the way it was written. However, Jennifer Lopez defended Jessica's decision to sing it, saying that she enjoyed the performance. Connick's critique of Jessica's performance, which helped her make it to the next week, resulted in him getting accused by many on social media for being nasty and unfair to her.
For "I'm with the Band!" week, Jessica sang "Rhiannon" by Fleetwood Mac, which had been previously been covered by Haley Reinhart of Season 10. It got her positive reviews from the judges and helped get her through to the next week.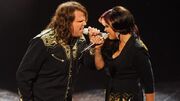 For "Back to the Start" week, Jessica got to sing her audition song, "Blue-Eyed Lie", which got her a positive reaction from the judges with Jennifer Lopez calling the song "perfect". Jessica then teamed up with Caleb Johnson for their take on the Stevie Nicks/Tom Petty classic "Stop Draggin' My Heart Around", which Idol fans loved because of the duo's onstage chemistry. "Blue-Eyed Lie" peaked at number 15 on the iTunes Alternative chart.
For "Songs from the 80s" week, Jessica sang "Call Me" by Blondie. However, it didn't get a great reaction from the judges, which angered fans of hers on social media. She then teamed up with Dexter Roberts on the Kenny Rogers/Dolly Parton classic "Islands in the Stream".
For "Competitier's Choice" week, Sam Woolf chose the Miranda Lambert hit "Gunpowder and Lead" for Jessica. Described as a "badass" song, Jessica rearranged it a bit, making it more haunting and dark. While her fans raved about the performance on Twitter, the judges were not impressed. She and Dexter then teamed up with CJ Harris for their take on the song "Compass" by Lady Antebellum. However, she and Dexter both ended up in the bottom 2. She managed to survive being eliminated.
For "A Little Bit Country, A Little Bit Rock 'N Roll" week, Jessica chose to sing "Somebody to Love" by Jefferson Airplane, which she had previously covered on YouTube, for her rock performance and "Jolene" by Dolly Parton for her country performance. Despite some praise from the judges and major praise from fans on social media, she ended up in the bottom 2 for the second straight week. However, Jessica survived elimination.
For "America's Request" week, Jessica took on two songs: "Human" by Christina Perri and "Summertime Sadness" by Lana Del Ray. Both performances earned her a mixed reaction from the judges, which was becoming more and more common. She and Caleb then teamed up to sing the Rolling Stones' classic "Beast of Burden".
For "Love: Make-Ups and Break-Ups" week, Jessica took on three songs: "Since U Been Gone" by Kelly Clarkson, "So What" by Pink, and "You & I" by Lady Gaga. All three performances got her mixed reviews, which angered her fans on social media, who felt that the performances were great and that the judges were being nasty towards her. Those three performances would end up being Jessica's last as she was eliminated on May 8, 2014, finishing in 4th place.
| | | | | |
| --- | --- | --- | --- | --- |
| Episode | Theme | Song Choice | Original Artist | Result |
| Audition | Choice | "Blue-Eyed Lie" | Jessica Meuse | Advanced |
| Hollywood Week, Part 1 | A Capella | - | - | Advanced |
| Hollywood Week, Part 2 | Group | "Single Ladies (Put a Ring on It)" | Beyonce | Advanced |
| Hollywood Week, Part 3 | Choice | "Done" | Jessica Meuse | Advanced |
| Top 10 Girls | Choice | "Drink a Beer" | Luke Bryan | Advanced |
| Top 13 | This is Me | "The Crow & The Butterfly" | Shinedown | Safe |
| Top 12 | Home | "White Flag" | Dido | Safe |
| Top 11 | Songs from the Cinemas | "The Sound of Silence" | Simon & Garfunkel | Safe |
| Top 10 | Billboard Top 10 Charts | "Pumped Up Kicks" | Foster the People | Safe |
| Top 9 | (I'm With the) Band! | "Rhiannon" | Fleetwood Mac | Safe |
Jessica was a part of the 2014 American Idols Live tour, which kicks off on June 24, 2014 in Binghamton, New York. She has stayed busy working on her music, performing at various gigs, and has kept her fans updated via Facebook, Twitter, and Instagram. She has plans to move to Los Angeles to further her music career.
Jessica announced on April 15, 2015 that her first single, "Done", which she had performed during Hollywood week, would be released on April 21, 2015. Her newest single, "Rio Grande", was released on January 5, 2016.
Despite her trademark dark hair with pink bangs, Jessica is actually a brunette.
Jessica believes that she may have been abducted by aliens.
Singles:
"Done" (2015)
"Rio Grande" (2016)
Albums:
 What's So Hard About Bein' a Man (2011)
 Halfhearted (2018)
Community content is available under
CC-BY-SA
unless otherwise noted.