Jennifer Kate Hudson (born September 12, 1981) is an American R&B and soul singer-songwriter and actress who finished 7th place on Season 3 of American Idol. She is one of the few actors to have won all four major screen acting awards, including an Academy Award, a BAFTA Award, a Golden Globe Award and a Screen Actors Guild Award, as well as a Grammy Award and more than twenty other prizes.
Hudson came to prominence in 2004 as one of the finalists on the third season of the FOX reality television series American Idol. She subsequently established herself as a solo recording artist and film actress, starring in the 2006 motion picture Dreamgirls for which she has won numerous awards. Her self-titled debut album was released in 2008 on Arista Records and soon certified gold by the RIAA for more than 500,000 shipped copies, spawning the number-one single "Spotlight."
In late 2008, Hudson's mother, brother, and nephew were murdered. Hudson went into seclusion mourning the loss of her family. In 2009, Hudson re-entered the spotlight. She has since performed at the Super Bowl XLIII, the Grammy Awards, and The Oprah Winfrey Show. She released her second album, I Remember Me, in 2011 and will be releasing her third album, JHUD, in August 2014.
Early Life
Edit
Hudson was born in Chicago, Illinois, the daughter of Darnell Hudson (deceased since 2008) and Samuel Simpson (deceased since 1999). She was raised as a Baptist and attended Dunbar Vocational Career Academy, graduated in 1999. She cites Whitney Houston, Aretha Franklin, and Patti LaBelle as her overall biggest influences and aspirations. She got her start in performing by singing with the church choir and doing community theatre.
Hudson auditioned for the third season of American Idol, in Atlanta, Georgia. In her audition she commented that she had been singing on Disney Cruise Lines for the past few months (as one of the Muses from Hercules); and contestant judge Randy Jackson said, "We're expecting more than a cruise ship performance from you." Jennifer delivered and all the judges agreed it was the best voice they had heard so far in the competition. She was a member of the first group of semifinalists in the Semifinals. She was not voted through to the final round, although she was brought back on the wild card round and put through as a "Top 12" finalist by Jackson.
Hudson struggled to gain popularity in the early stages of Idol's live shows, receiving the second-lowest number of votes in two of the first three shows. However, after a change in song choices, she soon became a favorite to win, receiving the highest number of votes in the "Top 9" after her performance of Elton John's "Circle of Life," on April 6, 2004. Among Hudson's worthy performances on the show was her rendition of Whitney Houston's, "I Have Nothing." Contestant judge Simon Cowell commented that Hudson, "finally proved why she was among the 'Top 12,'" and referred to the performance a week later as, "sensational." During the "Top 7" show, Hudson sang a show-stopping rendition of Barry Manilow's, "Weekend in New England," which garnered praise from all three judges. Jackson called the song Hudson's best performance to date; and Simon Cowell noted that Hudson's presence made the third season a, "Battle of the Divas," referencing other powerful vocalists Fantasia Barrino and LaToya London. Despite this praise, Hudson was eliminated during this week, which some blamed in part on a power outage in Hudson's hometown of Chicago due to storms and tornadoes in the area. On April 21, 2004, Hudson became the sixth of the 12 finalists to be voted off the show, finishing the competition in seventh place.
American Idol PerformancesEdit
"Imagine" (John Lennon, 1971) (Semifinals; February 10, 2004)
"I Believe in You and Me" (The Four Tops, 1982; Whitney Houston, 1996) (Wild card; March 9, 2004)
"Baby, I Love You" (Aretha Franklin, 1967) (Soul week; March 16, 2004) (Bottom 2)
"No One Else on Earth" (Wynonna Judd)" (Country; March 23, 2004)
"(Love is Like a) Heat Wave" (Motown, Martha and the Vandellas; March 30, 2004) (Bottom 2)
"Circle of Life" (Elton John, 1994) (Elton John songs; April 6, 2004) (Highest Number Of Votes)
"I Have Nothing" (The Bodyguard, Whitney Houston, 1992) (Movie songs week; April 14, 2004)
"Weekend in New England" (Barry Manilow, 1976) (Manilow songs; April 20, 2004) (Bottom 3: eliminated)
DreamgirlsEdit
In November 2005, Hudson was cast in the prized role of Effie White for the film adaptation of the musical Dreamgirls, which also starred Jamie Foxx, Beyoncé Knowles, and Eddie Murphy. This role, originally created in a legendary Broadway performance by Jennifer Holliday, marked Hudson's debut screen performance. She won the role over hundreds of professional singer/actresses, including Raven-Symoné and American Idol winner Fantasia Barrino. Filming of Dreamgirls began on January 9, 2006, and the film went into limited release on December 25, 2006, and national release on January 12, 2007.
Hudson has won particular praise for her show-stopping onscreen rendition of the hit song, "And I Am Telling You I'm Not Going", the signature song of the role, which had earlier been recorded, and had already reached the status of musical standard, because of the definitive performance of Jennifer Holliday. The New York Observer described Hudson's performance of the song as, "five mellifluous, molto vibrato minutes that have suddenly catapulted Ms. Hudson... into the position of front-runner for the best supporting actress Oscar. Newsweek said that when moviegoers hear Hudson sing the song, she, "is going to raise goose bumps across the land." Variety wrote that Hudson's performance, "calls to mind debuts like Barbra Streisand in Funny Girl or Bette Midler in The Rose, with a voice like the young Aretha."
As Effie White, Hudson has garnered 29 awards from film critics as Best Supporting Actress and Breakthrough Performer of 2006. She won the Golden Globe Award as Best Actress in a Supporting Role. In addition, she has been named Best Supporting Actress by the Broadcast Film Critics Association and also by the Screen Actors Guild.
After seeing Hudson's performance in Dreamgirls, American Idol judge Simon Cowell taped a congratulatory message to her, which aired on The Oprah Winfrey Show. With the March 2007 issue, Hudson became the third African American celebrity, and the first African-American singer, to grace the cover of US Vogue magazine.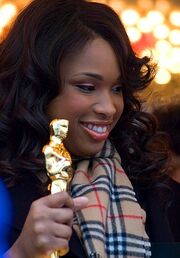 On February 25, 2007, she won the Academy Award for Best Supporting Actress for her role in this film. At 25-years-old, Hudson became the eighth-youngest winner of the Best Supporting Actress Oscar. Upon winning this award, Hudson also became one of the very few performers ever to win an Oscar for a debut screen performance. As of 2009, she is also the only person to have gone from participating in a reality television series to becoming an Academy Award winner. During her acceptance speech Hudson said:
"Oh my God, I have to just take this moment in. I cannot believe this. Look what God can do. I didn't think I was going to win. [...] If my grandmother was here to see me now. She was my biggest inspiration." She also concluded her speech by thanking the woman who brought the character to life on Broadway, Jennifer Holliday. Hudson's version of, "And I Am Telling You I'm Not Going," debuted at number 98 on the Billboard Hot 100 in the January 13, 2007, issue. The Dreamgirls track has since become Hudson's first Top 10 hit, but not on the Hot 100, as the track registered a new peak at #7 on the Billboard Hot Adult R&B Airplay chart on February 24, 2007. The track has also reached #14 on the Hot R&B/Hip-Hop Songs chart, and remixes of the song have seen Jennifer reach the #1 position on Billboard's Hot Dance Club Play chart.
Later in 2007, the Mayor of her home town Chicago, Richard M. Daley, declared March 6th as 'Jennifer Hudson Day' [15][16]. She also was invited to join the Academy of Motion Picture Arts and Sciences on June 18, along with 115 other individuals for 2007.
Post Dreamgirls ProjectsEdit
In September 2007, Hudson began work on Sex and the City, as Louise, Carrie Bradshaw's assistant. Filming finished in December 2007 and the movie premiered on May 30, 2008.
In January 2008, she began filming her fourth film The Secret Life of Bees as "Rosaleen," the mother figure of "Lily Owens" (Dakota Fanning). Also starring in the film are fellow Oscar nominees Queen Latifah and Sophie Okonedo, as well as Alicia Keys. The film opened on October 17, 2008 and grossed over $37 million at the box office. The film won two People's Choice Awards in January of 2009 in the categories, Favorite Drama Movie and Favorite Independent Movie. The film also received nine Black Reel Awards nominations including three wins. Hudson was nominated for her performance in the film, but lost to Queen Latifah. The film also received eight nominations at the NAACP Image Awards including a nomination for Hudson for her performance. The awards were presented on February 12, 2009.
In 2009, Hudson appeared as Kathy Archenault in Winged Creatures, a film based on the novel by Roy Freirich, with Forest Whitaker, Guy Pearce, Kate Beckinsale, Dakota Fanning, Josh Hutcherson and Jackie Earle Haley. The movie was released on DVD on August 4, 2009.
Hudson's third album, JHUD, was released sometime in August 2014.
Other work
Edit
In additon to her film work, Hudson has also worked in television, appearing in three episodes of the NBC show, Smash, which featured season 5 alum Katharine McPhee, as well as the Lifetime movie Call Me Crazy: A Five Film, which aired in 2013. In 2014, she landed the role of singer and music therapist Michelle White on the Fox drama series Empire. She was a coach for season 13 of the NBC show The Voice.
Personal Life
Edit
Hudson started dating James Payton in 1999 when she was 17, but they split in 2007. She started dating WWE professional wrestler turned commentator David Otunga in 2008. The couple, who were engaged, have a son, David, Jr., who was born in August 2009.
In late 2017, Hudson and Otunga separated.
Filmography
Edit
Film:
 The Secret Life of Bees (2008)
 Fragments- Winged Creatures (2009)
 The Inevitable Defeat of Mister & Pete (2013)
Television:
 Smash (2012) (guest role; 3 episodes)
 Call Me Crazy: A Five Film (lead role; TV movie)
 Empire (2014-present; recurring)
Discography
Edit
Albums:
I Remember Me (2011)
JHUD (2014)
Community content is available under
CC-BY-SA
unless otherwise noted.