Jason Rene Castro 
(born March 25, 1987) is an American folk-pop/Christian pop singer-songwriter from Dallas, Texas who finished in 4th place on
season 7
of
American Idol
. He is now one-third of the acoustic-folk trio Castro.
Jason Castro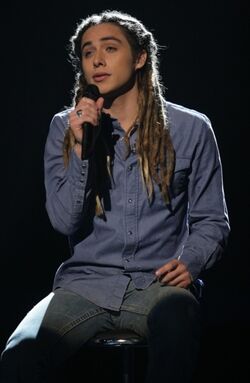 Birth Name
Jason René Castro
Biography
Edit
Born in Dallas and raised in Rowlett, Texas, Jason was the first in his family to be born in the United States with his younger brother, Michael, and younger sister Jackie. He played soccer in high school and was also an honor student.
Jason was majoring in Construction Science at Texas A&M University when he decided to try out for Idol.
Musical influences
Edit
Jason cites Ben Harper, Bob Marley, and Ray LaMontange as a few of his musical influences.
Personal Life
Edit
Jason married Mandy Mayhall, whom he had been dating since 2008, on January 2, 2010. The couple have two daughters, Madeline Emilia, who was born on August 28, 2011, and Hazel Lucia, who was born on June 3, 2015.
American Idol
Edit
Jason auditioned for the show in his hometown of Dallas. However, he wasn't shown on the show until the top 24 due to legal restricitions involving the songs he sung on the show leading up to that point.
With his folky-style vocals and dreadlocks, which he had been sporting since his senior year of high school and later cut off in 2014, Jason took on songs such as "I Want to Be Your Everything" by Andy Gibb to what many consider his breakout performance of the Jeff Buckley version of "Hallelujah" by Leonard Cohen to the Israel Kamakawiwo'ole version of "Over The Rainbow", which took him only a week to learn. 
Jason was elimianted on May 7, 2008.
Post-Idol
Edit
After his time on the show, Jason appeared on several talk shows and was a part of the American Idols Live tour. He later signed a deal with Atlantic Records and released his self-titled debut album on April 12, 2010. He had also released an EP called Love Uncompromised in January 2010. He has since released two more albums, Who I Am in 2010 and Only A Mountain in 2013. He even appeared as himself on a 2010 episode of the CBS soap The Bold and the Beautiful.
Jason teamed up with his brother Michael and sister Jackie to form the acoustic-folk trio Castro. They released the music video for their song "Rock and Roll" on YouTube on May 10, 2015. Their first single, "Diamond Dreams" was released on June 23, 2016. Their debut EP, 
Diamond Dreams
, was released on September 2, 2016.
Discography
Edit
Castro:
"Diamond Dreams" (single) (2016)
Diamond Dreams (EP) (2016)
Albums:
EPs:
 Love Uncompromised (2010)