Haley Scarnato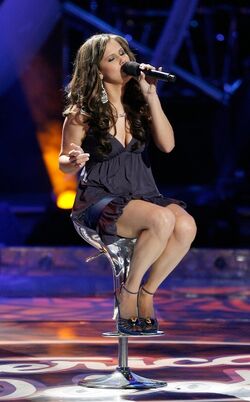 Birth Name
Haley Suzzane Scarnato
Audition City
San Antonio, Texas
Haley Suzanne Scarnato (born June 15, 1982) is an American singer who was the 8th place finalist on the 6th season of American Idol. As of 2009, her debut album "Strongheart" has yet to be released.
Biography
Edit
Early Years
Edit
Scarnato was born in San Antonio, Texas to Rose and Anthony Scarnato. She was a young gymnast between the ages of 5 and 15. After dislocating both of her shoulders, Scarnato moved on to other interests. Soon after, she found out that singing and music were her true passions and loves. She became a freelance singer, performing back up vocals with the Josephine Theatre (a local theater troupe), and singing in the band The Oh So Good! Band, a live wedding band in Texas. Haley graduated from William Howard Taft High School in San Antonio. She is a Christian and prays before every performance.
American Idol
Edit
Scarnato auditioned for American Idol in her hometown of San Antonio, Texas. She sang Bonnie Raitt's "I Can't Make You Love Me". Paula Abdul said that she had real nice control of her voice and said that it was lovely. Randy Jackson thought it was just okay and Simon Cowell agreed by saying "you look good, you sound, it's a bit cabaret". Both Simon and Randy didn't think she had much originality, but all three of them agreed that she did have a good voice and decided to let her through to Hollywood. While in Hollywood, she sang Celine Dion's "It's All Coming Back to Me Now" and Simon was very impressed with her vocals. In the group round she sang with fellow semi-finalists Amy Krebs and two other female contestants. Simon thought it was good, but said that he wasn't going to remember any of them. Scarnato made through to the Top 40 then finally made it through to the Top 24. On March 8, 2007, Scarnato was voted through to the Top 12 over Sabrina Sloan, with whom she was roommates. This caused some controversy with fans since Sloan had been pegged as the better singer by most of the viewing public. Scarnato tended to get mixed reviews and was seemingly always in the bottom 3. She was eliminated from the show on April 11 after receiving the lowest amount of votes during Latin Music Night, making her the first contestant in the top 12 to be eliminated after having been in the bottom two or three in any previous week.
After American Idol
Edit
On May 12, 2007, Scarnato sang the national anthem for Game 3 of the Western Conference basketball semifinals between the San Antonio Spurs and Phoenix Suns. On April 20, 2009, she sang the national anthem for Game 2 of the NBA Western Conference First Round between the San Antonio Spurs and the Dallas Mavericks.
On the May 25, 2007 edition of Larry King Live, it was stated that Scarnato and her fiance would wed on January 5, 2008. On October 16, 2007 in an interview with MySanAntonio.com, Scarnato stated that she and her fiance had broken up while she was on tour.
Haley's now-unavailable EP of studio version songs that she performed on American Idol was released on iTunes, along with all the other Top 8 contestants.
In an interview on tour Haley also revealed that she wants to move to Nashville and do a country album once the tour is over.
In 2008, Haley recorded "Have Yourself a Merry Little Christmas" for the American Christmas album.
On December 5, 2008 Haley Scarnato announced via myspace that "... Now as for all the months I haven't been in contact with you, I have had a few personal hurdles that I have had to deal with. Everything is okay and will be okay, it just takes some time. I guess it would be easier to tell you guys, but again it's peronal and I would just feel a litlle uncomfortable. I'm so sorry for not commented back. You guys are so loyal to me and truly do appreciate it. Things are looking up. I feel like next year is going to be a very strong year for me. So I will see you down the road hopefully sooner than later." It is unknown if Scarnato will still release an album at this time.
February 2009, it was announced Scarnato left her management at T.H.E. and signed with Sands Entertainment. She will start the new year off with a new single, off her upcoming debut album due 2009. In 2009, her official web site went down and is currently still down as of May 2009.
May 2009, she released via MySpace that her album would be getting a release date very soon. Most likely a summer release. No news on a new single has yet to be releasd.