Haley Elizabeth Reinhart (born September 9, 1990) is an American pop-rock-jazz singer-songwriter and voice actress from Wheeling, Illionis, a suburb of Chicago, who finished in third place on Season 10 of American Idol.
Reinhart was born in 1990 to Patti Miller-Reinhart and Harry Reinhart. Both of her parents are musicians. She began singing when she was 8 years old, and she performed with her parents' band, Midnight, which covers rock songs from the '60s and '70s. She attended Mark Twain Elementary School, O.W. Holmes Middle School, and Wheeling High School in Wheeling.
After graduating high school in 2009, Reinhart attended Harper College in Palatine, Illinois, in 2009-2010, studying jazz. She has performed at the 2009 Montreux Jazz Festival in Switzerland with her high school's jazz band and at Harper College with the college's Jazz Ensemble and the Jazz Lab.
Reinhart first auditioned for season 9 of American Idol in Chicago, but did not advance to the Hollywood round.
Reinhart returned for the tenth season of Idol the following year in Milwaukee, and this time was put through to Hollywood, eventually making it through to the Top 24 & became part of the top 3 along with Lauren Alaina & Scotty McCreery.
Due to the elimination of Pia Toscano, Reinhart became one of only two women (Lauren Alaina being the other) left on the show. On May 19, 2011, Reinhart finished in third place, leaving only Alaina & McCreery, both country singers, left.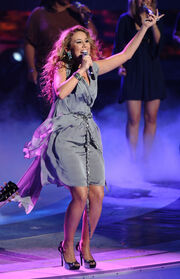 Reinhart's treatment by the judges
[
edit
|
edit source
]
During her time on the show, Reinhart developed a loyal fanbase, known as "Haliens", who appreciated her willingness to take on songs such as the Elton John classic Bennie and the Jets that no one else was willing to sing. However her efforts to take on challenging songs & her amazing performances made her a target of criticism by the judges, mostly by Randy Jackson and Jennifer Lopez. The weekly criticism seemed to rally Reinhart's fans to vote harder for her because of their anger towards the judges because what was perceived by many as bias and unfair treatment of her while others seemed to get by despite less then stellar performances.
The judges' treatment of Reinhart angered many celebrity supporters of hers such as Washington Redskins tight end Chris Cooley, Oscar-winning actor Tom Hanks, and various Idol alum such as Adam Lambert, David Cook, former Idol judge Ellen DeGeneres, and even Reinhart's fellow season 10 finalist Lauren Alaina, who admitted to being confused over why she would get praised for a bad performance while Reinhart would get slammed for a great performance.
Following her elimination, reports surfaced that Reinhart had signed a deal with Interscope Records; she later admitted that a deal is currently in the works.
On May 28, 2011 Reinhart, along with winner Scotty McCreery, runner-up Lauren Alaina & fourth-place finisher James Durbin, performed at the opening of the new Microsoft Store at Lenox Square Mall in Atlanta, Georgia.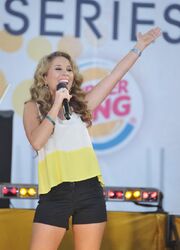 On June 2, 2011 Reinhart appeared on Live with Regis & Kelly & performed House of The Rising Sun. A 5-song EP, sold exclusively at Wal Mart, debuted at number 37 on the Billboard 200. The EP, which has sold 59,000 copies to date, was later released on Amazon.
Reinhart, along with the rest of the top 11, hit the road for the Idols Live! tour, which kicked off in West Valley City, Utah on July 6, 2011 and ended on September 10, 2011.
On July 26, 2011 Interscope confirmed that they had signed Reinhart to a record deal. She hopes to have an album out sometime in May 2012.
On January 15, 2012, Reinhart announced via Twitter that her first single will be released on March 20, 2012. Reinhart debuted the single, "Free", by performing it live at the Hard Rock Cafe in Hollywood. She will also appear as herself on an episode of the popular CW series 90210 on March 27, 2012.
Reinhart, along with season 7 winner David Cook, took part in the Legends and Celebrity Softball Game on July 7, 2012 in Kansas City, Missouri as part of All-Star festivites. She even appeared in an episode of the Fox show Hell's Kitchen with season 9 winner Lee DeWyze and soccer star David Beckham.
On November 21, 2011, Reinhart & fellow season 10 finalist Casey Abrams released their rendition of Baby, It's Cold Outside just in time for the holiday season. The video came out on iTunes on November 15, 2011. The single has sold over 25,000 copies to date.
She and Abrams later recorded a cover version of the Ray Charles classic "Hit The Road Jack" for Abrams' self-titled debut album.
Reinhart and Abrams will be performing at New York's Carnegie Hall on October 8, 2012 along with Grammy-winning jazz artist Irvin Mayfield and the New Orleans Jazz Orchestra.
Reinhart's debut album, entitled Listen Up!, was released on May 22, 2012. The album will feature 14 tracks including the lead single, "Free", which was released on March 20, 2012. Reinhart performed at the Cherry Blossom Parade in Washington, D.C. on April 14, 2012. She also became the first American Idol alum to perform at Lollapalooza on August 3, 2012 in Chicago. The album debuted at number 5 on iTunes and number 17 on the Billboard 200. The album has received critical acclaim.
On November 21, 2012, it was announced that Reinhart has parted ways with Interscope Records. She later left 19 Entertainment in 2014 and announced via Twitter that she plans to release new music sometime before the end of 2013 or towards the beginning of 2014. She has also been working on music with Casey Abrams.
On February 17, 2014, Reinhart announced that she had started a fundraising campaign on Indiegogo.com to raise money for a music video for her song "Show Me Your Moves!", which she co-wrote with Rob Kleiner. The goal was raise $30,000 to make the video, which was successful with a grand total of $35,154 raised. The song was released as a single on July 30, 2014 with the music video debuting on Yahoo! Music the same day.
Reinhart renewed her publishing deal with ole, an independent rights management company. Her second album, Better, was released on April 28, 2016.
"Creep" and F Is for Family

[

edit

|

edit source

]
On April 7, 2015, Reinhart and the jazz group Scott Bradlee's Postmodern Jukebox released their version of the Radiohead classic "Creep" on iTunes. The song hit number 1 on the iTunes Jazz chart. She has been touring with the group on their North American tour, which kicked off in Nashville on May 21, 2015. She also got a chance to try voice acting when she got a role as a boy named Bill Murphy on the Netflix animated series F Is for Family, which debuted on December 18, 2015. The show was renewed for a second season with Reinhart going from recurring cast member to series regular when it premiered on May 30, 2017. The show has since been renewed for a third season.
​What's That Sound? ​(2017-present)

[

edit

|

edit source

]
Reinhart released her third album, What's That Sound?​, on September 22, 2017. The album was released via Concord Records. She supported the album with a tour that started on October 22, 2017 in Phoenix, Arizona and ended on November 18, 2017 in Atlanta, Georgia.
During her time on Idol, Reinhart became close to fellow contestant Casey Abrams due to their mutual love of music, especially jazz, and their shared Idol experience. Their closeness plus their onstage chemistry when they performed the song Moanin on the show resulted in reports claiming that Abrams and Reinhart were dating, something they both denied in their post-Idol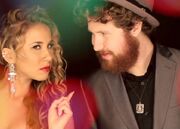 interviews after each was eliminated. They both claimed to be nothing more then best friends and musical soulmates as shown when they chose to work together on Baby, It's Cold Outside. The two continue to perform together.
Reinhart was also romantically linked to fellow season 10 alum Stefano Langone, but according to her mother Patti Reinhart, Haley is single.
Television:
 F Is for Family (2015-present; animated series)
Albums:
Listen Up! (2012)
Better (2016)
​What's That Sound? ​(2017)
EPs:
American Idol Season 10: Haley Reinhart (2011)
Singles:
"Baby, It's Cold Outside" (duet with Casey Abrams) (non-album single) (2011)
"Show Me Your Moves!" (2014)
"Creep" (collaboration with Scott Bradlee's Postmodern Jukebox) (2015)
Community content is available under
CC-BY-SA
unless otherwise noted.