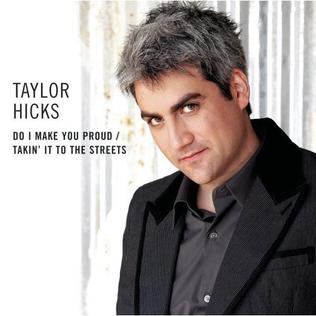 Do I Make You Proud is the debut single of Taylor Hicks, the winner of Season 5 of American Idol. It was performed by Hicks during the Season 5 Finale. It was written by Tracy Ackerman, Andy Watkins and Paul Wilson and was released June 13th, 2006.
The song sold 190,000 physical singles and 38,000 digital downloads during its first week, and became a number one debut at the Billboard Hot 100. It became only the fifteenth song of over 1000 number ones to debut at No. 1 on the Hot 100 chart. Hicks also became the fourth American Idol contestant to have a single debut at number one on the Billboard Hot 100 after Clay Aiken, Fantasia Barrino and Carrie Underwood. As of 2009, the single sold 672,000 singles.
On September 2006, "Weird Al" Yankovic's twelfth studio album, Straight Outta Lynwood, had a parody of Do I Make You Proud called "Do I Creep You Out?" as the tenth track. This marks the only time that Weird Al parodied a song from an American Idol alumni.