Diana Nicole DeGarmo (born June 6, 1981,in Birmingham, Alabama) is an American singer-songwriter and actress. She finished as the runner-up on the third season of the reality/talent-search television series American Idol, narrowly missing the win by about 2% (approximately 1.3 million votes) out of over 65 million votes. At 16, DeGarmo was the second youngest contestant among the set of finalists in the third season after John Stevens; she was a junior at Shiloh High School in Snellville, Georgia.
Born in Birmingham, Alabama, DeGarmo has been singing publicly from a young age, including at the 1997 Georgia Music Hall of Fame Awards and in stage productions of Annie and Joseph and the Amazing Technicolor Dreamcoat in Atlanta. As a third grade student, she was a Coca-Cola Kid during the 1996 Summer Olympics in Atlanta. The next year, she sang at Opryland USA during the Christmas holiday season. In 2002, she was named Miss Teen Georgia and was a finalist on the NBC talent search program America's Most Talented Kid. At ten years of age, DeGarmo was one of the "Cartoon Network Kids". She has also appeared in various telefilms during her childhood. DeGarmo is niece to Eddie DeGarmo of DeGarmo & Key.
DeGarmo took part in the third season of American Idol in 2004, finishing second after a close race with winner Fantasia Barrino. DeGarmo was known for her ability to perform songs with ease at such a young age.
Despite her beautiful voice and obivous talent, DeGarmo found a critic in judge Simon Cowell, who made her age an issue by frequently mentioning it in a negative way in his critiques. Some suspect that him doing that may have hurt her chances at winning.
She started out as the first contestant to perform in the top 32 and was the second voted into the finals, after eventual winner Fantasia Barrino. However, she ended up in the bottom 3 in three of the first five weeks. Surprisingly, starting from the top 7, she was never in the bottom 3 or 2, gradually becoming one of the front runners in the competition following the elimination of Jennifer Hudson and LaToya London.
The songs DeGarmo sang on the show follow:
Week #
Song choice
Original artist
Result
Top 32
"I've Got the Music in Me"
Kiki Dee
Advanced
Top 12
"Think "
Aretha Franklin
Safe
Top 11
"A Broken Wing"
Martina McBride
Bottom 3
Top 10
"Do You Love Me"
The Contours
Safe
Top 9
"I'm Still Standing"
Elton John
Bottom 3
Top 8
"My Heart Will Go On"
Celine Dion
Bottom 3
Top 7
"One Voice"
Barry Manilow
Safe
Top 6
"Turn the Beat Around"
Vicki Sue Robinson
Safe
Top 5
"Someone to Watch Over Me"
"Get Happy"
Gertrude Lawrence
Ruth Etting
Safe
Top 4
"This Is It"
"No More Tears"
Melba Moore
Donna Summer & Barbra Streisand
Safe
Top 3
"Ain't No Mountain High Enough"
"Because You Loved Me"
"Don't Cry Out Loud"
Marvin Gaye & Tammi Terrell
Celine Dion
Ray, Goodman & Brown
Safe
Finale
"I Believe"
"No More Tears"
"Don't Cry Out Loud"
Fantasia Barrino/Diana DeGarmo
Donna Summer & Barbra Streisand
The Moments
Runner-Up
She performed on the "American Idols Live" tour with the other season three finalists.
DeGarmo released a single, "Dreams," on June 29, 2004. The song was co-written by songwriter Chris Braide, who also co-wrote "This Is the Night" for Clay Aiken. It includes two other songs: her version of "I Believe", co-written by former Idol contestant Tamyra Gray, and a remake of Melissa Manchester's "Don't Cry Out Loud".
DeGarmo's debut album, titled Blue Skies, was released on December 7, 2004, to opening week sales of 47,000. The album came in at #52 in the Billboard chart. As of October 2008, sales are at 167,000 copies. Her single "Emotional"--again co-written by Chris Braide, Desmond Child and Andreas Carlsson--peaked at #54 on the Mediabase Pop Chart. Idol finalists during the summer of 2004, which included a show in Singapore in October 2004. She toured independently in 2005 in order to promote Blue Skies.
In December 2005, she entertained troops in Southwest Asia on a USO tour that was hosted by General Peter Pace. Also in 2005, DeGarmo appeared on the soundtrack for Disney movie Ice Princess, singing "Reaching for Heaven", written by Desmond Child.
DeGarmo began recording a pop/R&B album in 2007, however she backed out of the project after it took a detour she did not want to take. After filming CMT's Gone Country in late 2007, DeGarmo decided to return to her country roots and relocated to Nashville. She is now signed to John Rich's production company and currently recording a country-pop album in Nashville. The song "Right Back Where We Ended", written by DeGarmo with Keith Stegall and Shanna Crooks for Gone Country, will be included on the album. DeGarmo is currently shopping a country demo produced by John Rich and hopes to have the album out in 2009. She has been performing new songs at live shows in and around the Nashville area and has recorded an acoustic EP entitled "Unplugged in Nashville". The EP contains 4 songs co-written by DeGarmo and is currently available at her live shows and on iTunes. One of the songs, "Thank You", can be streamed from DeGarmo's MySpace page.
DeGarmo released a single called "Good Goodbye" that she co-wrote with her boyfriend, season 5 Idol alum Ace Young, on March 20, 2012. The song debuted on The Young and the Restless on March 23, 2012. DeGarmo released her second EP, Live to Love, on May 22, 2012.
In addition to music, DeGarmo has also worked in musical theater, co-starring as Penny Piggleton in the Broadway revivial of Hairspray. She's also starred in national touring productions of Brooklyn: The Musical, Oz The Musical, & 9 to 5 among others. She's also done regional theater, appearing in such productions as The Toxic Avenger opposite season 4 Idol finalist Anthony Fedorov. DeGarmo also made her Carnegie Hall debut in April 2007.
On September 12, 2011, CBS announced that DeGarmo would be joining the cast of the popular soap The Young and the Restless, appearing as a mobster's daughter who can't really sing despite her best efforts. Her first episode on the soap aired on October 31, 2011. Her last episode was on March 27, 2012.
DeGarmo also co-starred in her first film, Wyatt Earp's Revenge, opposite Val Kilmer. She then took on the role of Frankie in the independent film Alto. Her third film, The Morning Sun, will be released sometime in 2016.
DeGarmo next appeared in a TV movie called Christmas Eve, which starred Haylie Duff. DeGarmo and her fiance(now husband) Ace Young appeared as themselves. The couple are currently starring in a national touring production of Joseph and the Amazing Technicolor Dreamcoat, which kicked off on March 4, 2014 and ended in April 2015.
DeGarmo has been starring as Dorothy in Studio Tenn's production of The Wizard of Oz at The Schermerhorn Symphony Theater in Nashville since June 2015.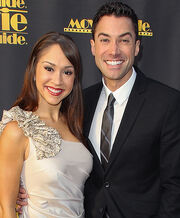 DeGarmo met season 5 finalist Ace Young when they co-starred in the Broadway revival of Hair in 2010. They later started living together. She admitted to the relationship during an interview promoting her upcoming appearence on The Young and the Restless with radio station KISS-FM 97.9. Young and DeGarmo became engaged on May 23, 2012 when he had proposed to her at the Idol finale, which she said yes. They were married on June 1, 2013.
Television:
 The Young and the Restless (2011-2012)
Films:
 Wyatt Earp's Revenge (2012)
Alto (2013)
Albums:
EP(s):
Unplugged in Nashville - 2009
Live to Love - 2012
Single(s):
Community content is available under
CC-BY-SA
unless otherwise noted.