David Hernandez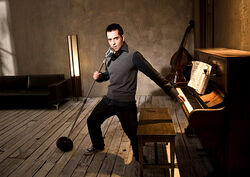 Birth Name
David Anthony Hernandez
Born
May 31, 1983
Phoenix, Arizona
Audition City
San Diego, CA
David Anthony Hernandez (born May 31, 1983) is an American pop/R&B singer who finished in 12th place on season 7 of American Idol.
Background
Edit
David was born in Phoenix, Arizona and was raised in nearby Glendale by his single mother. His father works as a truck driver. David has a younger sister, Alexandra.
David started singing at age six and was even involved in sports, competing in gymnastics. He also had acting experience, having first auditioned for a lead role in a play at a local youth theater when he was six. He also did an independent film before he tried out for American Idol. He was even a member of a band called Tribe 7.
His musical influences range from Stevie Wonder to Donnie Hathaway.
Before Idol, David had worked various jobs ranging from cruise ship singer to server at a pizza bistro.
American Idol
Edit
David auditioned for the show in San Diego, singing "Ain't Too Proud to Beg" by The Temptations. The judges were impressed by him and put him through to Hollywood where he made it to the next round with his rendition of "Love The One You're With" by Stephen Stills. 
In the semifinals, David's breakout performance was his version of "Papa Was A Rolling Stone" by The Temptations, which was later covered by Allison Iraheta of season 8. It helped turn judge Simon Cowell, who had been a critic of his, into a fan. Some feel that the performance may have helped secure David's place in the top 12.
In the top 12, David took on the Beatles's hit "I Saw Her Standing There". Depsite giving it his all, he was the first to be eliminated on March 12, 2008. Due to his 12th place finish, David was not a part of the American Idols Live tour.
Controversy
Edit
Before the first live show, reports surfaced about David having worked as a male stripper. No disclosure of him being a male stripper was made by FOX, and he was allowed to continue with the show.
However, many, including former View cohost Elisabeth Hasselbeck, feel that the revealation about him being a male stripper may have resulted in David getting eliminated as early as he did despite the fact that he was considered an early favorite.
Post Idol
Edit
Since his time on the show, David has taken part in tours including the 20-city Idol Holiday Tour along with Kimberley Locke, Diana DeGarmo, and fellow season 7 alum Chikezie in 2008. He has even opened for R&B star John Legend at the Declare Yourself Inaugural Ball on January 18, 2009.
David released his first single, "Yo Name", on July 1, 2008. His Christmas EP, This Christmas, was released on November 30, 2009. His second EP, I Am Who I Am, which features original material, was released on December 27, 2011. He also released his version of the Miley Cyrus hit, "The Climb", on November 10, 2010. Both his EPs and his two singles were all released independently.
David performed at the San Jose Pride Festival in San Jose, California on August 18, 2013.
Record deal
Edit
In 2011, David signed a deal with EMI Music. He released a cover version of the Beyonce hit "Halo" on October 1, 2011. He is now reportedly working with Printz Board of The Black-eyes Peas on a single. His single, "WTF", was released on June 24, 2015. He released a new single callled "Beautiful" on August 8, 2016,
Discography
Edit
Singles:
"Yo Name" (2008)
"The Climb" (2010)
"Halo" (2011)
"WTF" (2015)
"Beautiful" (2016)
EPs: