Corey Clark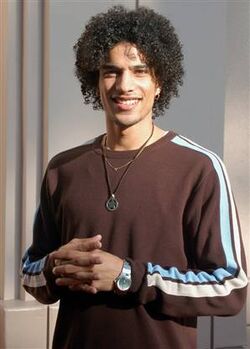 Birth Name
Corey Delaney Clark
Corey Delaney Clark (born July 13, 1980 in San Bernardino, California) is an American singer who was a disqualified finalist in the second season of American Idol in 2003.
Early Life and Career
Edit
Corey Clark was born in San Bernardino, California in 1980, to Duane and Jan Clark, two singers who met on the road in Nashville, Tennessee in early 1978 while following their own musical aspirations. Duane, an R & B and disco singer who sang in San Bernardino nightclubs and opened for Al Wilson and B. B. King and recorded and performed with the James Last Orchestra and the Hamburg Symphony Orchestra, is of African American, Cherokee, Apache, and Blackfoot descent. Jan Clark, the Hungarian-Ukrainian, Jewish, Irish, French, Cherokee, and Algonquin great granddaughter of a Budapest concert pianist,[citation needed] met Duane in Nashville while she worked nightclubs specializing in R & B and Barbra Streisand. The multiracial nature of the Clarks' relationship and of Corey's heritage was a source of racial conflict for the family during the Clarks' early years in Lufkin, Texas, where Corey recalls a story his parents told him about a December 1979 incident in which the couple were driving to church for a Christmas event, with Duane dressed as Santa Claus, when they were pulled over by a white police officer, who smashed one of the car's tail lights, and told Duane he was being pulled over and arrested for driving with a broken tail light.
Less subtle was the racism at school, where Clark says he and his sister got into fights with schoolmates in the first grade who called them "niggers" and "cottonheads". Adding to his sense of identity confusion was the fact that African Americans did not accept him either, and called him and his sister "whiggers", on which Clark comments, "It's real unsettling when you're young and don't know which group you belong to." Today, Clark reflects on his multiethnic heritage with pride, and says he wishes more people were open-minded about interracial dating, saying, "Our family could claim to be the ultimate melting pot," and that being of so many different ethnicities gave him the ability to "adapt to any situation."
Clark's interest in music was stimulated at an early age; his first clear memory was of his parents, his aunt Audrey, and his father's band recording a demo tape in a Denver studio. Having attended concerts by Boyz II Men, TLC, and Montell Jordan, he began singing himself at age 11, without any formal training, at school functions and concerts.
Clark received his first professional singing job when he was 13, when Debbie Byrd, a family friend and vocal coach who would later go on to work on American Idol, recruited him and his parents to be among the backup singers for Barry Manilow during a week-long appearance in Las Vegas. Although Manilow was not a favorite of Clark's, he realized his dream during this engagement, saying,
" When the curtain went up the first night, I was floored by the response from the sell-out crowd. I'd never been on stage as a professional singer before, and I got to see someone at the peak of his career working the stage and the audience. Every night he made his performance feel fresh, not just going through the motions. Experiencing the energy of a live show wasn't at all like listening to a tape or a CD, I realized. It was magical. I was hooked! "
At age 14, Clark started and performed as the lead vocalist in a R & B vocal group called Envy. The group also included the now-Grammy Award-nominated singer NeYo, Solomon Ridge and Ray Blaylock. Envy performed in several talent contests, and a few years later, won the grand prize at a Las Vegas amateur singing contest. Envy also opened major shows for major artists such as Mýa and Destiny's Child, and performed during Amateur Night at the famous Apollo Theater in Harlem, New York. The group signed a recording deal in 2000, but nothing came of it, and it disbanded after eight years of performances.[5]
Clark and his family moved to Nashville, and while working as a stage hand in 2002. Clark auditioned for the reality TV music competition show American Idol; he has been described as "one of the most impressive top ten finalists of the talent search's second season". Clark names making it to the top 32 finalists during that season to be his proudest moment.
Disqualification
Edit
During the American Idol competition, The Smoking Gun revealed that Clark had been arrested at his Topeka, Kansas home on October 12, 2002, after neighbors called police after hearing a commotion within the residence, including a girl yelling. Police arrived and questioned Clark and his 15-year-old sister Alysha, after which Clark became confrontational with the officers. Clark alleges police misconduct in handling the matter, asserting that he was beaten by the officers, who ultimately wrestled Clark to the pavement and handcuffed him behind his back. After managing to get his handcuffed hands in front him in the squad car, he was shown a taser and warned he would be shot with it if he continued to resist, at which point he relented. He was charged with misdemeanor battery on four police officers and his sister, and endangering the welfare of a child. However both Clark and his sister Alysha have denied that he ever hit her, and Alysha echoed her brother's account of the way the situation transpired.
On December 4, days after Clark became one of the final 24 American Idol contestants, he was charged in Kansas District Court with resisting arrest, battery upon his sister, and criminal restraint. Clark ultimately pleaded "no contest" to "obstructing legal process" through a plea agreement, and was sentenced to six months unsupervised probation and ordered to pay $116.00 USD in legal costs. Clark states in his book, "Initially no charges were filed against me, and I was refunded my $116.00 USD bond money after attending a November 11, 2002 court hearing back in Topeka". That December, after Corey had filled out his contracts for American Idol and was publicly named a semi-finalist on the show, the state district attorney elected to proceed with the case and filed charges against him.
According to American Idol's producers, Clark did not disclose his arrest record when joining the competition, although Clark maintains in Chapter 6 of his book entitled "American Paulatics" that he spoke with them and with judge Paula Abdul about his legal troubles. Producers also explained that the background checks conducted on all contestants did not uncover his arrest because of a misspelling of Clark's name in the police report. Clark maintains that this could not be true, as all background checks are conducted via social security numbers, which Clark had provided to producers in his contract. The producers disqualified Clark from further participation in the competition nine hours after the SmokingGun.com's story broke.
Clark believes that he was punished not for his undisclosed arrest record, but for causing conflict with producers behind the scenes. According to Clark, after he made it to the twelve finalists' round, he and the other finalists were unduly pressured by producers to sign a contract, using one of two attorneys handpicked by the producers for representation, or be disqualified from the show. Clark and his fellow contestants' position was that having the producers select an attorney for them was a conflict of interest, a conclusion they reached with the advice of Abdul, who had told Clark, "Look, if you can get six of your fellow contestants to stand up with you and say, "We want our own attorney, we're not rolling with this stuff you want us to do," they won't kick off the rest of the cast." The other contestants decided to support him in standing up to producers, and consulted with Paula Abdul's lawyer, Howard Siegel, on Abdul's recommendation (though Clark maintains in his book that they did not know at the time that Siegel was one of Abdul's attorneys). Two weeks later, producers began asking Clark about his arrest record, and dismissed him from the show.
Two years later, Clark began making allegations about his relationship with Abdul. Clark stated in his E-book, They Told Me to Tell the Truth, So...: The Sex, Lies and Paulatics of One of America's Idols, and in a May 2005 interview with ABC's Primetime Live that Idol judge Paula Abdul took him under her wing, beginning on December 12, 2002, and coached him on how to succeed in the competition, including helping him select the right songs, clothes, and hairstyle, in order to avoid the show's "exploitation" of young hopefuls' careers like himself, and that this mentorship developed into a three-month-long sexual relationship.
Clark provided, as evidence of his relationship with Paula Abdul, a message that Abdul left on his voice mail, multiple eyewitness accounts of Clark and Abdul being intimate together in public places, accounts by Clark's parents of Abdul calling their home looking for Corey, a bottle of prescription strength cough medicine prescribed to Abdul in Clark's possession, and phone records of Abdul and Clark speaking to each other for several hours at a time during late night hours. Abdul initially dismissed Clark's claims as lies, saying that she wouldn't "dignify Clark's claims with a response", explaining, "Not only do I never lie, I never respond to lies". The show's other judges and some of the show's former contestants also expressed disbelief of Clark's claims, which Clark saw as an attempt by Abdul, the show, and the network to cover up the matter.
Idol producer Nigel Lythgoe, who was unimpressed with the evidence presented on the Primetime Live special, called it "shoddy journalism". Regarding Clark's possession of Abdul's phone number, Lythgoe said, "And I know for a fact that a lot of the contestants have got Paula's phone number and contact her and she contacts them. Paula's the den mother. ... I don't have a problem with that. She's been a star and now she can help them and that's more than Simon Cowell." Lythgoe also addressed Clark's claim that he sent Abdul a secret message by singing "I owe it all to you" on the show by explaining that the serenade was choreographed by the producers. Lythgoe also questioned why it took two years for Clark to reveal his alleged affair with Abdul, fueling speculation that Clark was merely attempting to gain publicity for his upcoming album.
Clark denies that the timing of his revelation was part of a marketing ploy, asserting, "If I wanted publicity, I could have done it two years ago when they were first trying to defame my name." Clark states that Abdul and the producers engaged in a character assassination campaign that he could not afford to combat or ignore, and accused them of spreading falsehoods about him throughout the industry in order to ruin his career. Other former contestants who came to publicly back Clark's claims included second season semi-finalist Nasheka Sidall, whom it was stated on Primetime Live first heard "whispers" about the affair soon after her time on the show as a contestant, and fellow second season finalist Trenyce, who corroborated Clark's claims on CNN's Showbiz Tonight. Clark also points to the fact in his e-book that his Idol roommates Ricky Smith and Ruben Studdard were never asked for their views on the validity of his claims, but that third season winner Fantasia Barrino was questioned as to her opinion about Clark's allegations, which Clark saw as an attempt by Fox or its investigators to use Barrino's following to bias the public against Clark. As Clark states:
"All I have to say about it is that I have neither personally met Fantasia Barrino, nor have I ever competed against her on the same season of Idol, so there is no way that she could have accurately given a description to anybody, publicly or personally, about my or Paula's actions during my time as a contestant on American Idol."
In August 2005, after an internal investigation by an independent counsel appointed by Fox, which included interviews with Abdul, Clark and other witnesses, the investigators concluded that Clark's claims of a sexual relationship "have not been substantiated by any corroborating evidence or witnesses, including those provided by Mr. Clark, and Ms. Abdul expressly denies that any such relationship ever existed." The investigators further added that "Ms. Abdul acknowledges that she had telephone conversations with Mr. Clark while he was a contestant. Their accounts of those conversations, however, differ greatly and no evidence was uncovered to resolve the conflicts in their accounts." The network announced that Abdul could continue her judging duties on future seasons of American Idol, adding, "The line is whether it affects the outcome of the competition....It is the sanctity of the competition that is first and foremost."
In the fourth season finale of American Idol, Fox televised a parody of Clark's claims, in which judge Simon Cowell was alleged to be having an affair with himself. The parody was very close in plot to the Primetime Live story. Clark released a statement that the parody offended him, and was an "insult to the intelligence of the viewer".