Constantine Maroulis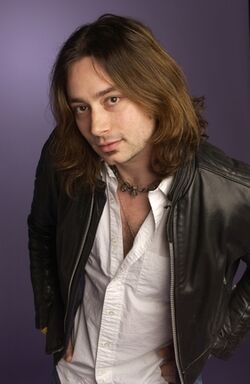 Name
Constantine Maroulis
Birth Name
Constantine James Maroulis
Constantine James Maroulis (born September 17, 1975) is an American rock singer, actor, and writer from Wyckoff, New Jersey. He was the lead vocalist of the hard rock band Pray for the Soul of Betty, and the sixth-place finalist on the fourth season of the popular reality television series American Idol. He was eliminated from American Idol on April 27, 2005.
Biography
Edit
Maroulis was born in Brooklyn, New York to Greek American parents, James Constantine Maroulis and Constance P. Maroulis (born 1938). Both his maternal and his paternal grandparents immigrated to the United States from Greece in the 1920s. He was brought up in the Greek Orthodox religion and he can speak Greek. His older brother, Athan Maroulis (born 1964), is a record producer and his sister, Anastacia P. Maroulis (born 1968), is a schoolteacher.
When Maroulis was five years old his family moved to Wyckoff, New Jersey, an affluent suburb of New York City, where he grew up. At that time he developed an interest in music, following the lead of his older brother. By age eleven he was studying the trumpet at Eisenhower Middle School.
He later sang in high school garage bands, including Lady Rain and Milkbone. Maroulis graduated from Ramapo High School in 1993. He attended the The Boston Conservatory of Music, where he received a Bachelor of Fine Arts degree in Musical Theater from the Boston Conservatory of Music and a minor in voice from the Berklee College of Music in 2002. He was in the cast recording of the 2000 musical, Suburban Dreams, which was produced by composer Stephen Thompson, Richard Kenner, and Jesse Merz. Some years before appearing on Idol, Maroulis competed on the dating show Elimidate and was an extra in NBC's Law and Order: SVU as well as performing as a voice-over artist on the Kids WB series Astro Boy.
He has appeared in a number of off-Broadway roles from the Conservatory, along with a series of independent films. After graduating the Conservatory, Maroulis trained as an acting apprentice at the prestigious Williamstown Theatre Festival[8] in the Berkshires of Western Massachusetts and toured in the Broadway international touring company of Rent performing the lead role of Roger Davis. His role as Roger was non-equity. Since he had no agent representing him, he was allowed to appear on American Idol. After Idol, Maroulis was briefly represented by the Creative Artists Agency, but as of October 2006, he is no longer represented by the agency.
American Idol
Edit
In August 2004, supposedly upon an ex-girlfriend's suggestion, Maroulis traveled to Washington DC to audition for the television show American Idol. During the semifinals and finals of Idol, he was the subject of an internet meme, the Vote for the Worst online campaign provided by the Internet community, "Survivor Sucks" before the website switched focus to Scott Savol as a result of fan complaints.
For the 2005 season, Idol producers changed the age range of contestants from 16-24 to 16-28. Along with Bo Bice, Maroulis was one of the oldest contestants to participate on American Idol (and is currently the oldest to have made the finals of a previous season, at age 33). Maroulis and Bice are also notable for being among the first contestants to compete using the rock idiom.
On April 27, 2005, Maroulis was eliminated from American Idol after he performed Nickelback's "How You Remind Me" during the 2000s music round. He was in the bottom three with Vonzell Solomon and Anthony Fedorov. Less than a week before his elimination, Maroulis's pre-Idol band, Pray For The Soul Of Betty, announced the May 10 release of their self-titled debut on their label, Baby Julius. Maroulis was featured on the American Idol Season 4: The Showstoppers compilation with "My Funny Valentine". His rendition of the Queen classic "Bohemian Rhapsody" also earned him the praise of judges, including that of the usually harsh Simon Cowell. Maroulis later recorded a studio version of the track for Killer Queen: A Tribute to Queen, which was released on August 9, 2005 on Queen's label, Hollywood Records, a division of Universal.
Betty Frontman
Edit
Maroulis was added to the band in 2003 as the lead vocalist after winning over 150 auditioners. For three years, he contributed lyrics and songs for the band. The band rose to national attention when Maroulis appeared on Idol. His audition clip showed him "quitting" the band, a claim he had denied at the time. On March 20, 2006, Maroulis announced his departure with the band due to creative and business differences.
Solo Career
Edit
In November and December 2005, Maroulis performed live shows in Manila, Philippines and New Jersey, USA. His set list included well-known songs he had performed previously in his theatre roles, from such productions as Hedwig and the Angry Inch[14] Rent, and Jesus Christ Superstar, as well as from his stint on American Idol. In August, 2006, Constantine completed a solo tour of 13 cities throughout the Northeast, where he debuted material to be featured on his upcoming CD, including various self-penned compositions.
Constantine created his own independent label, Sixth Place Records, a branch of Sixth Place Productions, which released his 2-years-in-the-making solo album, Constantine on August 7th, 2007. Maroulis' self-titled CD consisted of 12 tracks, and debuted at #75 on the Billboard charts.
Maroulis sang the National Anthem when he played at the Reality All-Star Soccer Festival (organized by Survivor: Africa winner, Ethan Zohn) in April 2007, as well as before the start of a 49ers/Bengels football game at Monster Stadium, San Francisco in December 2007. The performance, broadcast nationally on the NFL Network, was hailed by commentator Bryant Gumbel as "a stirring performance." Maroulis has also performed the Anthem at Madison Square Garden, in April 2009, before a crowd gathered to see the New York Knicks take on the New Jersey Nets.
Constantine (supported by Ben Phillips, guitarist/vocalist for the NYC-based hard rock band FAMOUS) embarked on another solo tour across the eastern U.S. in February 2008, playing to sold-out venues in various cities including Boston, Philadelphia, New York, and Annapolis. Constantine also performed a concert in Hollywood, California on May 6, 2008 as a part of his solo tour. On June 22 he performed at Mattison Park in Asbury Park, NJ as part of the 3rd Annual Wave Gathering featuring 175 Emerging Musical Artists.
On October 24, 2008 Constantine appeared on an episode of Don't Forget the Lyrics! as a contestant. As a result of his appearance on the show, $25,000 was given to the charitable organization Broadway Cares.
Acting Career
Edit
In the fall of 2005, Maroulis was in negotiations to star in a television sitcom called Brooklyn that was to be loosely based on his upbringing as the youngest of three in a large Greek-American family of New York. Disney's ABC network bought rights to the show, courtesy of Grammnet (of Paramount, owned by Kelsey Grammer). However, later ABC passed on the project before it passed the script stage.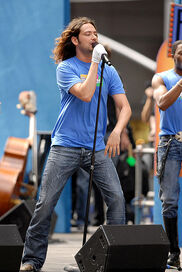 On August 23, 2006, Playbill announced that Maroulis was joining the cast of the Broadway musical The Wedding Singer in the role of Sammy, alongside Stephen Lynch. He joined the show in September. Along with the other cast members, he contributed a recording of the Adam Sandler "Hanukkah Song" to the 8th "Carols for a Cure" CD to help raise funds for the Broadway Cares/Equity Fights AIDS organization. That fall, Maroulis also appeared on various episodes of MTV's Little Talent Show as host.
Beginning on January 9, 2007, Maroulis took over the role of "Young Soldier" in the Off-Broadway musical revue, Jacques Brel is Alive and Well and Living in Paris where he performed through the end of February. That spring, Maroulis joined the lineup at FOX's morning show Good Day New York, serving as the show's resident American Idol expert; while simultaneously taking on the same role as Idol commentator for Yahoo! Buzz. Later that year, Maroulis joined the cast of the CBS daytime drama The Bold and the Beautiful for a limited run as Constantine Parros, a singer and record producer.
In February 2008, Maroulis appeared in a reading of Eric Sanders, playwright's play It's a Dry Heat at Playwrights Horizons, opposite Tony Award-nominee Isabel Keating and Gillian Jacobs. March of that year saw Maroulis joining the cast of American Idol Extra as cohost, along with fellow Idol alum Gina Glocksen and J.D. Roberto, broadcast on the Fox Reality Channel. His next major role occurred that June, when Constantine starred as Judas Iscariot in the Premier Theatre Company's production of Jesus Christ Superstar. The production also featured Joe Russo portraying Jesus, and Tara Beams as Mary Magdalene. When in high school, Constantine had previously played the role of Jesus, in an earlier production.
Constantine is currently starring on Broadway as Drew Bowie, in Rock of Ages, a new musical featuring the music of 80's rock legends including Journey, Bon Jovi, and Twisted Sister. Rolling Stone states that the "play has found a perfect lead in American Idol rocker Constantine Maroulis," while Associated Press adds that Maroulis "gives a touching performance and sings powerfully as Drew, the young wannabe rock singer." Maroulis' vocal performances have been particularly praised, with the New York Times describing his voice as "soulful, pure, and intense," and the Chicago Tribune singling out his "dazzling vocal pyrotechnics" as a standout in the production. The show was paid a sweet tribute by the landmark New York City restaurant Serendipity 3, which created a new dessert in its honor: the "I Wanna Rock Root Beer Float." [ In December 2008, it was announced that New Line Cinema would be turning Rock of Ages into a feature film. The stage production began running Off-Broadway at the New World Stages in October 2008, moving to Broadway in spring 2009; taking over the Brooks Atkinson Theatre on April 7.
Personal Life
Edit
Constantine was the recipient of the Hellenic Times Scholarship Fund's Humanitarian Award for Artistic Achievement, in 2007. These annual awards recognizing outstanding achievement in the Greek-American community are presented to "individuals who have proven that hard work and dedication lead to achievement, thereby setting a perfect example for the HTSF scholarship recipients to emulate." That same year, he was also honored with an award from New York City Comptroller William C. Thompson, Jr. at the sixth annual Greek Heritage and Culture Celebration; honoring individuals recognized as leaders in the Greek Community.