Chris Sligh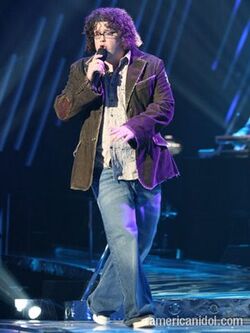 Birth Name
Charles Christopher Sligh
Charles Christopher Sligh (born July 20, 1978) is an American singer/songwriter, producer, and actor who was a finalist on the sixth season of American Idol. He was eliminated from the competition on March 28, 2007 finishing in tenth place.
Early Years
Edit
Chris Sligh is the son of Chuck and Susan Sligh, Independent Fundamentalist Baptist missionaries to American military servicemen in Europe. Chuck Sligh is an accomplished guitarist and passed his love of music to his three sons, of whom Chris is the eldest. Chris Sligh was born in Madison, Tennessee and moved to Durham, North Carolina with his family when he was three years old. Chris Sligh spent ten years with his family in Wiesbaden, Germany; despite this, he does not speak German. Although Sligh has been singing since high school, as Adam Fisher, the lead guitarist of Chris' band noted, he "grew up listening only to classical music in a regimented upbringing."
Sligh attended Bob Jones University for seven semesters but was expelled before graduation after he broke school rules by attending a 4Him concert. Sligh said, 'It was actually good, because I had been trying to figure out how to leave. My parents had given me the option of going to two colleges, and I chose the less-crazy one, believe it or not....I don't want to throw them underneath the bus. I respect what they do—it's just that their sect of Christianity is not really what I want to be associated with.'"Greenville News, March 29, 2007. Sligh's mother, interviewed by CBN, said, "We were disappointed that he broke the rules, because he knew what the rules were. You don't want your children to fail. We felt like he made a wrong choice, but it was nothing more than the fact that he went to a contemporary Christian concert, but again he broke the rules. [BJU was] somewhat disappointed in the direction he had gone. I thought that was very gracious from their stand. I they could've said a lot of negative things, and I don't think they did." Susan Sligh on Son's Faith: CBN interview.
"While not on an overt mission to denounce Sligh's participation in 'American Idol,' BJU spokesman Jonathan Pait said the school has distanced itself from any connection between Sligh's affiliation with the university and the talent show watched by millions. 'One of the reasons he left Bob Jones is he had chosen another direction musically, and he was not going to get that type of training here,' Pait said. The show, Pait said, doesn't represent the values of the university. 'It's not any ill thoughts toward Chris because he made that decision," Pait said. "Chris is a likeable guy. We wish him well in his life.'"Greenville News, March 21, 2007. He then attended North Greenville University, where he is 3 credit hours shy of a music degree. He frequently performed in plays, operas, and musicals while in college, and he now serves with a worship band at Seacoast Church in Greenville.
Sligh is a step cousin of America's Got Talent season 2 winner Terry Fator.
After American Idol, Sligh currently resides in Franklin, Tennessee.
Half Past Forever
Edit
Prior to American Idol, Sligh was the frontman and guitarist for his band Half Past Forever, which was formed with member of a defunct, local upstate South Carolina band.
In 2006, several members decided to pursue other interests, leaving Sligh and lead guitarist Adam Fisher. New members were soon added, including bassist Cole Edmonson,emerging with 45 new demos that would be whittled down to create their second album, Take a Chance on Something Beautiful, which was produced over a few months in Sligh's home studio. Fisher had engineering experience from recording his former band Nova 77's, and Sligh had production experience from two earlier solo records. The album has since received critical acclaim for the songwriting, production and vocal work.
Because of AI rules, Sligh was forced to leave the band, but on the album, Sligh sings lead vocals and plays guitar, bass, and piano. He rejoined after being voted off American Idol. The band signed with record label Brash Music in May 2007.
On July 10, 2007, Half Past Forever re-released Take a Chance on Something Beautiful on the Brash Music label. Sligh produced, and wrote or co-wrote all of the album's seventeen songs. Jesusfreakhideout.com music critic Scott Fryberger reviewed the CD on July 7 saying, "Although a good mixture of adult contemporary and rock, Half Past Forever still isn't quite a must-buy album. It remains, however, a very good debut for the band. I wouldn't be surprised to hear them on mainstream radio stations in the near future. Listeners of pop stations seem to like just about anything or anyone that comes from American Idol, and there's no reason that Half Past Forever should be exempt from that." Fryerberger only gave the album 3/5 stars.
On the other hand, critic Christa Bannister at Christianity Today.com reviewed the album, giving the album a solid 4/5 stars, saying "While the project is a little long by today's standards, there's actually not a throwaway in the bunch...The biggest surprise lies in the varied production, which is especially impressive for an indie band. They go all out with strings on the aforementioned "In a Moment," while faster songs like "Naïve" and "Closer" are reminiscent of The Strokes' latest project, with a more raw, stripped-down indie feel that offers nice contrast to overproduced pop."
American Idol
Edit
Sligh auditioned in Birmingham, Alabama singing "Kiss from a Rose" by Seal, after which Paula Abdul gave him a standing ovation and said, "I like you very much." Idol judges laughed at his ambition "to make David Hasselhoff cry," a reference to Hasselhoff's crying when Taylor Hicks won season 5.
Sligh was an early favorite of the judges, as all 3 judges spoke of a guy with curly hair who didn't look like the typical American Idol. Paula compared him to Penn Gillette from the duo of Penn & Teller, to whom he bears some resemblance. However, by the third week of the semi-finals, after Sligh sang "We All Wanna Be Loved" by DcTalk, the judges criticized him more sharply, especially on the Diana Ross-themed week, when Sligh re-arranged the Diana Ross/Lionel Richie duet "Endless Love".
During the top 24 week, Sligh showed his extensive knowledge of American Idol trivia, which he claimed to have learned while researching for hours at his job in South Carolina. Simon claimed that Sligh's performance of "Typical" by the band MuteMath was "...like being at some weird student gig" and told Sligh that he felt like Sligh was there more on personality than vocal skill. After an exchange between Simon and Ryan Seacrest, Sligh retorted, "Just because I don't sound like Il Divo or the Telletubbies doesn't mean that I don't have a good voice" alluding to Simon's creation of the classical boy band Il Divo and his work in making an album featuring the Teletubbies. Randy and Paula cheered at the supposed insult. Many fans were left bewildered by Simon's dour reaction, which Sligh and Seacrest later cleared up in saying the dour expression was aimed at Seacrest.
Sligh was aware of the Vote for the Worst website and had tried to get the attention of the founder Dave Della Terza while on air by saying "Hi, Dave."
Sligh was eliminated from American Idol on March 28, 2007 and is therefore the tenth-place singer in Season Six. While singing his last song, he told Phil Stacey "You owe me 50 bucks," referencing their bet that he would be eliminated that show.
On the next day, Sligh said that he had not sought to win the competition and that he had considered quitting the show two weeks before, but stayed on the show in order to make it into the top ten so that he could go on tour with the other top ten finalists and receive the accompanying payout.
Later, on Sligh's blog, he cleared up the statement, saying that his wanting to quit was similar to anyone working a job and feeling like they couldn't do it anymore. He also cleared the rumor that he never wanted to win, saying, "I never set my sights on winning because it would've driven me crazy...I just focused on small goals, the first of which was to make the top 10 so I could go on tour."
After Ameriacn Idol
Edit
In September 2007, Sligh announced on his blog that he had signed with Blanton, Harrell, Cook and Corzine, the management company that has handled Amy Grant and Michael W. Smith through their entire careers and now handles Bebo Norman, Aaron Shust and Point of Grace.
In November 2007, Sligh stated in an interview with the Way FM nightly show Total Axxess that he had signed a solo deal with Brash Music, an Atlanta-based independent label that is distributed through Warner Bros. ADA distribution and Word Distribution on the Christian side. Brash Music has seen great success with Aaron Shust, who won Dove Award for New Artist of the Year and sold over 200,000 albums.
The resulting album, titled "Running Back To You" was produced by Brown Bannister, who has won multiple Grammy and Dove Awards for his work with artists such as Amy Grant, Third Day and The Afters. Other producers include Stephen Leiweke, who helped produce Jars of Clay's debut album and Will Owsley, a guitarist and producer who has worked with Shania Twain and Amy Grant, and was lead singer of the band Owsley. Sligh's album was released on May 6, 2008 by Brash Music. The first official single, "Empty Me," was added to radio playlists February 22, 2008 and, as of Billboard Magazine dated July 24, has reached #6 on the Billboard Hot Christian Songs Charts.
The album has received rave reviews, almost across the board (with a couple of medium reviews mixed in). USA Today called Sligh "the most musically ambitious Idol to date" and popular Christian website Jesus Freak Hideout (which had not been a fan of Sligh's Half Past Forever album) gave the album 4.5 stars (out of 5) and called it "...one of the year's best albums". Other websites, such as The Bridge Live, CMCentral, Soul-Audio.com and many others, gave the album glowing reviews, praising Sligh's songwriting, the album's production and Sligh soaring vocals that set him apart from the rest of the pack. The album peaked on Billboard magazine's Top Heatseekers chart.
His first single spent nearly 4 weeks in the top 10 on the iTunes Christian/Gospel chart, while his first week sales for the album came in at 4,100, making him one of the top Christian debuts of 2008 to date.
Through 2008, Sligh toured relentlessly, with over 115 shows and over 150 other various appearances (radio, tv, web interviews). In Aug-Sept 2008, he headlined the Back to School Tour with Jason Walker opening. The tour hit 32 cities, most of which were partnered directly with Christian radio stations.
In December 2008, Chris hits the road with NewSong on the NewSong Christmas celebration. The tour hits 18 cities from December 1-22. Also on the tour are Rush of Fools and Ayesha Woods.
In April 2008, Sligh co-wrote a song called "Here Comes Goodbye" with Clint Lagerberg (also the cowriter of Chris' first single "Empty Me"). This song was released by the country music group Rascal Flatts as a single in January 2009. The song went #1 in April after 12 weeks on the charts.
Sligh toured with Natalie Grant in the Make It Matter Tour. He also made his acting debut in the 2011 film October Baby.