Charles Grigsby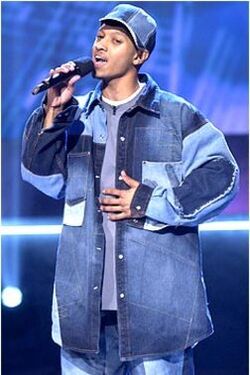 Birth Name
Charles William Grigsby, Jr.
Charles William Grigsby, Jr. (born September 15, 1978, in Oberlin, Ohio) is an American singer and contestant on the second season of American Idol.
The youngest of six siblings, Grigsby was born in Oberlin, Ohio. Although he has no formal voice training, he grew up with a love for music. As a teenager he would use two cassette recorders to lay down multiple tracks of his own voice, harmonizing to the songs he memorized. Learning from groups such as Boyz II Men and Take 6 he matured the tone of his voice.
In high school, he joined the school choir to aid in his study of singing mechanics. After high school, Grigsby moved to Detroit, Michigan and enrolled in school to study computer-aided design. Because of his love for music and the attention he gave it, his academics began to suffer and he soon dropped out of school to pursue a career in music.
Several years later, he auditioned for American Idol where he impressed Randy Jackson and Paula Abdul, though not Simon Cowell. During American Idol, Grigsby suffered from a debilitating stomach virus. Starved of both food and sleep, he took center stage and belted out a rendition of Stevie Wonder's "Overjoyed." Simon Cowell recanted his previous remarks and gave Grigsby votes of high praise. The performance garnered him the most votes from the viewers, securing him as the first of the twelve finalists.
He was voted off on March 19, 2003 after a performance of "You Can't Win" during "Movie Songs Night".