Casey Potter Carlson (born April 29, 1988) is an American singer, actress and model from Eden Prairie, Minnesota, who participated in the eighth season of American Idol. She is of Irish and Swedish decent.
Casey Carlson was born in Eden Prairie, Minnesota, to Vaughn Carlson and Monica Potter. She also has an older sister named Carissa. Carlson has been performing from a young age, and has always known that she has wanted to sing. Growing up, her idols were the Spice Girls.  She graduated from Eden Prairie Senior High School in 2006.
She then began attending the University of Minnesota after high school. In 2008, she got the chance to be apart of the Campus Girls USA Calendar, a fundraiser for breast cancer research. The profits of the calendars go to the Breast Cancer Research Foundation. She decided to participate because it is an issue that touches her family, and it was something that she heard about, and wanted to do, even though she was not a model. She also had an all-expense paid trip to St. John in the Caribbean shoot for the calendar.
During this time, she was an employee at The Tea Garden in Minneapolis, which specializes in making Bubble Tea.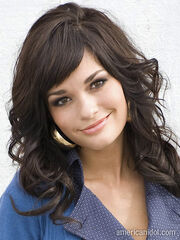 Carlson auditioned for Season 8 of American Idol in Kansas City, Missouri. She sang "A Thousand Miles" by Vanessa Carlton, and received four yeses by the judges to go to Hollywood. During Hollywood Week, she sang a song by Jordin Sparks, stating that she was her favorite Idol winner, and she hoped to have the same experience Jordin had.
After Hollywood week, Carlson advanced to the Top 36, performing during the first group of 12 out of 36. She sang "Every Little Thing She Does Is Magic" by The Police, receiving poor reviews by the judges. Ultimately, she did not receive enough votes to make it through to the next round, and was not chosen to come back as a wildcard contestant.
Her roommate was Ann Marie Boskovich during the Top 36, and was good friends with Alexis Grace, Danny Gokey, Matt Giraud, and Kris Allen.
After Idol, she returned to Minnesota to finish school. Soon after, she recorded covers of "A Thousand Miles" by Vanessa Carlton, and "Breakaway" by Kelly Clarkson.
In 2009, she made her acting debut in Blake Lewis' music video for his single "Sad Song".
Also in 2009, Casey began hosting The CW Twin Cities Beat, a weekly show that highlights the arts and entertainment around the Twin Cities. She also launched the production of a new web series for the station, The CW Twin Cities Airwaves, that highlights the fashion and music featured on the CW's prime time shows, like Gossip Girl and The Vampire Diaries.[1]
She graduated from The University of Minnesota in 2010, majoring in Journalism.
In the fall of 2010, she recorded a studio album titled XOXO, under the name Stella Project in which the hit song "Aeroplane" is featured. "Aeroplane" has been featured in Gossip Girl, Bad Girls Club, and various other TV shows.
In 2011, she moved to Los Angeles to further pursue her music career.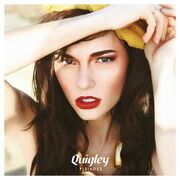 On February 23, 2012, she released her first music video called "Inkblot Game", which she co-wrote.
On April 30, 2012, she released her first EP with three original songs called Pleiades, under the name Quigley with KillPop Records.
She currently resides in Los Angeles, California, working on new music.
Breakaway (cover) - 2009
A Thousand Miles (cover) - 2009
Aeroplane (The Stella Project) - 2010
XOXO (The Stella Project) - 2010
Pleiades EP (Quigley) - 2012
Community content is available under
CC-BY-SA
unless otherwise noted.