Carly Smithson (born Carly Sarah Hennessy on September 12, 1983) is an Irish rock/pop/soul singer-songwriter who came to fame on the seventh season of American Idol, finishing in sixth place. She is now the lead singer of the alternative rock/goth/metal band We Are The Fallen, whose debut album Tear The World Down, was released on May 10, 2010.
Smithson was born in Dublin, Ireland, to her parents Marie Murray and Luke Hennessy. After living 6 months in Dublin, Smithson and her parents moved to Johannesburg, South Africa. She lived there until they moved back to Dublin when she was 4 years old. Smithson began singing around the age of 4 and has also had some experience with acting. She was featured in advertisements for Denny's Sausage for three years, starting at the age of five. In 1990, Smithson played Young Marianne in Fools of Fortune. Two years later, in 1992, she joined the cast of Les Misérables and starred as Little Cosette in Ireland. When she was 10 years old, she released an independent CD titled Carly's Christmas Album which was released in the United Kingdom. When Smithson was 14, her parents divorced. A year later, she and her father moved to the United States in order for Smithson to pursue a career in music. Smithson never finished high school.
Smithson met her husband, tattoo artist Todd Smithson, in Los Angeles and lived in Marietta, Georgia for a few years where she worked at an Irish bar called Fado. After getting married, the couple moved to San Diego where they currently run a tattoo shop called Nothing Sacred. Smithson has as many as nine tattoos including one of a Japanese Geisha on her right arm that is based on a painting she owns.
Smithson announced on Twitter on June 9, 2012 that she and her husband Todd are expecting their first child. Their daughter, Olivia Mabel, was born on September 30, 2012.
Smithson orginially auditioned for the show during season 5 and impressed the judges with her beautiful voice. However, despite making it to Hollywood week, Smithson never got the chance to compete that season due to the paperwork on her visa not going through in time, resulting in her getting disqualified.
When auditions for season 7 were being held in San Diego, Smithson decided to try again and made it through to Hollywood despite judge Simon Cowell claiming that her audition this time around wasn't as good as her first one two years earlier. However, Smithson progressed through Hollywood week and made it through to the top 12 where she endured regular criticism from both Cowell & Randy Jackson, which seemed to bother some fans of the show.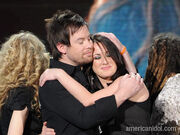 Also during Smithson's time on the show, reports about her past experience in the music industry(she had previously been signed to MCA Records & had released an album called Ultimate High when she was a teenager) came to light, causing a debate over whether people with previous music industry experience should try out for shows like American Idol.
However, Smithson did manage to wow fans with her performances of such songs as "Come Together" by The Beatles, "Here You Come Again" by Dolly Parton, and "The Show Must Go On" by Queen.
Despite putting in great performances every week, Smithson was eliminated on April 23, 2008, finishing in sixth place.
Performances in American Idol
[
edit
|
edit source
]
| Round | Song Choice | Original Artist | Theme (if any) | Result |
| --- | --- | --- | --- | --- |
After her elimination, Smithson went on to appear on various talk shows like Live with Regis and Kelly and The Ellen DeGeneres Show. Smithson also was a part of the American Idols Live tour which ran from July, 1, 2008 to September 12, 2008.
Despite receiving a few offers from record labels, which she all turned down, Smithson decided to move to Los Angeles by herself to write and record her post-Idol album on her own and use that as a way of showing record executives that what was on her album was how she wanted to sound as an artist.
Then in 2009, while hanging out with a friend, Smithson bumped into former Evanescence guitarist Ben Moody, who was putting together a new band with former bandmates John LeCompt & Rocky Gray as well as bassist Marty O'Brien. He and Smithson talked for several hours and found that they had a lot in common including the kind of musical direction they each wanted to go in. Smithson then became the lead singer of the band now known as We Are the Fallen. Their first single, "Bury Me Alive", was first released on June 25, 2009 via download on the band's official website. The single was later re-released after the band signed a deal with Universal Republic. Their first album, Tear The World Down, was released on May 10, 2010. Smithson considers the album her greatest achivement.
The band toured extensively, opening for acts like H.I.M. & Saving Abel as well as doing their own shows.
On May 27, 2011 Moody revealed on a Facebook posting that the band was no longer signed to Universal Republic. Smithson later revealed in an interview with TVLine.com's Michael Slezak that the band's next album was possibly going to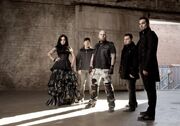 be released sometime in 2012 or 2013.
Solo albums:
Carly's Christmas Album (1993)
We Are the Fallen:
Tear The World Down (2010)
Community content is available under
CC-BY-SA
unless otherwise noted.