Candice Rickelle Glover (born November 22, 1989) is an American R&B singer from Beaufort, South Carolina who won season 12 of American Idol. She is the first woman since Jordin Sparks in season 6 to win the show. She was the show's last female winner until Maddie Poppe won season 16.
Candice is from Beaufort, South Carolina and is the oldest of seven siblings. She graduated from Beaufort High School in 2008.
Candice had previously tried out for the show in season 9 and season 11. She was living in St. Helena Island, South Carolina working at a travel agency when she tried out for season 12.
Candice's musical influences are Christina Aguilera, Adele, Whitney Houston, Drake, and Jazmine Sullivan, who once retweeted a YouTube video of Candice singing the Adele hit "Chasing Pavements", a song she would later sing on Idol. 
Having tried out for the show two previous times, Candice gave it another go and tried out for season 12 in Charlotte, North Carolina. Her powerful, beautiful voice impressed the judges, who sent her through to Hollywood, where she shined. She made it through both the "sudden death' round and the semifinals to make it to the top 10, progressing further then she had before. During the Top 10, Candice performed "I (Who Have Nothing)" by Shirley Bassey which was performed by Jordin Sparks during season 6 and Haley Reinhart during season 10. The result of her performing this song, which was very well received by the judges, helped her make it to the Top 9. During the Top 9, Candice, nicknamed "Candi Girl" by Nicki Minaj, performed "Come Together" from the Lennon-McCartney songbook. The result of her song helped her make it to the Top 8. Candice made it to the top 7 with her rendition of The Miracles' "I Heard It Through The Grapevine", which had been made popular by Motown legend Marvin Gaye among others. For Rock Week, Candice took on the Rolling Stones' classic "(I Can't Get) No Satisfaction", which resulted in her becoming a part of the top 6 despite a broken toe. Candice then took on "Don't Make Me Over" by Dionne Warwick and the Adele version of The Cure's "Lovesong", both of which wowed the judges, to make it to the top 5. For top 5 week, Candice took on the Paula Abdul hit "Straight Up", which earned her a surprise visit and hug from Paula herself, and the Mariah Carey/Whitney Houston duet "When You Believe". Those performances earned her a spot in the top 4. Her top 4 performances, "Find Your Love" by Drake (who thanked her in person) and "Emotion" by Samantha Sang (later covered by the Bee Gees and Destiny's Child), resulted in her being in the bottom 2 with Amber Holcomb, but because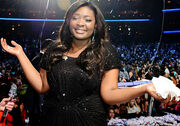 it was a non-elimination week, everyone was safe. For top 4 redux week, known as "Now and Then", Candice sang "If I Was Your Man" by Bruno Mars as her "now" song and "You've Changed" by Harry James as her "then" song. She made it to the top 3. Candice made it to the finale with her renditions of "One" by U2, "Next to Me" by Emeli Sande, and "Somewhere" by Reri Gist from the classic musical West Side Story. During the finale performance, Candice performed "Chasing Pavements" by Adele, "I (Who Have Nothing)" by Ben E. King, and her winning single "I Am Beautiful". Her performances helped her win American Idol, making her the first woman to win the show since Jordin Sparks in 2007. She is also the first winner to not win on the first season she tried out for American Idol.
Episode
Theme
Song choice
Original artist
Order #
Result
Audition
Auditionee's Choice
"Syrup & Honey"
Duffy
N/A
Advanced
Hollywood Round, Part 1
A Capella
"Impossible"
Christina Aguilera
N/A
Advanced
Hollywood Round, Part 2
Group Performance
"Hit 'Em Up Style (Oops!)"
with Melinda Ademi, Kamaria Ousley, and Denise Jackson
Blu Cantrell
N/A
Advanced
Hollywood Round, Part 3
Solo
"Girl on Fire"
Alicia Keys
N/A
Advanced
Las Vegas Round
Personal Choice
"(You Make Me Feel Like) A Natural Woman"
Aretha Franklin
2
Advanced
Top 20 (10 Women)
Personal Choice
"Ordinary People"
John Legend
10
Advanced
Top 10 Reveal
Victory Song
"I'm Going Down"
Rose Royce
7
N/A
Top 10
Music of the American Idols
"I (Who Have Nothing)"
Ben E. King
6
Safe
Top 9
The Beatles
"Come Together"
The Beatles
5
Safe
Top 8
Music of Motor City
Solo "I Heard It Through the Grapevine"
The Miracles
1
Safe
Trio "I'm Gonna Make You Love Me"
with Amber Holcomb and Angie Miller
Dee Dee Warwick
6
Top 7
Rock
Duet "The Letter"
with Burnell Taylor
The Box Tops
4
Safe
Solo "(I Can't Get No) Satisfaction"
The Rolling Stones
8
Top 6
Burt Bacharach and Hal David
"Don't Make Me Over"
Dionne Warwick
6
Safe
Songs They Wish They'd Written
"Lovesong"
The Cure
12
Top 5
Year They Were Born
"Straight Up"
Paula Abdul
1
Safe
Divas
"When You Believe"
Mariah Carey and Whitney Houston
6
Top 4
Contestant's Choice
Solo "Find Your Love"
Drake
2
Bottom 2
Duet "Stay"
with Angie Miller
Rihanna feat. Mikky Ekko
6
One-Hit Wonders
"Emotion"
Samantha Sang
8
Top 4
Songs from Now and Then
"When I Was Your Man"
Bruno Mars
3
Safe
"You've Changed"
Harry James
7
Quartet "Wings"
with Kree Harrison, Amber Holcomb, and Angie Miller
Little Mix
9
Top 3
Jimmy Iovine's Choice
"One"
U2
2
Safe
Judges' Choice
"Next to Me"
Emeli Sande
5
Producers' Choice
"Somewhere"
Reri Grist
8
Finale
Simon Fuller's Choice
"Chasing Pavements"
Adele
2
Winner
Winner's Single
"I Am Beautiful"
Candice Glover
4
Favorite Performance
"I (Who Have Nothing)"
Ben E. King
6
Candice was a part of the American Idols Live tour, which kicked off on July 19, 2013 in Kent, Washington and ended on August 31, 2013 in Nashville. Her debut album, Music Speaks, was released on February 18, 2014. It has sold 40,000 copies, the lowest sales ever for an Idol winner, and debuted and peaked at number 14 on the Billboard 200.
Along with runner-up Kree Harrison and second runner-up Angie Miller, Candice got to record background vocals on a song for former Idol judge Mariah Carey's next album, but the song never made the official track listing. She also said in an interview that her second single, "Cried", will have more of an R&B sound to it. "Cried" was released on November 26, 2013. She also admitted that she would love to work with Drake on a song. She was featured on singer Chadd Black's single "Love No Fear", which was released on February 14, 2015.
Candice was nominated for a Teen Choice Award for "Choice Breakout Artist". 
After her victory, Candice appeared on Ryan Seacrest's radio show and even performed "I Am Beautiful" on The Tonight Show with Jay Leno and Live with Kelly and Michael. She also performed at the 37th Annual Capitol Fourth concert in Washington, D.C. on July 4, 2013 and sang the national anthem at the 84th MLB All-Star Game at Citi Field in New York on July 16, 2013. She performed with season 2 winner Ruben Studdard on the song "A House Is Not a Home" as part of a tribute to R&B legend Dionne Warwick at the Soul Train Awards on December 1, 2013. She returned to American Idol to perform on February 27, 2014.
Candice is currently working on her second album and has released a new single, "My Mistake", . She is writing all of the songs herself and even mentioned on her Facebook page that the album will feature a duet with Amber Holcomb. She also collaborated with season 14 finalist Rayvon Owen on a song on his upcoming EP, Air, which was released on September 25, 2015.
Singles:
Albums:
 Music Speaks (2014)
 TBA (2015)
Community content is available under
CC-BY-SA
unless otherwise noted.