Burnell Taylor (born April 14, 1993) is an American R&B singer from New Orleans, Louisiana who finished in 7th place on season 12 of American Idol.
Burnell and his family are survivors of Hurricane Katrina. He graduated from Sarah T. Reed High School in 2011.
Burnell auditioned for the show in Baton Rouge, Louisiana where his rendition of "I'm Here" by LaChanze made judge Mariah Carey cry. The other judges loved his audition as well, and all four put him through to Hollywood, where he did well. He continued to do well in both the "sudden death" round and the semifinals to make it to the top 10. During the Top 10, Burnell performed Flying Without Wings by Westlife which was performed by Ruben Studdard during season 2. The result of his song helped him make it to the Top 9. During the Top 9, Burnell performed "Let It Be", which he admitted was a song he had never heard before, from the Lennon-McCartney songbook. The result of his song helped him make it to the Top 8. During "Music of The Motor City", Burnell sang "My Cherie Amour" by Stevie Wonder. However his performance of that song plus his group number with Devin Velez and Lazaro Arbos of "I Can't Help Myself" by the Four Tops put Burnell in the bottom 3, but he made it to the top 7. During the Top 7, Burnell performed "You Give Love a Bad Name" by Bon Jovi, once covered by Blake Lewis of season 6. The result of his song eliminated him from the competition on April 4, 2013. He finished 7th out of all.
Episode
Theme
Song choice
Original artist
Order #
Result
Audition
Auditioner's Choice
"I'm Here"
LaChanze
N/A
Advanced
Hollywood Round, Part 1
A Capella
Not aired
N/A
Advanced
Hollywood Round, Part 2
Group Performance
"Some Kind of Wonderful"
Grand Funk Railroad
N/A
Advanced
Hollywood Round, Part 3
Solo
"Jar of Hearts"
Christina Perri
N/A
Advanced
Las Vegas Round
Personal Choice
"This Time"
John Legend
8
Advanced
Top 20 (10 Men)
Personal Choice
"I'm Here"
LaChanze
5
Advanced
Victory Song
"Ready for Love"
India.Arie
2
Top 10
Music of the American Idols
"Flying Without Wings"
Westlife
9
Safe
Top 9
The Beatles
"Let It Be"
The Beatles
2
Safe
Top 8
Music of Motor City
Solo: "My Cherie Amour"
Stevie Wonder
7
Bottom 3
Trio: "I Can't Help Myself (Sugar Pie Honey Bunch)" with Lazaro Arbos & Devin Velez
Four Tops
10
Top 7
Rock
Solo: "You Give Love a Bad Name"
Bon Jovi
1
Eliminated
Duet: "The Letter" with Candice Glover
The Box Tops
4
During an interview with E! Online after his elimination, Burnell admitted that he and Amber Holcomb were dating, but it was proven to be untrue when on August 4, 2013 Amber announced on her Facebook page that she was expecting a child with her boyfriend Lamar Denson.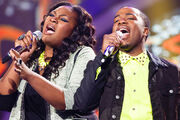 One of Burnell's closest friends on the show is winner Candice Glover. She has described their friendship as being a sibling-type relationship.
Burnell was a part of the American Idols Live tour, which kicked off on July 19, 2013 in Kent, Washington and ended on August 31, 2013 in Nashville. He and Amber Holcomb got to sing a duet together during the tour. He also annouced on Twitter on November 17, 2013 that he and Amber were working on a Christmas song together, but nothing came of it. He did, however, cause a stir on social media when he performed with former judge Nicki Minaj on her song "Pills N Potions" at the 2014 BET Awards on June 29, 2014.
Community content is available under
CC-BY-SA
unless otherwise noted.