Beautiful Day is a song by the Irish rock band U2 as well as the coronation song & debut single for season 9 American Idol winner Lee DeWyze. This song was a commercial success when it was first released in 2000, helping U2's album All That You Can't Leave Behind achieve mulit-platnium status & becoming one of that band's biggest hits to date. In 2001, the song earned U2 three Grammys including Record of the Year & Song of the Year.
Lee DeWyze released his version of the song after he had won season 9 of American Idol on May 27, 2010.
U2 version
[
]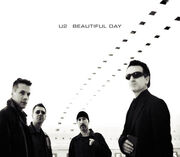 Beautiful Day was released as the first single off of U2's tenth studio album, 2000's All That You Can't Leave Behind. The album represented a more conventional sound for the band after they had experimented with dance & alternative music in the 1990s, and the song harkens back to the band's past sound of the 1980s.
The song received positive reviews & peaked at number 21 in the United States as well as becoming their fourth number-one hit in the UK & their first number-one in the Netherlands.
Beautiful Day earned U2 three Grammys in 2001.
Lee DeWyze version
[
]
Because of complaints by fans about Idol coronation songs being cheesy and corny especially after the Kara DioGuardi-penned ballad No Boundaries, season 9 finalists Lee DeWyze & Crystal Bowersox chose to do cover songs instead when they reached that season's finale. DeWyze chose Beautiful Day as his potential first single because, as he said at the time of his Idol victory, "I like the song a lot(...)Is it something that is necessarily in my genre? No. There were songs on the table, and I went with the one I thought would represent the moment the best."
The song was released as DeWyze's first single after he won Idol on May 27, 2010, peaking at number 24 on the Billboard Hot 100.