Anthony Fedorov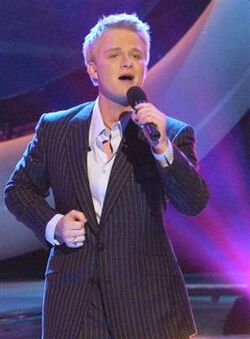 Birth Name
Anatoliy Vladimirovich Fedorov
Audition City
Orlando, Florida
BAnthony Fedorov (born Anatoliy Vladimirovich Fedorov on May 4, 1985; Ukrainian: Анатолій Володимирович Федоров) is a Ukrainian-American singer who was the fourth place finalist on the fourth season of the American Idol reality show series.
Biography
Edit
Early Life
Edit
Fedorov was born in Yalta, Soviet Union (now in Ukraine), to Vladimir and Nataliya Fedorov. He, his parents, and his older brother Denis moved to the United States in 1994. He had a tracheotomy as a toddler due to a birth defect in his windpipe, from which a scar is still visible. Despite skepticism that he would even be able to talk again, he persevered and began singing at an early age. He is a tenor and can play the piano. He graduated from Neshaminy High School in 2003 and attended Bucks County Community College.
American Idol
Edit
Fedorov was an American Idol contestant during the spring 2005 season. Of all the American Idol auditioners, he was most well-known for singing ballads, something which all three judges view as his best style. His fans call themselves the "Fedoration".
Fedorov was voted off the show on May 11, 2005, after singing "I'm Already There" by Lonestar and "If You Don't Know Me By Now" by Harold Melvin & the Blue Notes during country music/Gamble and Huff week. It is said by many that his performance of "If You Don't Know Me By Now" was one of his top performances, having it been on-key the entire song and gaining praise from the judges. It was considered one of his best along with his performances of Celine Dion's "I Surrender" and Paul Young's "Everytime You Go Away".
Although he finished in fourth place on American Idol, polls on the American Idol website after the fact showed Fedorov to be the second-most popular contestant of the season, behind only the winner, Carrie Underwood.
Other Appearances
Edit
In June 2006, Fedorov finished in second place as a contestant on a special Reality TV edition of NBC's Fear Factor along with American Idol season 2 finalist Carmen Rasmusen. He also appeared in four episodes of MTV's Little Talent Show — Triple Threat, which aired starting on September 26, 2006.
In April 2007, he toured American Air Force bases in Europe, judging the Military Idol contest and performing.
Fedorov took the leading role of "Matt" in the off-Broadway production of The Fantasticks starting May 1, 2007 at the Snapple Theater Center in New York City and he is also working on his debut album.
After the September 2006 death of his brother Denis, Anthony became a national spokesperson for the Sarcoma Foundation of America. In 2008, he was appointed to the SFA Board of Directors. He has been performing at the SFA Annual Gala every year since 2007.
He performed National Anthem for many major league teams - such as New York Knicks, Oakland Raiders, Philadelphia Phillies, Jacksonville Jaguars, New York Mets and LA Dodgers.
Fedorov performed in the US tour of the stage production Simply Ballroom, touring across the United States March through April 2008.
His song "Deep Within My Heart" (written by him) appeared on Dreyer's Hot Tracks promotional CD, along with songs by 7 other Idol finalists.
In March 2009 he performed at the BMI Latin Music Awards honoring Gloria Estefan.
In April 2009, he toured with the "Ballroom With A Twist" production across the Eastern US.
In July, 2009 he is scheduled to play Joseph in "Joseph and the Technicolor Dreamcoat" in Oklahoma City Lyric Theater alongside Diana DeGarmo.
Personal Life
Edit
Fedorov is fluent in Ukrainian, Russian, and English. He can also sing in Spanish and Italian. Before going on American Idol he resided in Trevose, Pennsylvania, in Lower Southampton Township.
After Fedorov was voted off the show, rumors of a relationship between him and Carrie Underwood dominated discussions of the season. The rumors were sparked by Underwood's reaction to Fedorov's departure, when she sobbed openly and was seen on-screen saying "I love you" to him. Fedorov and Underwood denied the rumors, saying that they had a "brother–sister" relationship. Though such rumors have died down, Fedorov and Underwood remain very close, with Fedorov accompanying Underwood to the CMA Awards on November 6, 2006. Underwood also visited Fedorov on the set of The Fantasticks during his run on the show. Two days after he was voted off his brother was diagnosed with Ewing's sarcoma. His brother died at age 28.