Anoop Desai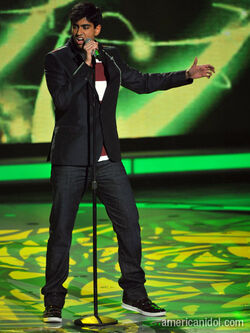 Audition City
Kansas City, Missouri
Anoop Desai (born December 20, 1986) was the 6th place finalist on the eighth season of American Idol. Desai has credited his decision to audition for American Idol to the death of a friend, Eve Carson , who was murdered. During the broadcast of the wild card round on March 5, 2009, he gave a "shout out" to his alma mater and mentioned Eve, as it was the one-year anniversary of her death.
Biography
Edit
Desai, an only child, grew up in Chapel Hill, North Carolina. He went to Fuller GT Magnet Elementary School in Raleigh, North Carolina. His parents both work in North Carolina's Research Triangle. His mother, Nalini, is a biochemist with a Ph.D. in molecular biology ; his father, Manoj, is a software engineer and designs computer software. Desai's father was born in India, and his mother, also of Indian descent, was born in South Africa.
In the 1990s, Desai appeared on the WRAL-TV (NC Triangle) television children's show, "CentralXpress.com", and played the character "Raj". The show won multiple awards, including seven regional Emmys, two national Iris awards, and a national Gabriel Award.
Desai attended Phillips Middle School then later went on to attend East Chapel Hill High School, graduating in 2004. He was awarded a four year academic merit scholarship to attend the University of North Carolina at Chapel Hill, and was the Haywood W. Hinkle Carolina scholar from 2004 to 2008.
After being accepted and planning to attend college at the University of North Carolina at Chapel Hill, Desai auditioned for and was accepted as a member of the UNC Clef Hangers, a long-standing male a capella group founded in 1977. He was accepted in the group as a senior in high school with the understanding that he would begin attending the University in the Fall of 2004. Desai served as the group's Music Director during his junior year and as the group's president his senior year. He remains President Emeritus of the UNC Clef Hangers. Desai's performance as a soloist on the song "She Has No Time" was recognized with the BOCA 2007 (Best of College A Cappella).
Desai graduated from UNC in 2008 with a Bachelor of Arts degree, double majoring in Political Science and American Studies. He was awarded the 2008 Peter C. Baxter Memorial Prize in American Studies, as one who exemplified "intellectual excellence, personal warmth and creativity." He is currently a graduate student in the field of cultural anthropology, working towards a Master of Arts degree in folklore at UNC.
American Idol
Edit
Desai rose to national fame with his participation and sixth place finish in the eighth season of American Idol. He auditioned for the show on August 8, 2008 in Kansas City, Missouri, and was selected as a semifinalist following his "Hollywood Week" performances. Anoop Desai became the farthest an Indian-American has made it on American Idol. Although he was not one of the three finalists chosen out of his semifinal performance group, he returned as a "Wild Card." The judges saved Desai for last on Wild Card night and after announcing that Matt Giraud had made the Top 12, Simon Cowell then revealed the twist of Season 8: that Desai would also move onto the finals, making it a Top 13.
Performances/Results
Edit
| | | |
| --- | --- | --- |
| Week # | Song choice | Result |
| Audition | "Thank You" | Advanced |
| Hollywood | "If It's Magic" | Advanced |
| Hollywood | "What Becomes of the Brokenhearted" | Advanced |
| Hollywood | "My Prerogative" | Advanced |
| Top 36/Semi-Final 1 | "Angel of Mine" | Eliminated1 |
| Wild Card | "My Prerogative" | Selected2 |
| Top 13 | "Beat It" | Safe |
| Top 11 | "Always on My Mind" | Safe |
| Top 10 | "Ooo Baby Baby" | Safe |
| Top 9 | "Caught Up" | Bottom 2 |
| Top 8 | "True Colors" | Bottom 2 |
| Top 7 | "(Everything I Do) I Do It for You" - Robin Hood: Prince of Thieves | Bottom 3 |
| Top 73 | "Dim All the Lights" | Eliminated |
Note 1: Desai was initially eliminated, as he did not receive enough votes to advance immediately to the Top 12. However, on the March 4 results show, the American Idol judges selected him as one of the 8 Wild Card contenders.
Note 2: Desai was selected as one of the finalists. His selection marked the first time in the show's history that 13 finalists were chosen.
Note 3: Due to the judges using their one save to save Matt Giraud, the Top 7 remained intact for another week, in which there was a double elimination.