Angela Kristine "Angie" Miller (born February 17, 1994), better known by her professional name Zealyn, is an American pop singer-songwriter from Beverly, Massachusetts who finished 3rd place on season 12 of American Idol.
Born in Beverly, Massachusetts, Angie started singing in the church where her father Guy is a pastor when she was a child. Despite being partially deaf (40% hearing loss in her left ear and 20% in her right), she was a member of her high school's choir for four years and was a member of the honors vocal ensemble for two years. She even performed in school musicals and helped lead music groups at her church. 
In addition to parents Guy and Tana, Angie has an older brother named Jonathan, who's also a singer and musician, and a black cat named Fluffy.
Angie was working at a fast-food restaurant and had a successful YouTube channel (current total views: 2.1 million and counting) where she sang songs by artists such by Rihanna, Katy Perry, and even season 11 winner Phillip Phillips when she tried out for the show. Some of the songs she sang on YouTube later became ones she would sing on Idol.
Angie's musical influences are Beyonce and British singer Jessie J. She's also a fan of metalcore music, which is a combination of metal and hardcore punk music.
Angie tried out for the show in New York City, wowing the judges with her rendition of the Jessie J song "Mamma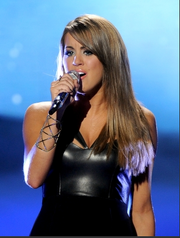 Knows Best". In Hollywood week, she really grabbed people's attention when, in the solo round, she decided to sing a song that she wrote called "You Set Me Free". The judges were so moved by the performance that they put Angie through to the next round. The video of her Hollywood week solo performance racked up over 4 million views on YouTube. She then progressed through the "sudden death" round and took another risk in the semifinals by singing the Colton Dixon hit "Never Gone", which secured her place in the top 10. During the Top 10, Angie performed "I Surrender" by Celine Dion, which was performed by Kelly Clarkson during season 1. The result of her performance of this song, which was well received by the judges, helped her make it to the Top 9. During the Top 9, Angie performed "Yesterday", which had been covered by Syesha Mercado of season 7 and is from the Beatles' 1965 album Help!. The result of her song helped her make it to the Top 8. She then took on The Miracles' classic song "Shop Around", which allowed her to showcase her playful side. Despite criticism from the judges, Angie made it to the top 7. She made it to the top 6 with her rendition of the 2003 Evanescence hit "Bring Me to Life". Angie became a part of the top 5 thanks to her performances of "Anyone Who Had a Heart" by Dionne Warwick and "Love Came Down" by Kari Jobe. During top 5 week, she took on the Pretenders' 1994 hit "I'll Stand By You", which she dedicated to the city of Boston in the wake of the April 15 Boston Marathon bombings, and "Halo" by Beyonce. Both performances earned her praise from the judges and a spot in the top 4. For top 4, Angie reprised one of her Hollywood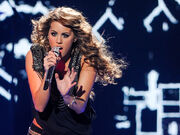 week songs, "Who U R" by Jessie J, and her "one-hit wonder" song was "Cry Me a River" by Julie London (not to be confused with the Justin Timberlake hit song released in 2002). She received raves from the judges and was in the top 2 with Kree Harrison. Due to it being a non-elimination week, everyone was safe. For top 4 redux week, known as "Now and Then", Angie sang "Diamonds" by Rihanna as her "now" song and "Somebody to Watch Over Me" by Gertrude Lawrence as her "then" song. She made it to the top 3 despite mixed reviews by the judges. During the Top 3, Angie sang "Sorry Seems to Be the Hardest Word" by Elton John chosen by Jimmy Iovine, which received good review by Iovine and the Judges. She sang "Try" by Pink which was chosen by the Judges and received mixed reviews. At the end she sang "Maybe" by Emeli Sande chosen by the Producers, which received very good reviews by the Judges. Sadly, the Top 3 was her final spot as she was eliminated on May 9, 2013. She finished 3rd out of all. Her elimination caused an outrage because she had been considered a frontrunner to win.
Angie is the second contestant (Siobhan Magnus from season 9 is the first) from the state of Massachusetts to be an Idol finalist.
Angie's fans, who are very loyal and very devoted, are known as "Dreamers" due to her motto being "Dream Big", which Angie has tattooed between her shoulder blades.
Episode
Theme
Song choice
Original artist
Order #
Result
Audition
Auditioner's Choice
"Mamma Knows Best"
Jessie J
N/A
Advanced
Hollywood Round, Part 1
A Capella
"Who You Are"
Jessie J
N/A
Advanced
Hollywood Round, Part 2
Group Performance
Quartet "Be My Baby" with Janelle Arthur, Kez Ban and Breanna Steer
The Ronettes
N/A
Advanced
Hollywood Round, Part 3
Solo
"You Set Me Free"
Angie Miller
N/A
Advanced
Las Vegas Round
Personal Choice
"Nobody's Perfect"
Jessie J
8
Advanced
Top 20 (10 Women)
Personal Choice
"Never Gone"
Colton Dixon
6
Advanced
Top 10 Reveal
Victory Song
"I Was Here"
Beyonce
8
N/A
Top 10
Music of the American Idols
"I Surrender"
Celine Dion
4
Safe
Top 9
The Beatles
"Yesterday"
The Beatles
7
Safe
Top 8
Music of Motor City
Trio "I'm Gonna Make You Love Me"
with Candice Glover and Amber Holcomb
Dee Dee Warwick
6
Safe
Solo "Shop Around"
The Miracles
8
Top 7
Rock
Duet "Crazy Little Thing Called Love"
with Lazaro Arbos
Queen
2
Safe
Solo "Bring Me to Life"
Evanescence
10
Top 6
Burt Bacharach and Hal David
"Anyone Who Had a Heart"
Dionne Warwick
1
Safe
Songs They Wish They'd Written
"Love Came Down"
Brian Johnson
7
Top 5
Year They Were Born
"I'll Stand by You"
The Pretenders
4
Safe
Divas
"Halo"
Beyonce
9
Top 4
Contestant's Choice
Solo "Who You Are"
Jessie J
4
Safe
Duet "Stay"
with Candice Glover
Rihanna feat. Mikky Ekko
6
One-Hit Wonders
"Cry Me a River"
Julie London
10
Top 4
Songs from Now and Then
"Diamonds"
Rihanna
1
Safe
"Someone to Watch Over Me"
Gertrude Lawrence
5
Quartet "Wings"
with Candice Glover, Kree Harrison, and Amber Holcomb
Little Mix
9
Top 3
Jimmy Iovine's Choice
"Sorry Seems to Be the Hardest Word"
Elton John
3
Eliminated
Judges' Choice
"Try"
Pink
5
Producers' Choice
"Maybe"
Emeli Sande
7
Angie was a part of the American Idols Live tour, which kicked off on July 19, 2013 in Kent, Washington and ended on August 31, 2013 in Nashville. She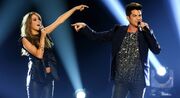 had recorded background vocals along with Candice Glover and Kree Harrison on a song for Mariah Carey's next album, but the song never made the official track listing. At the Idol finale on May 16, 2013, she got sing with Adam Lambert on the song "Titanium" and even got the thrill of a lifetime performing with her idol, Jessie J, on the song "Domino". Jessie J even offered to let Angie go with her to the UK during her tour and perform "You Set Me Free" during one of her shows on her Nice to Meet You tour, which Angie accepted.
Angie is one of only two Season 12 finalists to have been signed to a record deal. She also launched a web series on her YouTube channel called "A Week In My Life", which premiered on August 23, 2013. The show consisted of footage that Angie filmed herself. She has also kept herself busy with performing including doing a show with her brother Jonathan and his band Exiting The Fall in Salam, Massachusetts on October 31, 2013.
Angie recently moved to Los Angeles to work on her music career. She even mentioned on Twitter that she got to write a song with season 9 winner Lee DeWyze. She announced on her website that she will be releasing her first EP in November 2014.
"You Set Me Free", the song that put Angie on the map, was released as her first single on May 16, 2013 after the Idol finale. She even signed a publishing deal with Universal Music Publishing Group on May 22, 2013. She has also confirmed via social media that she's been writing songs with some of the music industry's top songwriters like Toby Gad and Autumn Rowe as well as recording demos. Angie released a teaser video of one of those songs, "Put It On Me", on YouTube on July 16, 2013. She premiered the full song during the first American Idols Live concert in Kent, Washington on July 19, 2013.
On November 26, 2013, Angie announced via Twitter that she will be releasing "This Christmas Song", which she co-wrote, as her first Christmas single on December 3, 2013, just in time for the holiday season. The song was released along with a cover of the Christmas classic "O Holy Night".
Angie got the chance to open for Christian singer Michael W. Smith on his Christmas tour, which kicked off on December 1, 2013 in Murfreesboro, Tennessee and ended on December 15 in Detriot, Michigan. She also got to sing the national anthem at the San Francisco 49ers/Arizona Cardinals game in Phoenix, Arizona on December 29, 2013.
On May 7, 2014, Angie debuted a new YouTube show called Angie in Asia, which documents her tour of Asia. The first episode premiered on her YouTube channel on May 7, 2014. The last episode aired on June 27, 2014.
On August 28, 2014, Angie announced via her official website that she had started a fundraising campaign via pledgemusic.com to raise money so that she could make her debut EP, Weathered, which was released on November 12, 2014. It debuted at number 13 on the Billboard Independent Albums chart. The music video for the song "Simple" premiered on Angie's YouTube channel on June 29, 2015 and was released on iTunes on June 30, 2015.
On February 26, 2016, Angie announced that she would be releasing new music under a new trade name, Zealyn. Her first song under her new name, "Talk:Listen", was later released on Soundcloud. It was released on iTunes on March 4, 2016. Her second single under her new name, "Sleep on It", was released on March 10, 2016. Her EP, Limbic System was released on June 23, 2016. Her first concert tour kicked off on July 31, 2016 in Los Angeles. She began releasing remixed versions of songs off of Limbic System in 2017. Her second EP as Zealyn, A Weekend in Maine, will be released on May 17, 2019.
On November 25, 2015, Angie announced via Facebook that she and her longtime boyfriend, musician David James Williams, were engaged. They were married on July 7, 2016.
 A Week in My Life (YouTube series) (2 episodes) (2013)
 Angie in Asia (YouTube series) (8 episodes) (2014)
Zealyn:
"Talk:Listen" (2016) (single)
"Sleep on It" (2016) (single)
"Limbic System" (feat. JMR) (2016) (single)
Limbic System (2016) (EP)
A Weekend in Maine (2019) (EP)
EPs:
Singles:
"You Set Me Free" (2013)
"This Christmas Song" (2013)
Community content is available under
CC-BY-SA
unless otherwise noted.